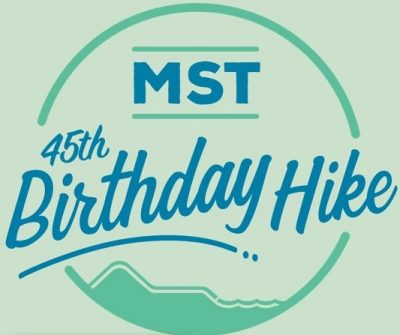 Pender County is celebrating the 45th birthday of the Mountains-to-Sea Trail this September with three family-friendly hikes.
The 1,175-mile Mountains-to-Sea Trail runs from Clingman's Dome to Jockey's Ridge. The trail was proposed in September 1977 by Howard Lee, then secretary of the North Carolina Department of Natural Resources and Community Development.
"The trail travels the length of Pender County, through two trail towns, Burgaw and Surf City, as well as Moores Creek National Battlefield," said Tammy Proctor, Pender County tourism director.
To celebrate the birthday of this trail, Burgaw Parks and Recreation, Surf City Parks and Recreation, Moores Creek National Battlefield and Pender County Tourism are hosting 1- to 2-mile hikes.
"All hikes are free to participate," Proctor added. "We just ask that all hikers register with the tourism office so we can plan appropriately." To register, call 910-259-1278.
Friends of the Mountains-to-Sea Trail Outreach Manager Betsy Brown said the communities along the MST are what make it so special.
"In celebration of the 45th birthday of the trail, we're thrilled that MST towns and special places are hosting events to welcome folks who may not yet know about the trail. And of course we welcome back those who already spend time walking the MST miles in Pender County. Bring a friend," Brown added.
Brown said the Friends group has several plans in the works to celebrate the 45th anniversary of the trail. To learn more and for updates, visit the trail's website.
The MST Birthday Hikes kick off in Pender County with the Surf City Bridge Hike.
Hikers will meet in Soundside Park at 9 a.m. Sept. 8 to cross the Surf City Bridge. The hike will be led by a volunteer with the Friends of the Mountains-to-Sea Trail. The hike will feature a photo opportunity of the Atlantic Intracoastal Waterway and the ocean at the peak of the bridge. Herrings Outdoor Sports has donated an Ice Mule Cooler, valued at $80, to be raffled off.
Burgaw is to host a birthday hike along the Osgood Canal Greenway Sept. 9. Meet at Hankins Park for a 9 a.m. step-off. Cupcakes to be provided by Pender County Tourism staff.
Moores Creek National Battlefield will host a 1.5 mile walk-and-talk that will be dog-friendly starting at 9 a.m. Sept. 10. This will include a walk of the History Trail, Tar Heel Trail, Woodpecker Trail and Black River Road, all in the park. This is not a guided tour but rather an informal walk with a park ranger. Hikers should meet at the park's visitor center. The walk is expected to take an hour. Visitors can walk the loop as many times as they would like.