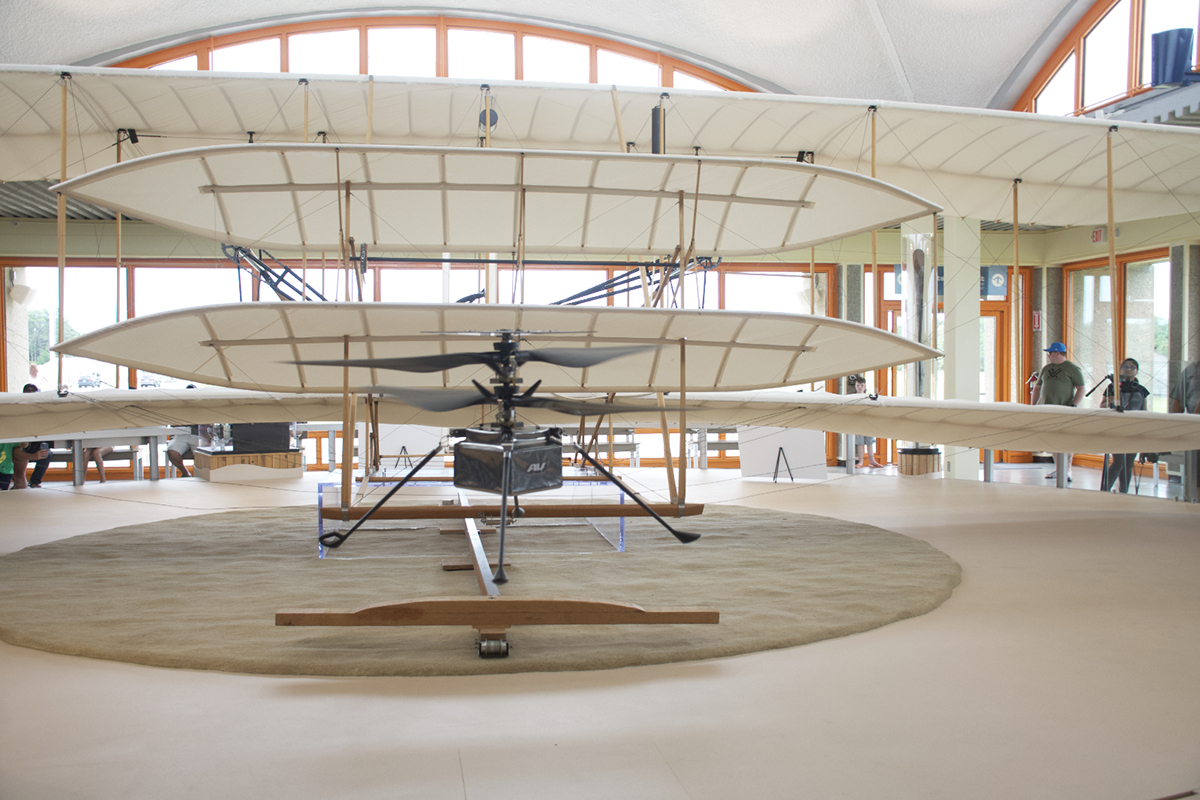 National Aviation Day, held annually Aug. 19, always seems to be a pretty big deal at the Wright Brothers National Memorial in Kill Devil Hills.
It is, after all, where Wilbur and Orville Wright first proved that heavier-than-air flight was possible.
The date celebrating flight was not chosen randomly. Orville Wright was born Aug. 19, 1874. Three years later, his sister Katherine was born on the same day. In 1939, President Franklin Roosevelt declared as National Aviation Day Orville's – and Katherine's – birthday.
This year, to commemorate National Aviation Day and the innovation of the Wright brothers, Dr. Bob Balaram, former chief engineer for the Mars Ingenuity project, spoke Friday during a ceremony at the Wright Brothers Memorial about the challenges Ingenuity faced in becoming the first heavier-than-air aircraft to fly on another planet.
NASA now lists Balaram as emeritus, a role he defined as "handing off the reins to some of the younger members of the team."
Six months ago, Balaram was the project's chief engineer, and it was under his guidance that Ingenuity came to life, proving that flight was possible on the surface of Mars.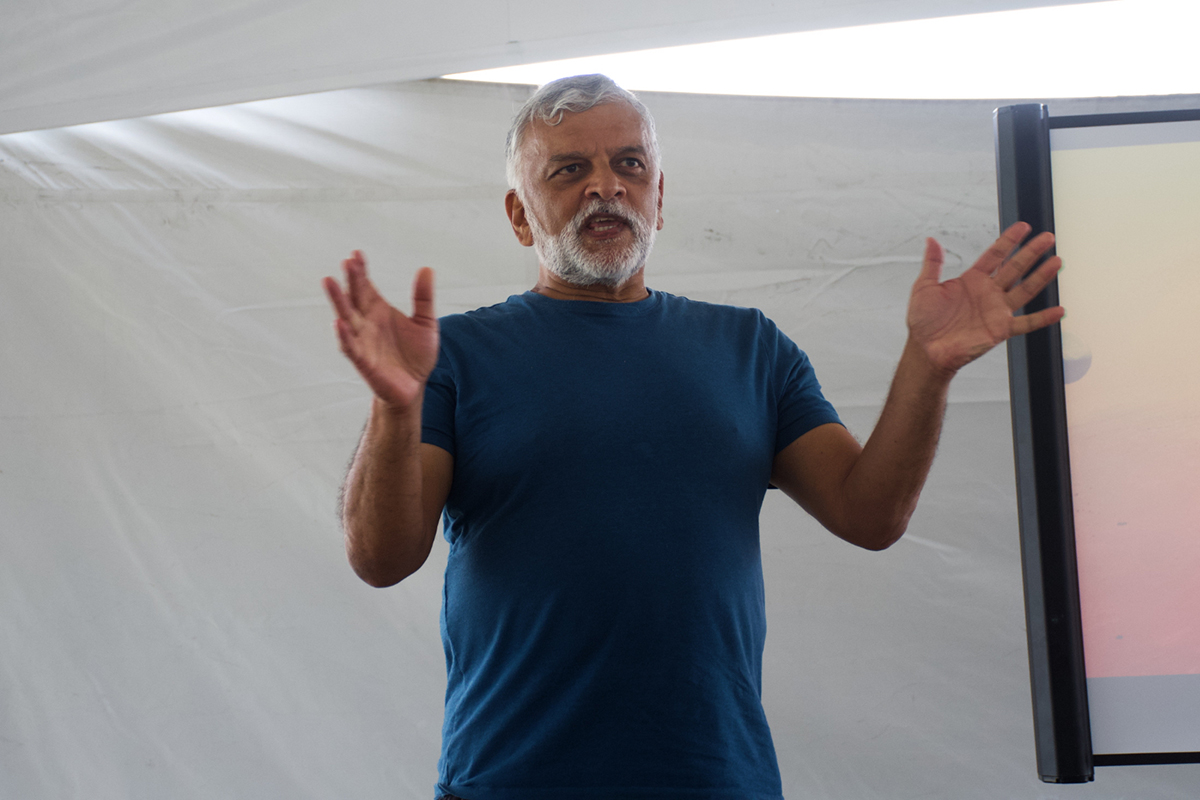 "This talk is really trying to draw some parallels between what the Wright brothers did here on Earth to fly for the first time … and what the Ingenuity team did on Mars to get that first helicopter on Mars," he said.
Ingenuity is a four-blade helicopter with two sets of blades, upper and lower, that counter-rotate. Balaram brought with him a replica of the helicopter that was built using spare parts from the original.
At first glance, Ingenuity may not look all that remarkable — different, perhaps, but not too different in appearance from any number of drones. Yet what was on display is unlike any drone ever built.
It weighs only 4 pounds. Each of the helicopter blades weigh an ounce. Every component part of Ingenuity is designed to limit weight yet perform in an environment with temperatures that range between minus 130 to 60 degrees Farenheit.
The aircraft must be lightweight, Balaram explained, because the volume of Mars' atmosphere is only 1% of Earth's.
To demonstrate, Balaram held his arms out to about 3 feet.
"If I hold my arms out this way, I get about 2 pounds of air," he said. "On Mars, that same volume is about an ounce or less."
That difference parallels challenges the Wright brothers experienced.
The Ingenuity team built a 1/3-scale replica for test purposes. They had a chamber where the air pressure could be reduced to that of Mars' atmosphere. As the rotors reached the 2,000 revolutions per minute needed for Mars flight, the model Ingenuity became uncontrollable, slammed into the walls of the chamber and broke.
Balaram showed a video of the event Friday during his talk.
"It turns out that helicopters on Earth — when they fly, their wings do flap up and down as they go around. And that flapping tends to induce an instability in the control, but on Earth the air is so thick that instability is not very much," Dr. Balaram said.
On Mars, without the denser air, the dampening effect is lost.
The Wright brothers, Balaram noted, realized early on during their time at Kitty Hawk that they were not getting the lift expected from the calculations of their time.
"What they realized was most aerodynamic information that they had gotten was wrong. So they actually built their own wind tunnel … And they actually found out the correct aerodynamic tables," he said.
The Ingenuity team faced a similar problem: There was theory about flight on Mars, but nothing practical because no one had ever flown in a 1% atmosphere. Nor, as it turned out, was there a proper wind tunnel to test designs.
"So we needed to build our own wind tunnel to understand what the dynamics of this Mars atmosphere would be," he said.
The wind tunnel the Ingenuity team created was far more sophisticated than anything the Wrights could have envisioned, but like them, the only way to get the data that was needed was to build a wind tunnel.
There were other parallels.
Balaram pointed to the engine that Charlie Taylor built for the Wright brothers.
"It was an aluminum engine, a very new material to build an engine. In fact, precedent setting. And Charlie Taylor built the engine in six short weeks, and it produced real horsepower," he said.
Because of the weight requirements of Ingenuity, extraordinary measures had to be taken to create the electric motor that would power the Mars helicopter's rotors. Copper wire is the best material for generating the power from the battery, but what was needed was especially fine, square copper wire that would lay flat, weigh less and take up less space.
However, it all had to be done by hand. Everything in the construction of Ingenuity had to be done in a sterile setting to prevent contamination on Mars, and there wasn't really anyone who had ever built something to wind wire with the tolerances needed.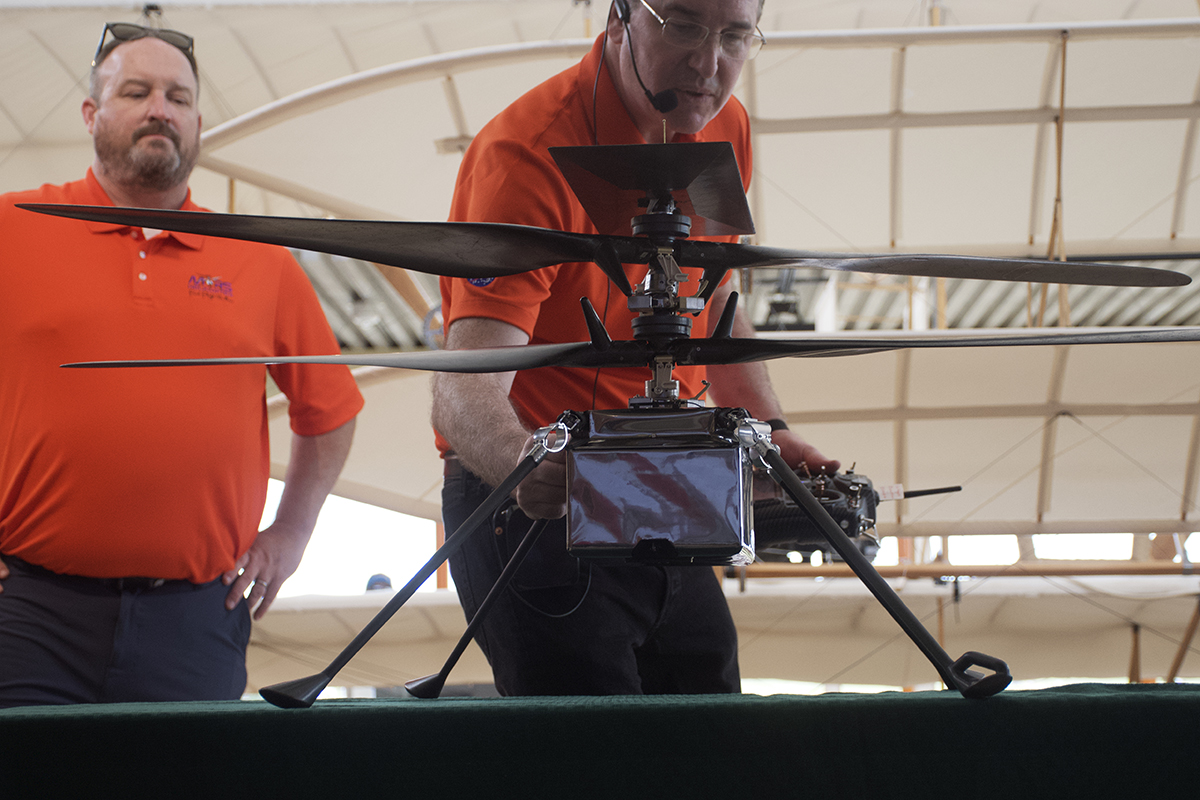 The task of hand wiring Ingenuity fell to Matt Keenum of AeroVironment, one of the subcontractors on the project. Keenum was on hand for the presentation and Balaram recognized him as he explained what was involved.
"Matt had to spend about 100 hours under a microscope putting all the wiring in place for that motor," he said.
The result was what Balaram described as "one of the most efficient motors you can possibly imagine for this very compact size."
The first flight for the Wright brothers was a moment of triumph. Yet before the Wright Flyer lifted into the air, there was uncertainty and a real concern for the physical safety of whoever was in the aircraft.
The physical danger did not exist for the Ingenuity flight team, but there were moments of fear, perhaps none as great as simply getting to the surface of the planet.
"We hit the top of the Mars atmosphere and we have to decelerate from more than 5 miles a second down to zero in seven minutes. This is the scary part of any atmospheric landing, descending into the atmosphere," Balaram said. "In the landing business, this is known as the seven minutes of terror landing on Mars."
Ingenuity, attached to the bottom of the Mars Rover Perseverance, deployed and flew for the first time on April 19, 2021. Originally, mission planners had hoped Ingenuity would fly for a month and be a technology demonstration. As it turned out, though, Ingenuity has proved itself to be far more useful than originally envisioned.
Even though much of Ingenuity is high-tech, cutting-edge design, many of its components are off the shelf. Balaram pointed to its camera as an example.
"We have a color camera mounted to the side, very much like the cellphone camera," he said.
"We fly ahead. We do a recon of various things that they may be interested in to find safe routes for the (Perseverance) rover. So that has turned out to be an extension of our technology demonstration, Balaram said. "Right now, it's been almost a year and a half now that we've been flying together with the Perseverance Rover."
There is now a small piece of the Wright Flyer on Mars. Wanting to pay tribute to the Wright brothers, a small piece of the muslin fabric of that first Wright Flyer has been attached to Ingenuity.