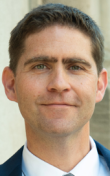 DJ Gerken, currently Southern Environmental Law Center's director of programs, will begin his new role as president and executive director Oct. 3.
The board of the Southern Environmental Law Center, a nonprofit, nonpartisan environmental legal advocacy organization, announced Gerken's appointment to the position Wednesday.
Gerken will take over the role from Executive Director Jeff Gleason, who is retiring after a 30-year career with the organization.
"In my eighteen years at SELC, I've been inspired by my colleagues and clients, mentored by the most effective environmental advocates in the nation, and had the privilege of protecting the places and people across this region I love," Gerken said in a statement.
"I am honored by the opportunity to lead this extraordinary organization as it tackles our country's greatest environmental challenges. This is the moment to build a better climate future and ensure a healthier environment for all, and SELC is the organization to lead the way for the South and the nation," he continued. "I look forward to working with my exceptional colleagues and our partner organizations, and supporters to keep the promise of SELC."
Gerken began his career at the law center in 2004 in western North Carolina. In 2011, he became managing attorney for the law center's Asheville office, and served as interim managing attorney for its Nashville office from 2017-19. Gerken was appointed program director in 2019.
Gerken led key lawsuits that contributed to the cancellation of the Atlantic Coast Pipeline, and was a lead litigator in the nearly decade-long coal ash campaign in North Carolina, which resulted in the commitment to clean up all coal ash in the state, as well as setting a precedent for other states in the South and beyond, according to the law center.
Previously, Gerken was an associate attorney for three years at Shea & Gardner, and he clerked for the Honorable H. Emory Widener Jr. in the Fourth Circuit Court of Appeals in 2000-01.
"I'm one of the many staff members at SELC fortunate enough to learn from and be inspired by DJ over the years, so I'm thrilled about what this means for our work," said Managing Attorney Patrick Hunter, who leads the Asheville office and has worked closely with Gerken since joining SELC in 2012. "It is exciting for us all to have someone with DJ's skills, heart, and foresight leading SELC at this moment."
His appointment follows a six-month search by a board committee assisted by BoardWalk Consulting, a national search firm specializing in CEO recruitment for nonprofits and foundations.
"On behalf of SELC's Board of Trustees, I am thrilled to welcome DJ Gerken as our new leader," said Laura Gates, Chair of SELC's Board of Trustees. "All of us are inspired by DJ's passion, commitment, and talent, and our region has already benefited from his work. There is no one better positioned to lead SELC now. The organization is the strongest it has ever been, thanks to Jeff Gleason's extraordinary leadership these past three and a half years. DJ is the person to meet the challenges and seize the opportunities of the next era."
Gerken and his family will return to Charlottesville, Virginia, where the law center is based and where he attended the University of Virginia School of Law. He also has a master's in urban and environmental planning from University of Virginia School of Architecture.