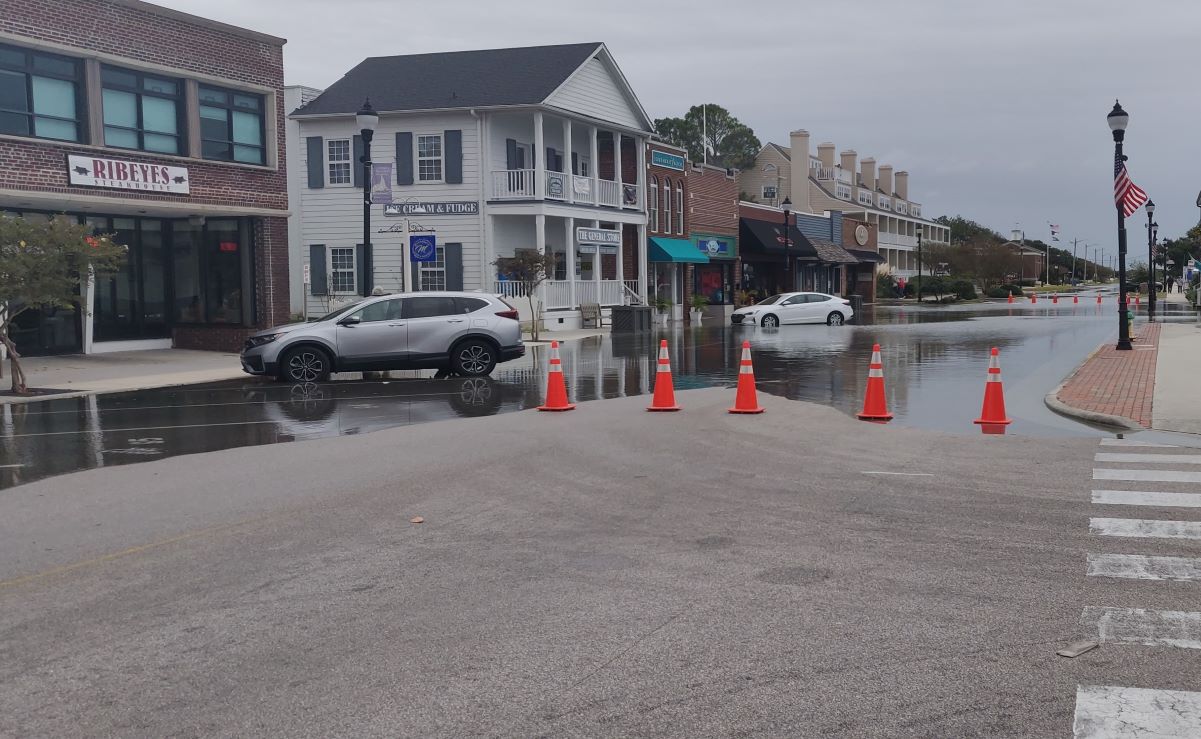 High tide flooding will continue to become increasingly common for coastal communities because of sea level rise, National Oceanic and Atmospheric Administration researchers predict.
NOAA released its State of High Tide Flooding and 2022 Outlook for the U.S. earlier this month, a report that concludes that coastal communities likely will see between three and seven days of flooding on average through next April. NOAA has released an annual outlook on coastal high tide flooding since 2014.
The 2022 outlook predicts that, in addition to continued frequent high tide flooding over the next meteorological year, by 2050, high tide flooding on a national scale is expected to be between about 45 to 70 days per year on average. The long-term projections are based on the range of expected relative sea level rise, about an inch by 2050, using information from the 2022 Sea Level Rise Technical Report.
Also called nuisance or sunny day flooding, high tide flooding happens when tides reach anywhere from about 1¾ to 2 feet above the daily average high tide, causing water to spill in the streets or bubble up from storm drains that aren't really built to handle that much water, William Sweet, oceanographer with NOAA, explained recently during a media conference available on YouTube about this year's outlook.
"We released information documenting record breaking coastal flooding or high tide flooding caused by sea level rise this past year, and that is to be expected to continue into next year, and into the foreseeable future," Sweet said during the Aug. 2 livestream. "As sea level rises, damaging flooding that happened only during a storm will now happen more regularly, even without severe weather."
He said that in most U.S. coastal locations the number of high tide flooding days per year is growing.
"It's accelerating, in fact, along most East and Gulf coastlines," he continued. "Nationally about two-thirds of locations experienced similar or more days of high tide flooding than the year before and the rate of flooding is more than twice it was about 20 years ago, or around year 2000."
During the 2021 season, the northern Atlantic Coast saw eight flood days on average, which is about a 200% increase of what would have been typical around year 2000. The southern Atlantic and western Gulf Coast regions each had six flood days, which are a 300% and 500% increase, respectively, and the eastern Gulf Coast saw four days of flooding, a 200% increase, since around 2000. The West Coast experienced some flooding, one day on average along the southern West Coast and seven days along the northern West Coast.
Sweet emphasized that some communities are experiencing more flooding than others, "such as the 10-plus days of high tide flooding seen last year at locations along the coasts of New York, New Jersey, Delaware, Virginia and North and South Carolina, Mississippi and Texas. All these regions are experiencing high rates of sea level rise and a growing coastal flood problem," he said.
"In short, sea level rise impacts are occurring now and are growing rapidly, which is complicating preparedness planning," Sweet added.
At about a quarter of locations, this year's outlook is higher than last year's, largely due to continued effects of sea level rise.
High tide flooding is predicted to be highest along the northeast Atlantic and the western Gulf Coast, somewhere between six and 11 days on average, and slightly lower along the southeast Atlantic and eastern Gulf Coast at somewhere between three and seven days on average.
He said the predicted inch in sea level rise by 2050 will be a very noticeable change. With water levels nearing the brim in many communities — having sunny day flooding with no storm — flood defenses, old sea walls are being overwhelmed, and water is coming up through stormwater systems into the street.
"And that extra inch isn't helping one bit," he said. "In fact, it's definitely increasing the number of days or events that waters can actually reach these heights."
The flooding frequency may be five to 10 events now but would jump to 60 to 80 events in 30 years. "So, we do know that every inch matters at this point," Sweet said.
He said that by using the data, coastal communities can make informed decisions about how to handle disruptive flooding next year and for the next several decades. "This is information needed to protect life, property, the economy and our environment for future generations."
Sweet acknowledged that while the threshold of 1¾ to 2 feet doesn't fit all coastal areas, the goal was to provide national coverage and guidance for "what typically is a depth when impacts occur and these thresholds that we have chosen to highlight and provide information on are calibrated to those that the National Weather Service have established in conjunction with local emergency managers."
NOAA researchers use data collected by tide gauges on United States coastlines to make their predictions. The gauges monitor "the steady creep of sea level rise in a rapid uptick in high tide flooding," Sweet said.
"Our 2022 state of high tide flooding announcement brings together data recorded at 97 of these NOAA tide gauges between May of 2021 and April of 2022. The data shows that US communities saw four days on average of high tide flooding in 2021, just shy of the record of five days set a few years ago," Sweet continued.
One of those tide gauges is in Beaufort, where Miyuki Hino, assistant professor in the City and Regional Planning and the Environment, Ecology and Energy Program at the University of North Carolina Chapel Hill, is working with a group of researchers from UNC and North Carolina State University on the Sunny Day Flooding Project.
The researchers are measuring high tide flooding on Front Street in Beaufort. They recorded from June 2021 to May 2022, 35 events when there was water on Front Street. This could be any water, from a puddle to a flooded road, and there could have been multiple events on one day if each high tide caused flooding, Hino said.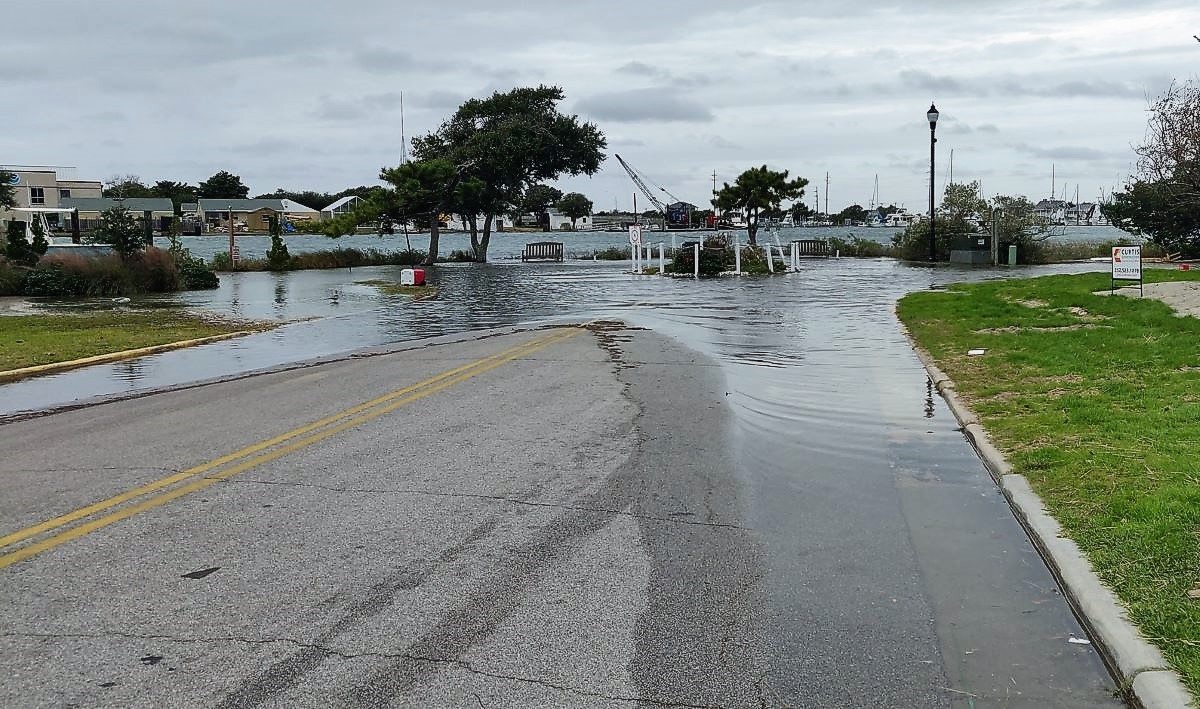 Hino told Coastal Review that the NOAA findings and the measures of high tide flooding that NOAA uses are helpful in providing a big picture of what's going on across the United States and how sea level rise is manifesting more and more in day-to-day life.
By using this nationally standardized way of defining what a high tide flood is, and by using that same measure everywhere across the US, Hino said NOAA can paint a "picture of, 'we only saw this many days 20 years ago, now we're seeing this many days and in 2050, we're probably going to see many, many more.'"
She agreed with Sweet's assessment that the measurements for a nationally standardized approach aren't always perfect reflections of what is actually happening in a specific place. "So their measurement might not correspond exactly to how many floods you see on your street or in your neighborhood, because they're trying to take an approach that works everywhere across the country," Hino said.
"I think there are a couple of really key takeaways," she said. "One is it's very, very clear that we're just starting to see the impacts of sea level rise through these types of floods, but that it's going to become much, much more often in the next couple of years, in the next couple of decades. And that's true, really, regardless of where you live."
In the U.S., because the sea level rise signal is becoming stronger and stronger, Hino said it's clear that the problem is going to get bigger over time and that the NOAA report does a good job of demonstrating that.
"I think the second thing that's worth pointing out is that communities in North Carolina are not alone in facing these challenges. So for those people who are seeing this already and who are really concerned, it's a problem that's not unique to North Carolina," she said. "It's a challenge that a lot of communities are trying to confront. And I think that by continuing to both try to develop innovative solutions locally and continuing to learn from communities elsewhere that are working on this problem themselves, there's a lot of opportunities for adapting to sea level rise and mitigating these types of floods. If we really both work on it within our communities and engage a lot with what's happening elsewhere."