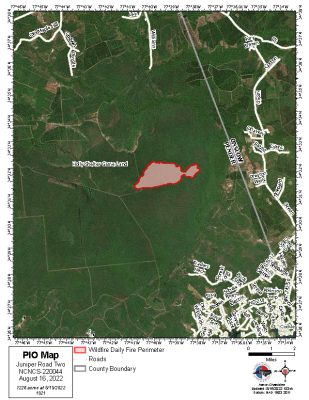 The wildfire within Holly Shelter Game Land in Pender County is 65% contained, North Carolina Forest Service officials said Wednesday.
In the morning update, officials said firefighting personnel had held the Juniper Road Two Fire to 1,226 acres over the last several days. Crews were to continue monitoring the weather because of the significant heat lingering around the fire.
The fire was caused by a lightning strike Aug. 2 well within the interior of the game lands, the Forest Service said Aug. 12.
The state Forest Service has 81 personnel assigned to the wildfire and a low ground pressure track vehicle assisting in mop up operations. As fire containment continues to increase, some resources will demobilize, officials said.
A temporary flight restriction remains in effect in the vicinity of the fire. The temporary flight restriction applies to all civilian aircraft, manned and unmanned, within 5 miles of the fire and remains in place until aviation support is no longer needed.