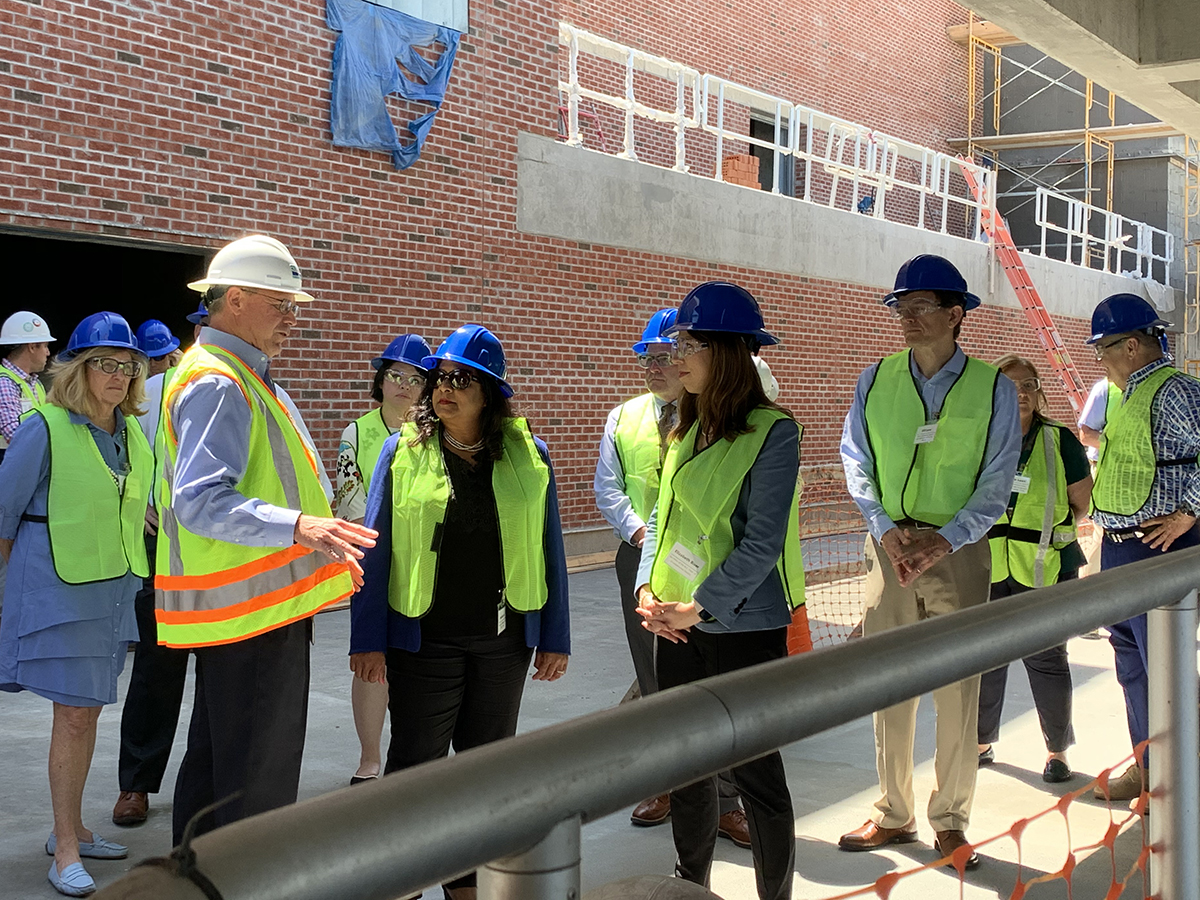 WILMINGTON – New and updated federal drinking water health advisories have been issued for four chemical compounds, including GenX, a contaminant that for years has been discharged into the Cape Fear River.
Shortly after the announcement was made Wednesday morning at the third National PFAS Conference, the company responsible for releasing chemical contaminants into the river for decades pushed back on the new advisory for GenX, hinting it might fight the matter in court.
Radhika Fox, the U.S. Environmental Protection Agency's assistant administrator for water, told the more than 100 at the conference that the agency is setting final health advisories for GenX at 10 parts per trillion, or ppt, and perfluorobutane sulfonic acid, or PFBS, at 2,000 ppt.
The North Carolina Department of Environmental Quality stated in a press release Wednesday that PFBS has, to date, not been found in significant concentrations in samples taken in the state.
EPA is also issuing updated interim health advisories for perfluorooctanoic acid, or PFOA, and perfluorooctane sulfonic acid, or PFOS. The 2016 federal health advisories for PFOA and PFOS were set at 70 ppts.
"The updated advisory levels are based on new science including more than 400 recent studies which indicate that negative health effects may occur at extremely low levels, much lower than previously understood for both PFOA and PFOS. Based on that peer-reviewed science we are setting interim health advisory levels for PFOA at 0.04 parts per trillion and for PFOS 0.02 parts per trillion, so near zero," Fox said, her statement followed by applause.
These synthetic compounds are a tiny fraction of the thousands of per- and polyfluoroalkyl substances, or PFAS, that exist today.
The Cape Fear region has been cast in the national spotlight since the public was first made aware that the Chemours Co.'s Fayetteville Works Facility had been discharging PFAS directly into the Cape Fear River, the raw drinking water source for more than a quarter-million people, for decades.
PFAS are also being released into the air and groundwater around the plant some 75 miles upriver from Wilmington.
"Our new interim health advisories are important milestones to help protect the public while EPA works to finalize our drinking water standards," Fox said. "I hope you see that these four health advisories demonstrate EPA's commitment to following the science to protect public health."
A short time after Fox concluded her comments at the conference, Chemours released a statement saying that it supports government regulation, "based on the best available science" and that the EPA did not use that science to establish its health advisory on GenX.
"Nationally recognized toxicologists and other leading scientific experts across a range of disciplines have evaluated the EPA's underlying analysis and concluded that it is fundamentally flawed," the company stated. "The agency disregarded relevant data and issued a health advisory contrary to the agency's own standards and this administration's commitment to scientific integrity."
The statement goes on to explain the company GenX, or hexafluoropropylene oxide-dimer acid, HFPO-DA, is not a commercial product and that the company uses it and its ammonium in manufacturing processes for four fluoropolymers, which are used to produce semiconductors, cellular phones, hospital ventilators and other products.
"It is not broadly used like older generations of PFAS, such as PFOA," according to Chemours. "HFPO-DA does not break down to form PFOA or any other PFAS in the environment."
"We are already using state-of-the-art technologies at our sites to abate emissions and remediate historical releases. We are evaluating our next steps, including potential legal action, to address the EPA's scientifically unsound action," the company stated.
GenX was created to replace PFOA, which was voluntarily phased out of production more than 10 years ago in the U.S.
Health studies of animals that ingested GenX show health effects in the kidneys, blood, immune system, liver and developing fetuses, according to the EPA's toxicity assessment.
Studies on PFBS show health effects in the thyroid, reproductive organs and tissues, kidneys and developing fetuses.
"We are moving with all haste in the development of a national drinking water standard for PFOA, PFOS and I will say that we are developing the options for this rulemaking to see if we can include other PFAS, not just those two," Fox said.
DEQ and the North Carolina Department of Health and Human Services "are moving quickly to evaluate the state's drinking water supplies based on these health advisories and determine appropriate next steps to assess and reduce exposure risks," according to the DEQ news release.
The EPA's health advisory for GenX will replace the state's provisional drinking water health goal of 140 ppt developed in 2018.
Under a consent order among DEQ, Cape Fear River Watch and Chemours, the company is required to provide whole house filtration for households that rely on private water wells where GenX concentrations are above the health advisory.
DEQ estimates that more than 1,700 additional private well users will be eligible for whole house filtration or connection to a public water supply based on EPA's new health advisory.
"DEQ is directing Chemours to proceed with the implementation of the health advisory and additional information will be provided to residents about their options and next steps as soon as possible," according to the release.
North Carolina stands to receive additional federal funding to address PFAS in the state.
Fox also announced Wednesday that $1 billion in grant funding through President Joe Biden's $108 billion bipartisan infrastructure law will help small and disadvantaged communities to address PFAS and other emerging contaminants. The funds will be the first installment in monies dedicated to addressing PFAS.
"Because of this investment for the first time ever we have $10 billion available to support cleanup, testing, monitoring for PFAS and other emerging contaminants," Fox said to a group of reporters following a tour of the Cape Fear Public Utility Authority's Sweeney Water Treatment Plant.
DEQ Secretary Elizabeth Biser said the state anticipates receiving about $28 million a year.
"This additional billion for small and disadvantaged communities will be on top of that. That is great," she said.
The state will need to continue working with federal partners to identify additional funds for addressing PFAS-related issues.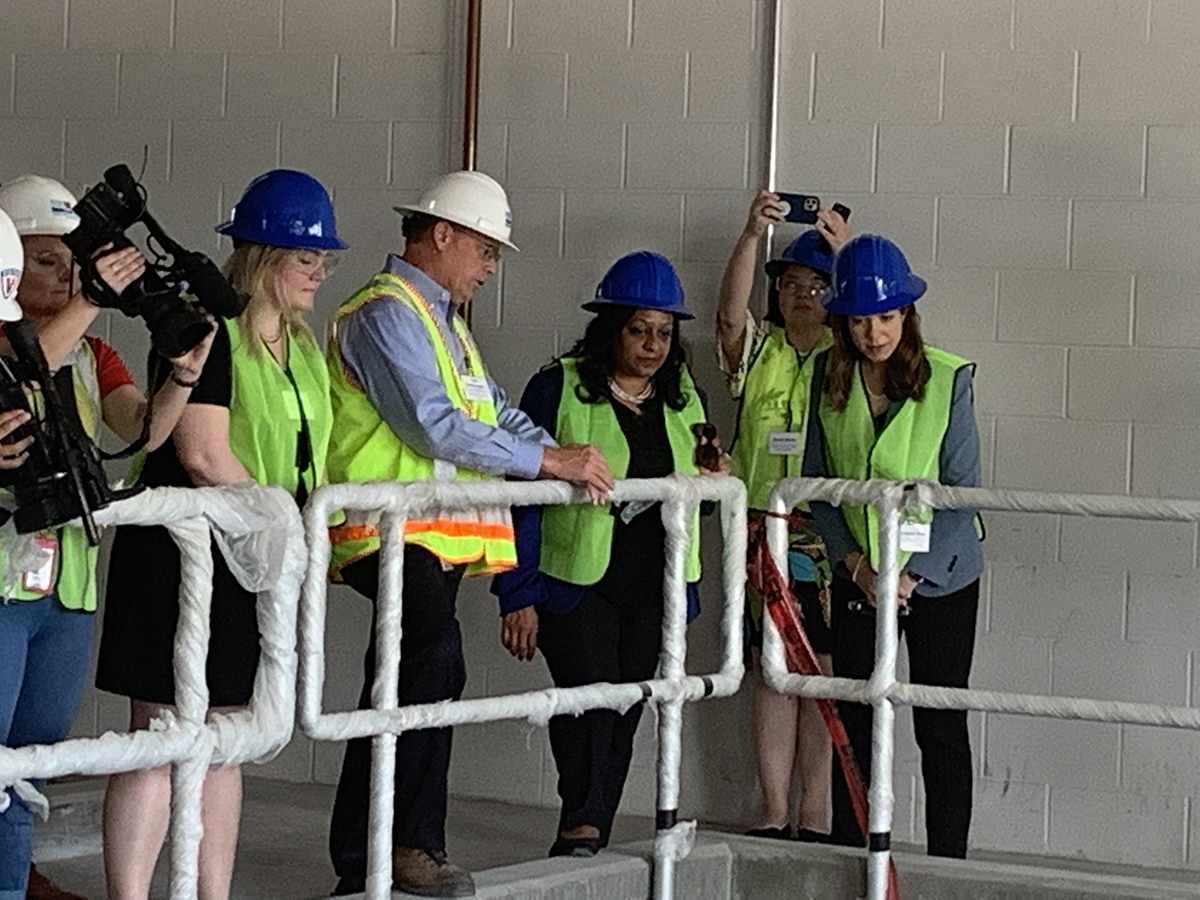 Fox and Biser were given a tour Wednesday of the $43 million addition currently under construction at the Sweeney plant in downtown Wilmington after Fox spoke at the PFAS National Conference.
The plant is being upgraded with the addition of a granular activated carbon, or GAC, system expected to filter out on average 90% of PFAS from its raw water source, the Cape Fear River.
Following the tour, Brunswick County Public Utilities Director John Nichols made a presentation to Fox and Biser about what that utility's multi-million-dollar upgrade to a low-pressure reverse-osmosis system to remove PFAS.
Both utilities have had to pass down the costs of removing PFAS from drinking water to their water customers.
Proposed legislation would require companies responsible for releasing PFAS above health thresholds to pay costs public utilities incur to remove chemicals from their raw drinking water sources.
House Bill 1095 would authorize the Environmental Management Commission to adopt maximum contaminant levels for chemical compounds.
DEQ is in the process of establishing maximum contaminant levels for 10 to 15 compounds specific to North Carolina. The department will implement drinking water standards through its permitting program.