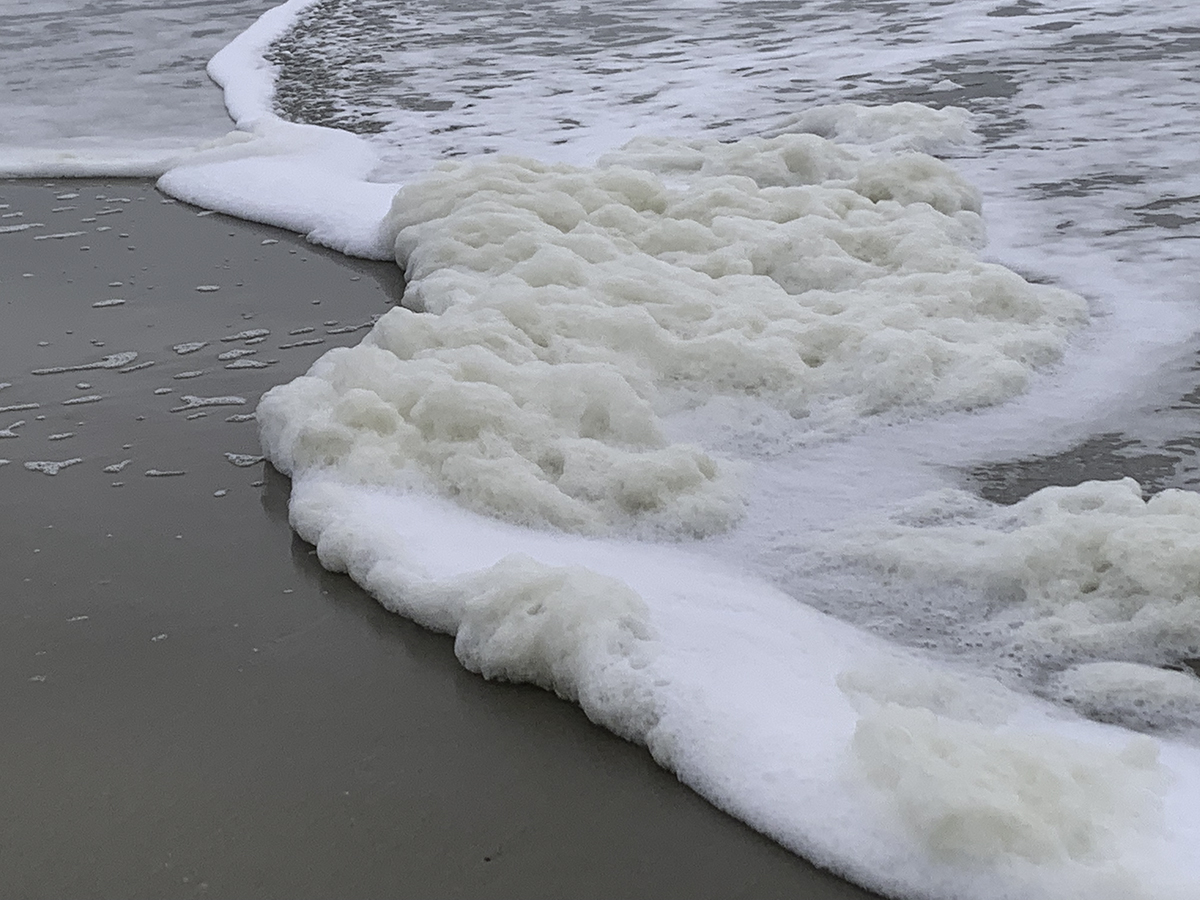 A statewide investigation of foam containing PFAS in, among other places, areas near the Cape Fear River has yet to identify the potential sources of the chemical compound-laden froth.
More than a year and a half has passed since state environmental officials began sampling foam that Cumberland County residents reported seeing on creeks near the Cape Fear River or forming after rainfall.
Foam samples collected by North Carolina Department of Environmental Quality officials in June 2020 contained elevated levels of per- and polyfluoroalkyl substances, otherwise known as PFAS, synthetic chemicals found in a number of consumer products.
Several PFAS were also found in foam samples retrieved from the ocean shorelines of Caswell Beach and Oak Island as well as a rain gutter from a private residence in Leland.
Foam samples collected in the Brunswick County towns in April and May 2021 were analyzed by scientists at North Carolina State University and discovered to contain more than a dozen different PFAS.
PFAS are omnipresent in the environment and, though the source of the PFAS foam remains unknown, many cast suspicions at Chemours Co.'s Fayetteville Works, which has been discharging a host of PFAS into the Cape Fear River and the air since the 1980s.
"There's a lot of Chemours PFAS in the foam samples that were collected at the beach, but there's that one chemical compound, Hydro-EVE, that was collected in my rain gutter," said Leland resident Emily Donovan.
Hydro-EVE acid was found to be in an overwhelming number of New Hanover County residents who volunteered to give blood samples to researchers studying the potential effects of PFAS in humans.
The results of the blood tests, released to the public in late 2018, revealed that 76% of blood samples taken from more than 300 residents contained Hydro-EVE.
Donovan, co-founder of Clean Cape Fear, said the presence of Hydro-EVE in foam coming from her rain gutter begs the question of why and how it got there since Chemours has been operating a thermal oxidizer designed to eliminate chemical emissions.
As part of a February 2019 consent order with the state, the company was required to install a thermal oxidizer by the end of 2019 and control all PFAS at an efficiency of 99.99%. A thermal oxidizer heats volatile organic compounds to the point those compounds are broken down and destroyed before entering the atmosphere.
In March 2020, the facility announced the new system was removing 99.99% of PFAS from its air emissions.
Last October, DEQ slapped Chemours with more than $300,000 in civil penalties for exceeding its GenX air emissions limit. The company appealed the fine.
DEQ's Division of Water Resources is assessing the prevalence of PFAS in foam across the state, "and impacts from factors such as habitat, weather, and seasonal influences," according to a division spokesperson.
The U.S. Environmental Protection Agency does not have a certified method for collecting and testing foam.
"Field staff routinely monitor ambient stations and conduct site visits to beaches in response to complaints," Anna Gurney, Division of Water Resources public information officer, stated in an email. "From that data, the division will develop a statewide research, collection and testing strategy. While DEQ continues to investigate the formation, composition and potential sources of foam occurrences, the N.C. Department of Health and Human Services recommends avoiding contact with all foam, especially for children and pets as a precaution."
The Division notes that surface water samples taken from around and underneath foam contains "considerably lower levels of PFAS."
Foam on water can naturally occur when a mix of rain and wind stir up fatty substances and gases from rotting plants and aquatic animals.
But something about the foam frothing on the shores of Caswell Beach and Oak Island looked off to Donovan, who noticed the foam in pictures friends posted on social media more than a year ago.
Donovan started taking screen shots of the pictures and sending them to university researchers.
"It was just this massive amount of foam along the beach," Donovan said. "It went all the way to the dunes and to the shoreline. It did not look natural to me and, knowing what I know about PFAS and what was happening in other states – Michigan has foam advisories for PFAS that wash up along their shorelines – I just felt like, come on, this is the Cape Fear Rive and we know it's highly polluted with PFAS."
The foam is not occurring at New Hanover County beaches, which are northeast of Brunswick's ocean shoreline.
"So, it just seemed like a reasonable assumption that there's probably PFAS in that foam and we should check it."
The foam on the beachfront doesn't necessarily look alarming and that, Donovan said, is a concern, especially as tourism season nears. She's raising the question to DEQ about the state posting health advisories to warn residents and tourists from coming in contact with foam.
"We're at the end of the Cape Fear River, and while Chemours is a majority of our PFAS pollution, they're not the only pollution source," she said. "Address the sources that we know exist, which is Chemours. On top of that, go upstream to all industry that discharges, and downstream industries that discharge and completely address PFAS releases. They don't belong in the rivers. They certainly don't belong on the beaches. They don't belong in our air. They don't belong in our soil. They don't belong in our food supply, but we're finding them in all these places. I think we're five years from the public fully understanding just the magnitude of the contamination crisis in this area related to these forever chemicals so what we really need to start seeing is DEQ asserting its authority to stop these exposures right now and clean them up."