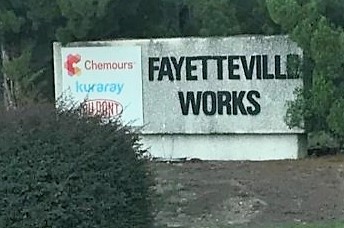 Six eastern North Carolina environmental justice and community groups that sued the Environmental Protection Agency in 2021 seeking EPA-required health studies in communities affected by dozens of per- and polyfluoroalkyl substances have revived a lawsuit originally filed during the Trump administration after the agency's action on their petition fell short of their demands.
The groups, the Center for Environmental Health, Cape Fear River Watch, Clean Cape Fear, Democracy Green, the NC Black Alliance and Toxic Free NC, announced Thursday that they were reactivating their lawsuit against the EPA. The groups said the agency failed to grant their petition under the Toxic Substances Control Act seeking to require Chemours Co., the manufacturer of a compound known as GenX and based near Fayetteville, to conduct critical health studies on 54 substances that the groups say are putting hundreds of thousands of North Carolina residents at risk.
In a statement, Bob Sussman, the petitioners' counsel and a former senior EPA official, said that "We are returning to court to exercise our right under TSCA to challenge EPA's disappointing refusal to hold Chemours accountable for studies that EPA had the clear authority to require. We are confident that the court will direct EPA to assure that Chemours pays for essential testing on chemicals that are in the drinking water and blood of hundreds of thousands of North Carolinians."
The groups' petition, filed Oct. 14, 2020, asked EPA to require that Chemours fund a comprehensive research program addressing residents' concerns in communities along the Cape Fear River.
Related: Brunswick, New Hanover County chairs blast Chemours ads
The EPA on Dec. 28, 2021, announced it was granting the petition but stopped short of meeting the groups' demands, agreeing to require limited testing on only seven of the 54 PFAS that it had announced in October would be conducted under its general PFAS testing strategy. The agency also refused to require an epidemiological study of contaminated communities or testing of PFAS mixtures present in drinking water and in residents' blood, which the groups said were the most important studies in understanding how PFAS pollution has affected the health of exposed populations.
The groups say residents have been exposed for decades to numerous PFAS in their drinking water, air, food and soil because of pollution from the Chemours facility.
"For decades, our communities have suffered silently from PFAS contaminated water. All the while, polluting corporations have continued to profit from our pain. Our dedicated team of community advocates, legal counsel, and scientists have provided EPA with the tools to clearly and swiftly act to save our communities. If EPA is unwilling to use these tools, we will look to our legal remedies to make sure the agency holds Chemours accountable " said La'Meshia Whittington, NC Black Alliance, in a statement.
Researchers detected the compound GenX in the river downstream from Chemours nearly 10 years ago and subsequently in the river-drawn drinking water supply for the Wilmington area. State health officials in 2017 were notified of the contamination, which also included other related substances. As recently as last year, the state fined Chemours over air emissions of PFAS and required to take additional actions to address contamination, including that of private wells.
A spokesperson for Chemours declined Coastal Review's request for comment for this report.