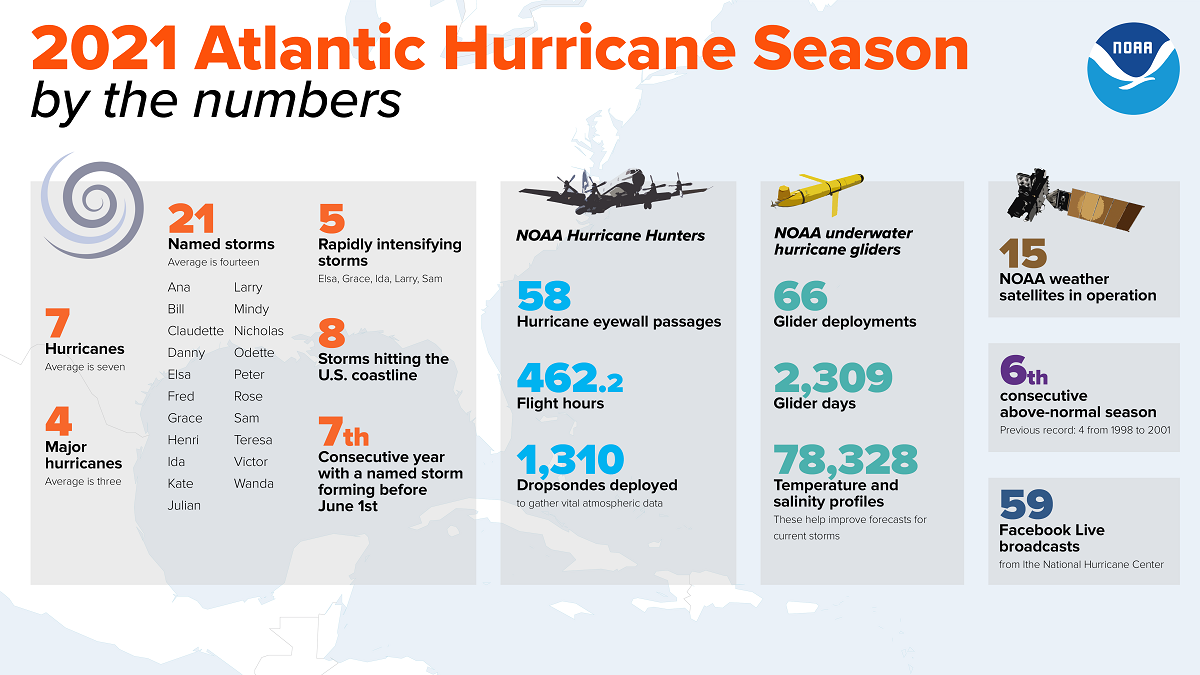 The 2021 Atlantic Hurricane Season, which ended Tuesday, produced nearly two-dozen named storms, and ranks as the third most active year on record for named storms.
This year also marks the sixth consecutive above-normal Atlantic hurricane season and was the first time on record that two consecutive hurricane seasons exhausted the list of 21 storm names, National Oceanic and Atmospheric Administration officials said Wednesday.
Of the 21 named storms, which have winds of 39 mph or greater, there were seven hurricanes with winds of 74 mph or greater, four of which were major hurricanes with winds of 111 mph or greater.
This above-average hurricane season was accurately predicted by NOAA's Climate Prediction Center, a division of the National Weather Service, in their May and August outlooks.
"NOAA provided the science and services necessary to protect life and property before, during and after storms all season long," said NOAA Administrator, Rick Spinrad in a statement. "From essential observations to advanced warnings to critical response actions, NOAA supports communities so they are ready, responsive and resilient to the impact of tropical cyclones each and every hurricane season."
Scientists are tying the heightened hurricane activity in recent years to the warm phase of the Atlantic Multidecadal Oscillation that began in 1995 and favors more, stronger and longer-lasting storms, NOAA officials said. The Atlantic Multidecadal Oscillation is an ongoing series of long-duration changes in the sea surface temperature of the North Atlantic Ocean, with cool and warm phases that may last for 20-40 years at a time. These changes are natural and have been occurring for at least the last 1,000 years.
Additionally, scientists are linking the increase in activity to climate change. Intergovernmental Panel on Climate Change's Sixth Assessment Report released in August projects with high confidence that the global proportion of tropical cyclones that reach very intense — category 4-5 — levels, along with their peak winds and rainfall rates, are expected to increase with climate warming at the global scale, NOAA said.
Federal Emergency Management Agency officials said Wednesday that just because hurricane season is officially over, severe impacts from climate change are lasting longer and stretching beyond traditional seasons, meaning community preparedness efforts must be a year-round endeavor.
The 2020 FEMA National Household Survey found that only 48% of American households have disaster preparedness plans, indicating that many feel immune to disasters, FEMA officials said.
"This past year, I traveled around the country and observed flooded streets and extensive debris in places like LaFourche, Terrebonne and St. Charles parishes, listened to heartbreaking stories of families who lost everything to wildfires and saw the remnants of homes torn apart by tornadoes that touched down in New Jersey as Hurricane Ida approached," said FEMA Administrator Deanne Criswell in a statement. "I was pained to see the devastation, and it strengthened my resolve that emergency preparedness cannot only be seasonal and must be a year-round activity."
To be prepared year-round, FEMA officials urge visiting Ready.gov and the following recommendations:
Make a plan for the types of disasters that could affect your area and know how you'll contact one another and reconnect if separated. Establish a family meeting place that's familiar and easy to find.
Know your evacuation route. Get accustomed to alternate routes and other means of transportation out of your area.
Follow wireless emergency alerts. These are short emergency messages from alerting authorities delivered to your mobile device.