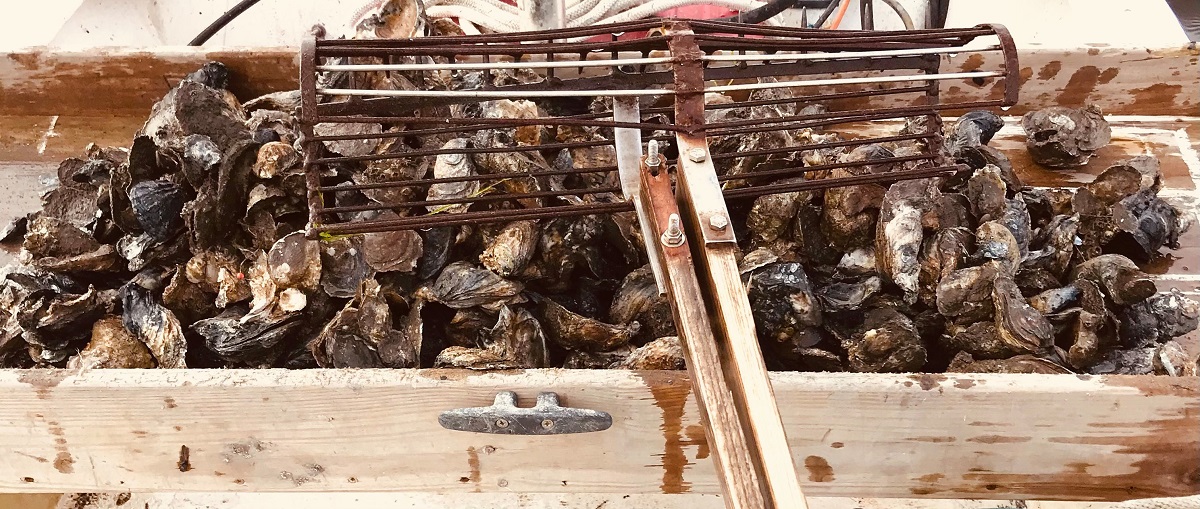 Tanner Lynk has been oystering the "old way" in Carteret County since he was young.
A 2012 East Carteret High School graduate who studied history at University of North Carolina Wilmington, the Harkers Island native continues to harvest wild-caught oysters using hand tongs. These scissors-like tools, which have been used for centuries, have metal rakes attached to the end of long wooden handles to harvest oysters from submerged beds.
He's particularly busy this time of year with his work as education programs coordinator at the Core Sound Waterfowl Museum and Heritage Center on Harkers Island and oystering, his side business.
Lynk joined the museum staff in August, after teaching history for a few years at East Carteret, and is working on the museum's education outreach.
With education in mind and his connection to Core Sound, Lynk explained to Coastal Review he wanted to pay tribute to the traditional hand-harvesting method and is doing so through a new exhibit, "Oystering The Old Way: A Tradition that Continues at Core Sound Waterfowl Museum & Heritage Center."
The exhibit is now on display, right as oyster season is gearing up — oyster season with tongs, rakes or by hand in North Carolina is from October to March, per the Division of Marine Fisheries — and just in time for the museum's annual Waterfowl Weekend this Friday through Sunday.
"This year at Waterfowl Weekend, you can come see firsthand how local fishermen harvest wild-caught Core Sound oysters, the 'old way'," Lynk wrote about the new educational display in a newsletter from the museum.
The three-day Waterfowl Weekend is a celebration of Down East heritage and features carvers, crafters, musicians and artists, educational displays, live music and a special worship service.
Festivities start at 6 p.m. Friday, when the entire island will be decorated for the holidays and visitors can view the second annual Gallery of Trees, featuring an array of crab pot trees, which are set up throughout the museum, decorated with handmade ornaments by families and organizations "telling their story."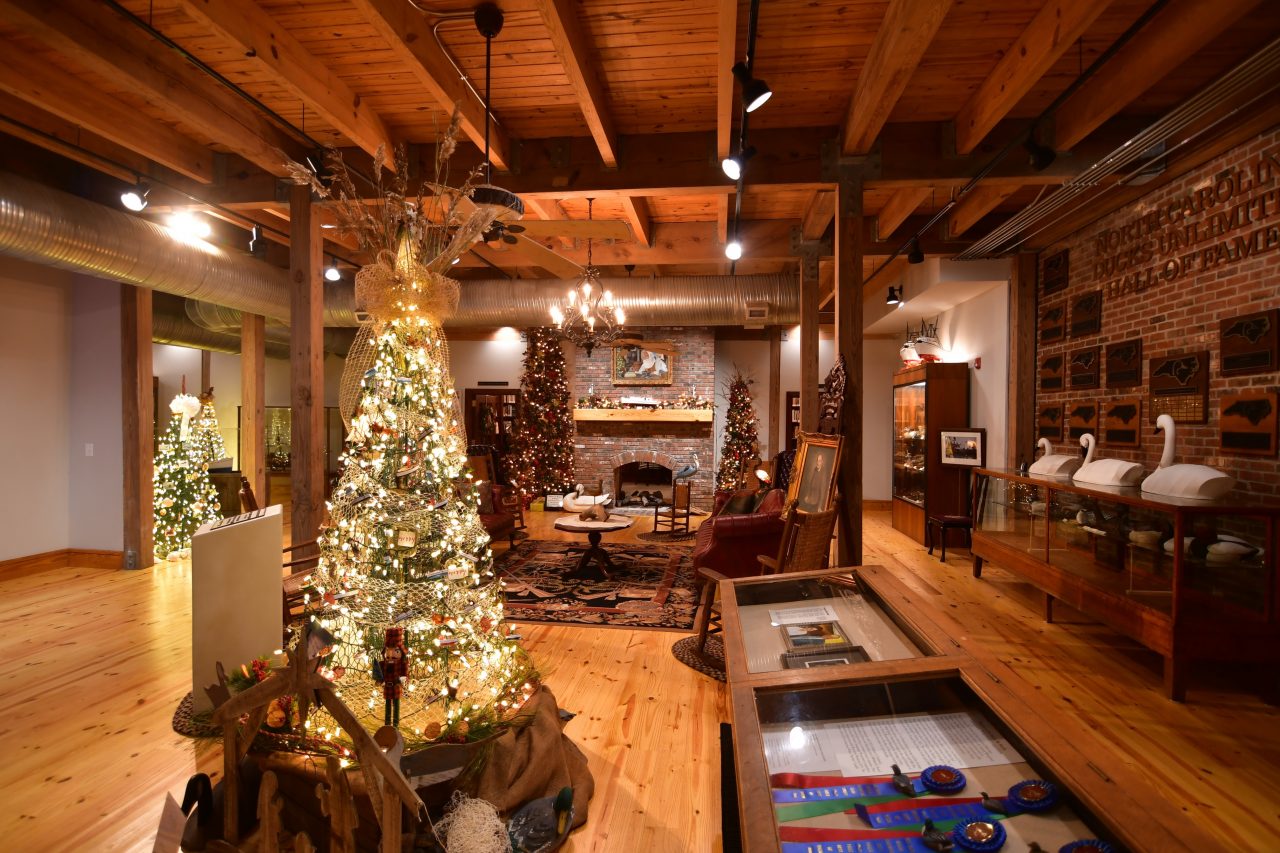 The weekend events resume at 9 a.m. Saturday. Activities all weekend are free and will be indoors and on the museum grounds. Sunday church service starts at 8 a.m. with a breakfast followed by a performance at 12:30 p.m. Sunday by the 2nd Marine Aircraft Wing Band.
"The first weekend of December continues to be our homecoming gathering for members, friends, families, newcomers and everyone who loves Down East and appreciates the living traditions that we still carry on," Karen Willis Amspacher, executive director of the museum, said in an interview. "The entire island is ablaze with our own brand of community Christmas spirit, and we are proud to be a part of all that happens here during those few days."
Lynk explained to Coastal Review that while many people are learning about the aquaculture aspect of oyster farming, this new exhibit is a way to show the traditional method of harvesting oysters. The exhibit also serves as a reminder that fishers are still out there doing it the old way and this exhibit is to recognize their work.
Lynk said he comes from a long line of commercial fishers and he first got into oystering in his youth. When he was 10, he got his own skiff. He said would go out and oyster to make a little bit of money.
His working the waters evolved from there and as he got older, got his commercial fishing license. Lynk continues oystering today — when he's not working to broaden the museum's reach by trying to connect with area teachers to share with them the cultural history of area so they can better understand where their students come from "because in Carteret County it's a different world out here."
Amspacher told Coastal Review that Core Sound is honored to have an educator with a strong living heritage background in commercial fishing.
"We are eager to provide opportunities for him to share his perspective as both an educator and an active oysterman. With all the attention on shellfish mariculture, the (museum) is very proud to add the traditional perspective with a new generation of working watermen," she said.
December is synonymous with oystering the old way, when seasonality was key to its healthy harvesting, she said. "What better way to bring back awareness of this long-held tradition on Core Sound than through our Waterfowl Weekend's annual heritage celebration?"
Amspacher said that in addition to the emphasis on oystering, another first for this year's Waterfowl Weekend is the 2nd Marine Aircraft Wing Band concert. Its Christmas Concert is to feature a special tribute to all World War II veterans in honor of Pearl Harbor Day, Dec. 7.
"The Marine Corps Band was the highlight of our summer shrimp fry in July and they were eager to return to Harkers Island, enjoy the good seafood and share their music with a community that understands the importance of their role in our community," she said. "This is their second visit to the museum this year and we are looking forward to another wonderful all-American experience like we hosted in July."
Waterfowl Weekend kicks off Friday night when the island, including the museum, will be aglow with holiday decorations.
In addition to the second annual Gallery of Trees accompanied by dulcimer music, the museum is expected to host more than 40 carvers, artists and crafters outside, provide Christmas desserts, punch and coffee. Also, the Carolina Decoy Collectors Association is to host a special exhibition this weekend at the museum.
Collectors can check out the auction items in the museum's education hall. The auction opened online Nov. 26 and closes at 7 p.m. Saturday. Visit House Auction Co.'s website to see the collection of decoys.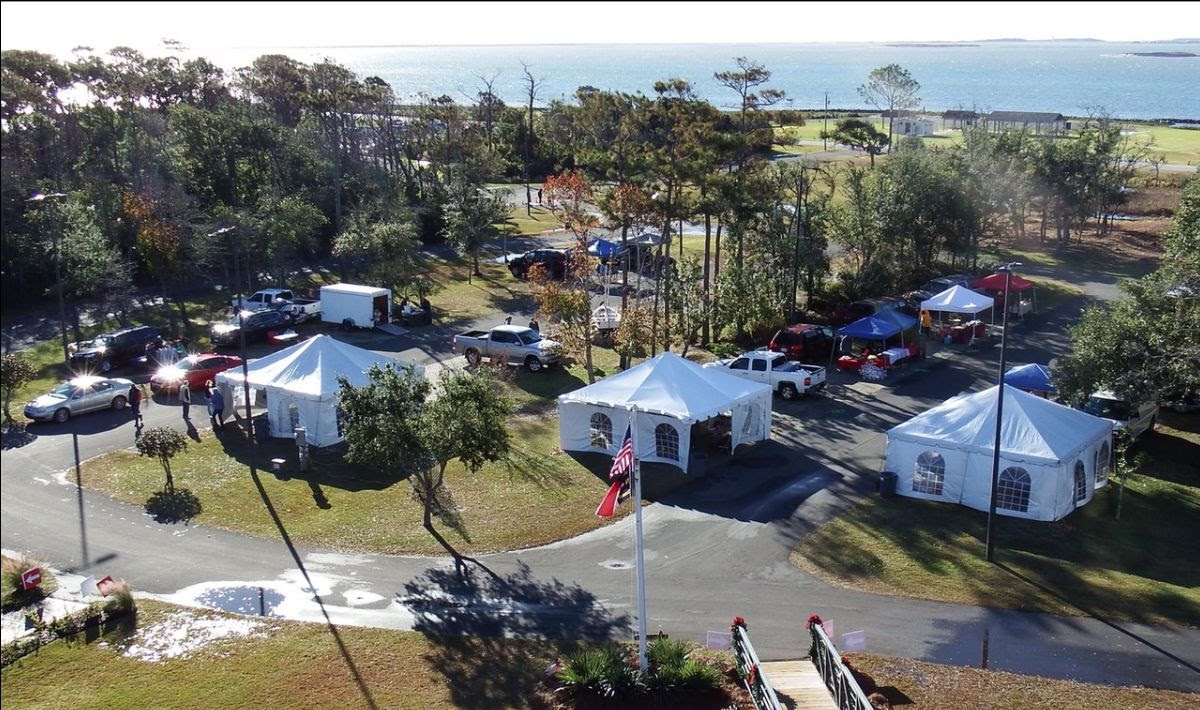 Starting at 9 a.m. Saturday, carvers, collectors, artists, photographers and crafters will again be on hand, the Museum Store will be open 9 a.m. to 5 p.m. with crab pot trees and a new collection of Christmas collectibles.
Also on Saturday, the museum will host book signings from 11 a.m. to 2 p.m. Saturday.

Bland Simpson, Ann Cary Simpson and Scott Taylor are to be on hand to sign their newly published book, "Land of Water, Land of Sky"; T. Edward Nickens is to sign "The Last Wild Road"; and Georgann Eubanks is to sign copies of "Saving the Wild South."
Core Sound Church begins at 8 a.m. Sunday. The 2nd Marine Aircraft Wing Band's Christmas concert begins at 12:30 p.m. along with the veterans tribute.
"We are very proud of the Marine Corps Band," Amspacher said. "That's huge."
Tickets for the annual quilt raffle and Christmas raffle are also being sold. This year's quilt is named "Crosscurrents," and are $5 each or 6 for $25. The "lines of the quilt echo the currents, which flow and crisscross through the sea and the sound and the creeks and the marshes of our coastal communities," according to the museum. Tickets for the Christmas raffle are $20 each or 6 for $100. Drawing is at 2 p.m. Sunday.
This is the fourth consecutive year in which the Waterfowl Weekend has been held under stressed circumstances.
Amspacher explained that in 2018, Waterfowl Weekend was held in "a disaster zone," with drywall and floors stripped to the framing because of Hurricane Florence-related damage. The following year, the building was still a construction zone with unpainted walls, lots of sawdust and still no flooring, but there were signs of progress, she said. In 2020, the museum, like everyone, faced a new emergency: COVID-19.
Amspacher said the museum was in crisis mode, but staff made masks mandatory and sanitized restrooms, door knobs, the elevator and other public spaces, checked visitors' temperature in the parking lot and had uniformed security making sure folks were social distancing.
This year, she said, "We are moving into a new normal, still very conscious of COVID, encouraging masking inside, still cleaning and fogging and hand-sanitizing, but thankful for the vaccine."