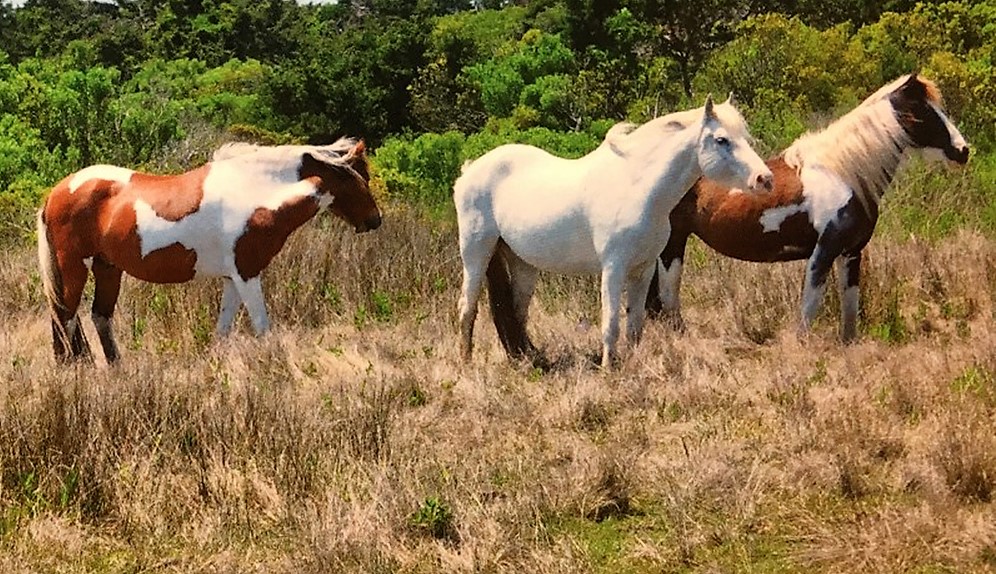 "Banker" horses may have been left on Ocracoke by shipwrecked explorers in the 16th or 17th century, but they have been documented on the island since the first European settlers of the 1730s, according to officials with the Cape Hatteras National Seashore.
instead of roaming around as they did up until the 1960s, the small horses, under the care of the National Park Service, are usually visible to the public from two viewing decks at the Pony Pen & Parking Lot on the island.
To help care for the horses, Outer Banks Forever is offering a chance to symbolically "Adopt A Pony," which will help pay for their ongoing care and feeding. Outer Banks Forever is the official nonprofit fundraising partner for Cape Hatteras National Seashore, Fort Raleigh National Historic Site and Wright Brothers National Memorial.
The horses found on Ocracoke are different from other horses — they have a different number of vertebrae and ribs, as well as a distinct shape, posture, color, size and weight that set them apart.
Those who Adopt A Pony with a gift of $45 or more, will receive an adoption certificate and a photo of the symbolically adopted horse or the herd.
The horses have played a major role in the island's history, by helping Colonists settle Ocracoke, and the U.S. Lifesaving Service and Coast Guard used the horses to patrol the beaches.
In the late 1950s, Ocracoke Boy Scouts cared for the horses and had the only mounted troop in the nation. The free-roaming animals were required in 1959 to be permanently penned to prevent over-grazing and to safeguard them from traffic after the highway was built in 1957. The remaining herd has been cared for by the National Park Service since the early 1960s.