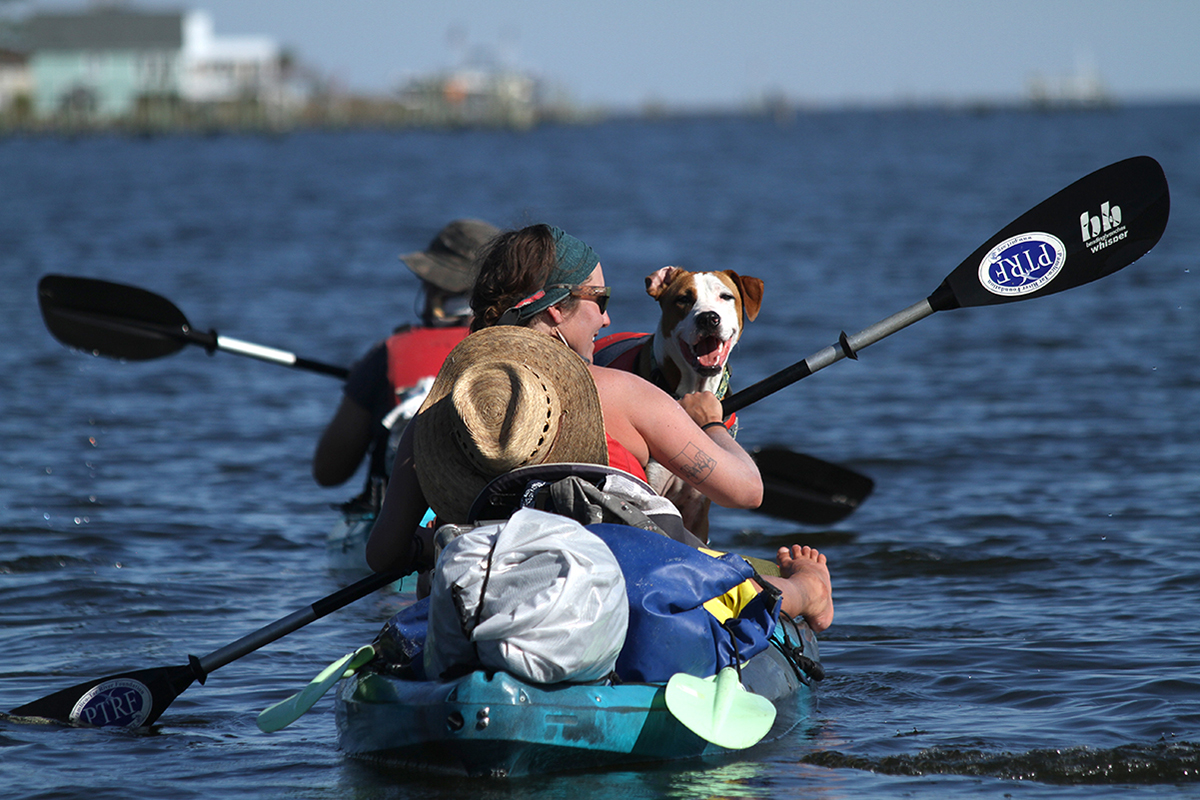 Two Sound Rivers employees recently embarked on a five-day kayaking trip down the Pamlico River, a reconnaissance mission to document environmental conditions that started Oct. 17 in Washington and ended in Swan Quarter.
Over the course of these 70 river miles, the paddlers would observe the beauty of the river and note any issues they noticed along the way.
Sound Rivers is a nonprofit advocacy group that aims to protect the health of the Tar-Pamlico and Neuse River basins.
Last year, after canceling many of their normal community events because of the pandemic, they tried out a kayaking adventure down the Tar River. They documented their journey on social media to engage the community.
This year, they're at it again, this time exploring a different section of their designated waters. The paddlers are Pamlico-Tar Riverkeeper Jill Howell and Environmental Projects Coordinator Clay Barber. A nonpaddling, but still participatory passenger is Miller, Howell's 53-pound puppy.
As a riverkeeper, Howell's eyes were fixed on the environmental issues she noticed along the way. Barber's passion is accessibility to watersports and to the river itself. As they paddled down the Pamlico, both hoped to learn a little bit more about the resource that they steward, and share that information with the community.
Day 1
Howell and Barber's journey was preempted by a supportive send-off from the Havens Garden Kayak Launch in Washington. A handful of folks from the community came out to participate in a trash cleanup at the site and watch the paddlers embark on their journey. A few friends joined the paddle for a while before exiting the river as the travelers went on their way.
This first day included 8 miles of paddling through a residential stretch along the Pamlico's shores. Then they traveled up Broad Creek, passing marshy banks and cypress trees with hanging moss along the way. Though sunny and warm, the wind picked up and Howell and Barber encountered choppy waters. Barber, paddling in a sea kayak, kept getting splashed from behind. On days like this, he said, a spray skirt is a helpful piece of gear that can protect you from getting damp.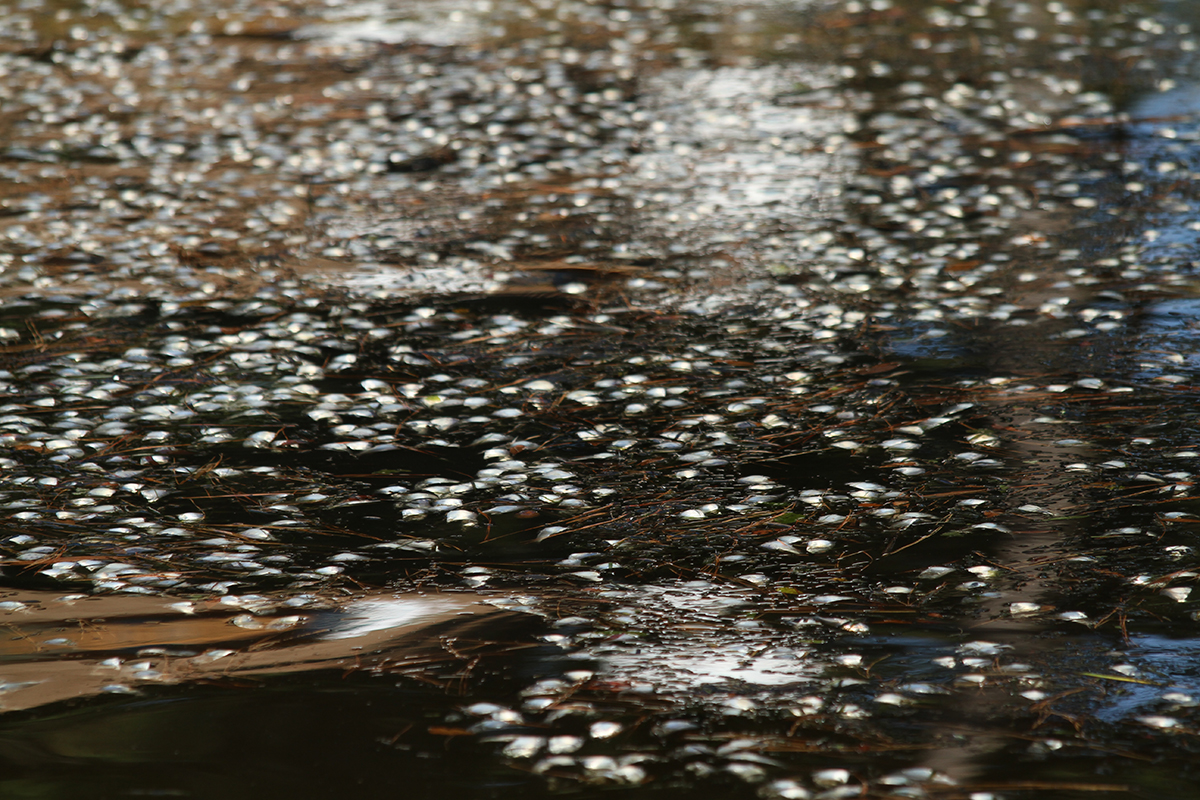 Howell and Barber also paddled through an expansive fish kill on the first day. Fish kills can be caused by algal blooms or oxygen depletion in the water. Nutrient pollution can be a contributor to the problem, which happens frequently this time of year. While they weren't surprised to see fish kills on their trip, Howell said they're a major problem plaguing the river.
"They're a sign that the waters are in distress," Howell said.
Since fish kills occur so often, Howell said it's not uncommon for people to feel a little desensitized to them. But she hopes that people will report them to Sound Rivers or the North Carolina Department of Environmental Quality each time they see one, regardless of size. Howell noted that underreporting is a concern and it's important to have observational data for understanding the magnitude of the problem.
The paddlers arrived early at the Hindsley Platform, a reservable campsite that is 16 by 32 feet and surrounded in part by mesh netting. Accessible only by water, it's located about 2 miles up Broad Creek from the Pamlico.
Miller, the pup who was perhaps less enthused about sitting in a kayak all day, was excited to run around and explore the swampy terrain. He quickly found and chased nutria living near the site. Nutria are a nonnative, semiaquatic rodent species from South America first introduced to the United States in 1889.
This first night, Howell and Barber slept in hammocks. They brought bug netting to cover themselves just in case any critters were to make it inside the enclosure. Dinner was macaroni and cheese with chili.
Day 2
A chilly night with a low of 44 degrees broke into a beautiful, sunny day at the Hindsley Platform.
"The best thing you can do for cold weather is to have multiple layers of clothing," Barber said.
The type of material also matters, added Barber. Cotton is OK for a short outing in dry conditions. But for a multiday trip, he recommended polyester, spandex or other synthetic fibers that dry quickly and keep you warm.
"Choose your materials wisely," Barber said.
Barber stayed warm despite the cool night temperatures thanks to a $4 sleeping bag from Goodwill. Barber's passion for accessibility includes overcoming financial barriers to recreation.
"Don't let anybody tell you you've got to spend a whole ton of money on camping gear," Barber said. "Just be smart about what you're buying."
The second day was another short paddle, only about 9 miles. They paddled down Broad Creek and across the Pamlico River to Blounts Bay and a little bit up Blounts Creek, which is where they planned to stay the night. Midday was hot and the paddlers broke out the sunscreen – there was no shade. It was windy and choppy, which Barber's sea kayak handled well, but the waves were more difficult to maneuver in Howell's 12-foot, sit-on-top kayak. Fortunately, the wind died down as they made it into Blounts Bay, making for easier paddling.
That night, they were met at the dock by Sound Rivers member Bob Daw. Daw has been fishing the area for long enough to elaborate on depths and fishing conditions in every part of Blounts Creek.
Blounts Creek is a bit of a deviation from the route to Swan Quarter, but Barber and Howell intentionally wrote this stop into their itinerary. Sound Rivers is a party to ongoing litigation that started about eight years ago when the group and others, including Coastal Review's publisher, the North Carolina Coastal Federation, challenged a permit for a new 649-acre limestone mine to discharge 12 million gallons of water per day into the creek.
Blounts Creek is a brackish environment, slightly salty. Adding substantial amounts of freshwater will completely change the ecosystem, said Howell. Sound Rivers' objection isn't to the mine itself, but to the discharge into Blounts Creek and the changes that could occur in the environment as a result.
All of this could go away, Daw said, looking around.
The paddlers feasted on a fresh fish dinner with Daw and friends. Daw's fish fries are famous in the area. Someone broke out a guitar, and everyone enjoyed the opportunity for live music.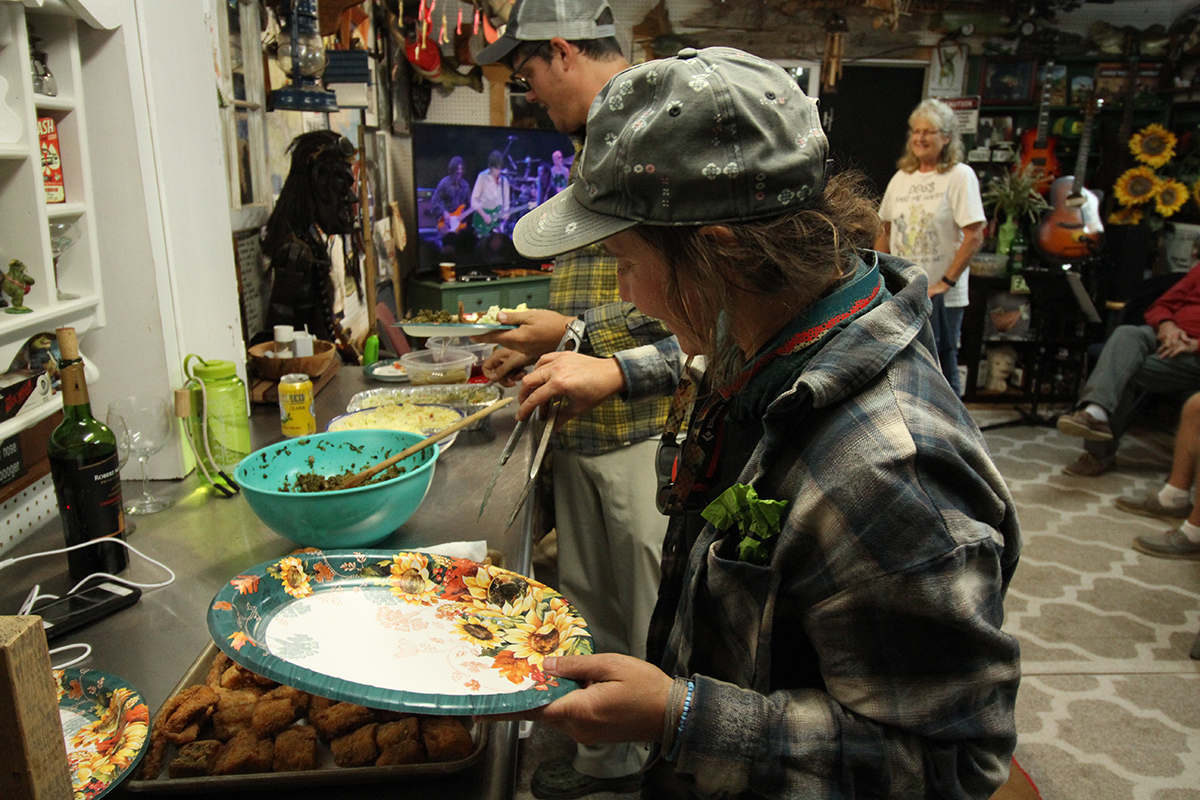 Howell and Barber stayed the night at Chocowinity's Cotton Patch Landing on Blounts Creek, The RV campground is neatly maintained and features a boat ramp and a shop where you can purchase supplies and rent kayaks and other gear. They don't typically allow tent camping but made an exception for the Sound Rivers crew.
"We know that we couldn't do our work generally without people, but we especially couldn't do something like this paddle trip if we were on our own and didn't have people offering all sorts of support along the way," Howell said.
Before calling it a night, Barber walked down to the dock. He watched the vibrant fish activity before turning in. Longer distances were anticipated for the next few days, so the paddlers planned for an early start.
Day 3
On the third day, the paddlers embarked on a 13-mile trip back to and across the Pamlico and then up Bath Creek.
The first two days' paddles were difficult because of the chop, but the wind subsided on Day 3 and the river was smooth as glass. Even with two stops, the paddlers maintained a speed of better than 2 mph, according to Barber's GPS device.
"It was a dreamy paddle day," Barber said.
They passed Goose Creek State Park, which Barber praised for its camping area, swimming beach and a boardwalk through the swampy parts.
The birdwatching was excellent all day with bald eagles, egrets and kingfishers making appearances. But there was also more dead fish.
The paddlers had thought the previous day would mark the end of the fish kills they'd seen earlier in the trip. Day 3 proved them wrong.
"It was the worst that we've seen it," Howell said.
They saw numerous dead and decaying menhaden and other fish, sputtering around with sores, clearly close to death.
"These are not supposed to be happening," Howell said.
Estimating the number of dead fish they'd seen so far was hard to do, said Howell, but it had to be at least tens of thousands.
They'd seemingly paddled out of the fish kill by the time they made it to their next camping spot. On Night 3, they slept on a sandy beach on Bath Creek — perfect for camping. They planned to get up bright and early the next morning to set off for the Pungo River — about 20 miles — their longest paddle yet.
Day 4
Howell and Barber awoke to find dead fish washing up on their beach — the fish kill had followed them downriver. There were more dead fish ahead during the first half of their day.
"The fish kill has been with us this whole time," Howell said.
On this morning they also passed the Nutrien phosphate mine in Aurora. The mine was big enough and close enough it was visible from their kayaks. Phosphate mining only occurs in a handful of states, but the U.S. is one of the world's largest producers. Most mined phosphate is used to make fertilizer but it's used in all kinds of household and industrial products.
"There are many concerns with having a giant phosphate mine so close to the river, but especially as it relates to weather and hurricanes and flooding," Howell said.
About 10 miles into Day 4's paddle down the Pamlico, the group met up with colleagues to discuss what they'd seen. They spent this night at a member's house on the Pungo River. Howell and Barber said they were lucky to have found accommodations through their Sound Rivers connections — places to stay are few and far between in this section of river. Most shorelines in this stretch are privately owned.
"It's lacking the guaranteed public access that I would love to see on this section of the river," Barber said, observing that they were the only kayaks they'd seen in 10 miles. "I think it would just be different if there was more public access."
Miller fell off the boat on Day 4, but he was fine.
Staying with a Sound Rivers member meant they could shower and eat well — allowing them to properly prepare for their fifth and final day. Reports indicated the wind would pick up substantially, so they needed to decide at the end of the Pungo whether they could continue. They slept on the member's porch under a big orange moon.
Day 5
Howell and Barber woke up in time to watch the sunrise.
They wanted an early start — their river journey would culminate with a stretch of about 18 miles. They had worried about the wind, but it didn't seem to be too bad when the paddlers first set out. The open section of the Pamlico is the only potentially questionable part of Day 5's paddle, and after that they moved into a more protected section before reaching their destination, Swan Quarter.
This section of the river is more undeveloped than previous. The difference is noticeable.
"Immediately, you can see how much better these marsh grasses do dissipating the wave action that comes in," Barber said. It made for smoother paddling.
The grasses act as a natural buffer, effectively reducing erosion.
The paddlers made it to the boat ramp at Swan Quarter after a windy afternoon. They had wind at their side, making it extremely choppy.
"I feel like I just went through the dishwasher," Barber said.
Miller was relieved to be onshore.
The wind continued forcefully as Howell and Barber debrief at the boat ramp. This year's paddle is done, but they plan to continue exploring how to best protect rivers like the Pamlico.
Sound Rivers has one more event this year. The premiere of a documentary called "A Sound River" is set for Nov. 30. The documentary details the beauty of and issues affecting North Carolina's coastal rivers — much like Howell and Barber's five-day trip.
To virtually attend the premiere free of charge, RSVP via the Sound Rivers website.