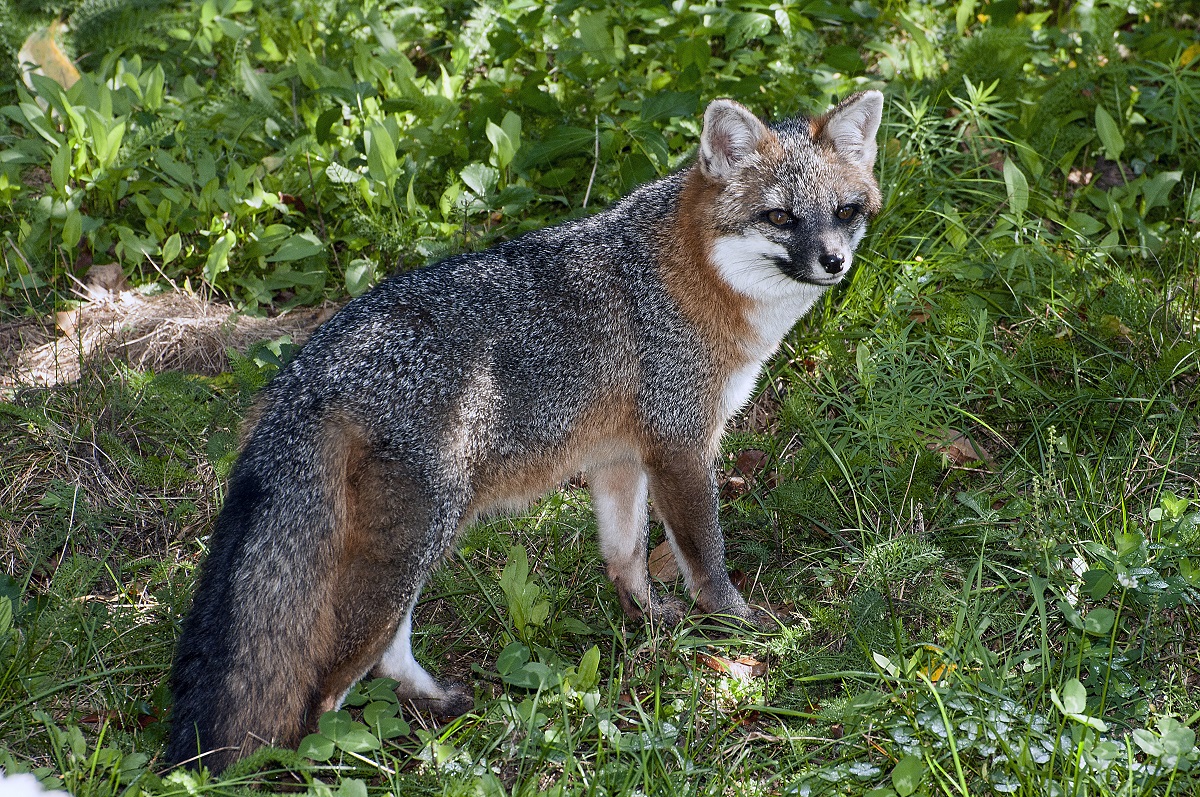 After submitting to Coastal Review last month an article on coyote and foxes, I had an almost out-of-body experience.
For the first time in my more than 40 years as a professional wildlife photographer, I actually witnessed a gray fox climb up and back down a tree.
I was so in awe at the time that I forgot I had a camera in my hands and neglected to take a photo of the animal climbing up the tree, but I regained my composure and captured a photo of him climbing back down – very cool!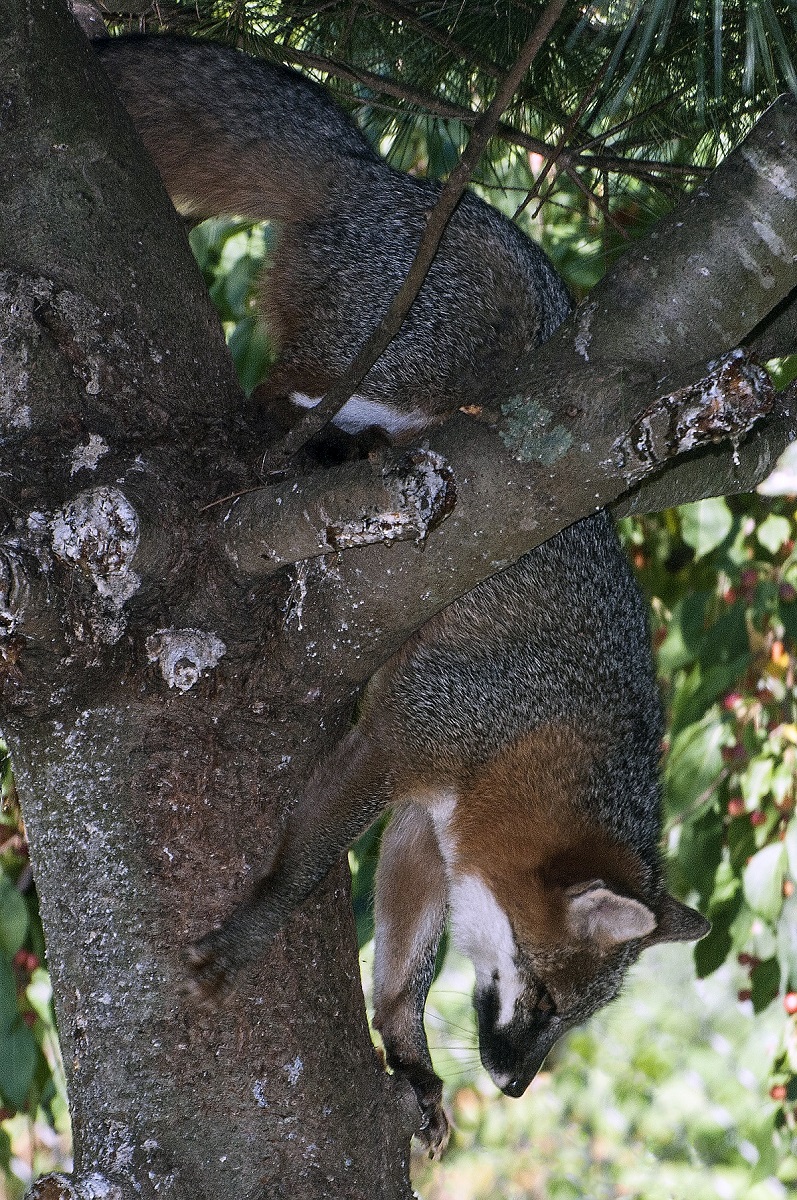 In the first installment, we looked at the life history of foxes and coyotes in North Carolina. In this second installment, we will look at the best ways to avoid conflicts while coexisting with these wild canids now found in every corner of the state. We also will review the laws regulating hunting and trapping, and what to do if animals cause problems, or property damage.
As construction of new residential developments continue at a high rate, fox sightings are becoming increasingly common across the state, especially with the abundance of food and den sites available to foxes in suburban environments.
While the animals can be fascinating to watch, many people fear these foxes may have rabies. Seeing one, even during the day, does not necessarily mean the fox is sick. During specific times of the year, it is not unusual to see foxes during the daytime and in urban settings.
Foxes are responding to the lack of threats posed by people and the abundance of food in these areas. If an animal shows signs of rabies, including being aggressive, stumbling, or the classic foaming at the mouth, it is time to call your local animal control officer.
Chris Turner, North Carolina Wildlife Resources Commission District 1 Wildlife biologist, explained in an interview that coexisting with foxes and coyotes is an important part of living anywhere in North Carolina but it certainly plays a big role in heavily developed coastal beach communities.
"The first step to coexisting with wildlife is educating ourselves about fox and coyote behavior and making our neighbors aware that seeing foxes and coyotes is generally part of life here," Turner said.
Turner said to always respect wildlife and keep a safe distance of at least 50 yards or more when possible. "During the late spring and summer months, it is not unusual to have foxes denning with kits in close proximity to yards or even underneath outdoor buildings. Do not approach foxes or known fox dens, keep pets away, and never feed foxes in your yard," Turner said.
Even if the young animal appears to be alone, they are not necessarily abandoned because many animals do not stay with their young and only return to frequently feed them.
"If you or a pet try to approach a den, the female fox may act defensively to protect her kits," Turner said, adding that foxes are wildlife and do not want to be around people but will tolerate people if food sources are present or a den site is nearby.
"While it is in a fox's nature to be curious, and it may even appear to be bold sometimes, foxes are not normally aggressive and unprovoked attacks on people, including children, are very rare," he said, but, like other wildlife, foxes will become habituated if people feed them, either purposely with food or table scraps, or inadvertently, such as with garbage, bird feeders, or outdoor pet food.
"Everyone should do their part to coexist with foxes and other wildlife by preventing conflicts. The most important preventative tool is identifying attractive food sources and removing them. Never feed foxes or coyotes or allow them to be fed," Turner added.
If you see a fox several times around your home or neighborhood, this is a sign that you and your neighbors should take steps to prevent conflicts with them and other wildlife.
This can be done by putting in place the following steps outlined on the Wildlife Resources Commission website:
Do not approach or pet a fox or coyote. Enjoy the experience from a respectful distance using binoculars, or a telephoto lens on your camera.
Do not feed foxes, coyotes other any other wild animals, including feral cats. Foxes and coyotes will lose their fear of people. Feeding a fox, or coyote sends a signal to the animal that it is OK to get close to people. Once they get used to being around people, they may become less hesitant and may become aggressive.
Make sure the covers of your trash cans have a tight fit. Take the trash out the morning your trash is collected, not the night before. Coyotes and other wildlife including raccoons and opossums will scavenge trash that is easy to get their paws on — an easy meal.
Only feed your pets inside, or remove food when your pet is finished eating outside, including any leftover scraps. Foxes and other wildlife are attracted to pet food left outdoors.
Make sure any openings leading to under your shed, porch, deck or house are properly sealed. Foxes and coyotes may use these spaces to take a nap or build their den.
Remove any fallen fruit tree and branches from around your home.
Use bird feeders that keep seed off the ground. Foxes and coyotes are attracted to small animals congregating on the ground as a potential snack. If you see foxes on a regular basis, remove any bird feeders.
Keep your pets inside. Dogs and cats can disturb dens and may cause a protective mother fox to become aggressive toward your pet. There is also a strong possibility that a little pup could become a snack for a hungry coyote. Coyotes can easily jump over 6-foot fencing to get to your pets, so don't think Fido is necessarily safe behind a wooden fence.
Make sure you have fox-proof fencing around your home, chicken coop or rabbit pen to protect unsupervised domestic animals. An electric fence will work well to protect chickens and rabbits and can be found at your local home improvement store.
Try to make noise near a den site, such as playing a radio loudly. It is possible that the constant noise will convince the fox to move her den to another area. Keep shining a flashlight at the entrance of a known den, and leaving it there may also tell mom it is time to relocate.
Yell, jump up and down, wave your arms, bang pots and pans or anything else available to make noise to convince the foxes and coyotes to go elsewhere. This will also remind them that it may not be so safe to hang around your house.
Share this information with your neighbors and work together to do all the right things when it comes to having wildlife in residential areas. What you do will not be as effective if your neighbors are still feeding local wildlife.
"Again, prevention is always the key. Implement the nonlethal, preventative steps first to keep foxes from becoming regular visitors to your yard, especially in beach communities," Turner said, and by making sure that food is not part of the equation helps keep things where they need to be in nearly all cases.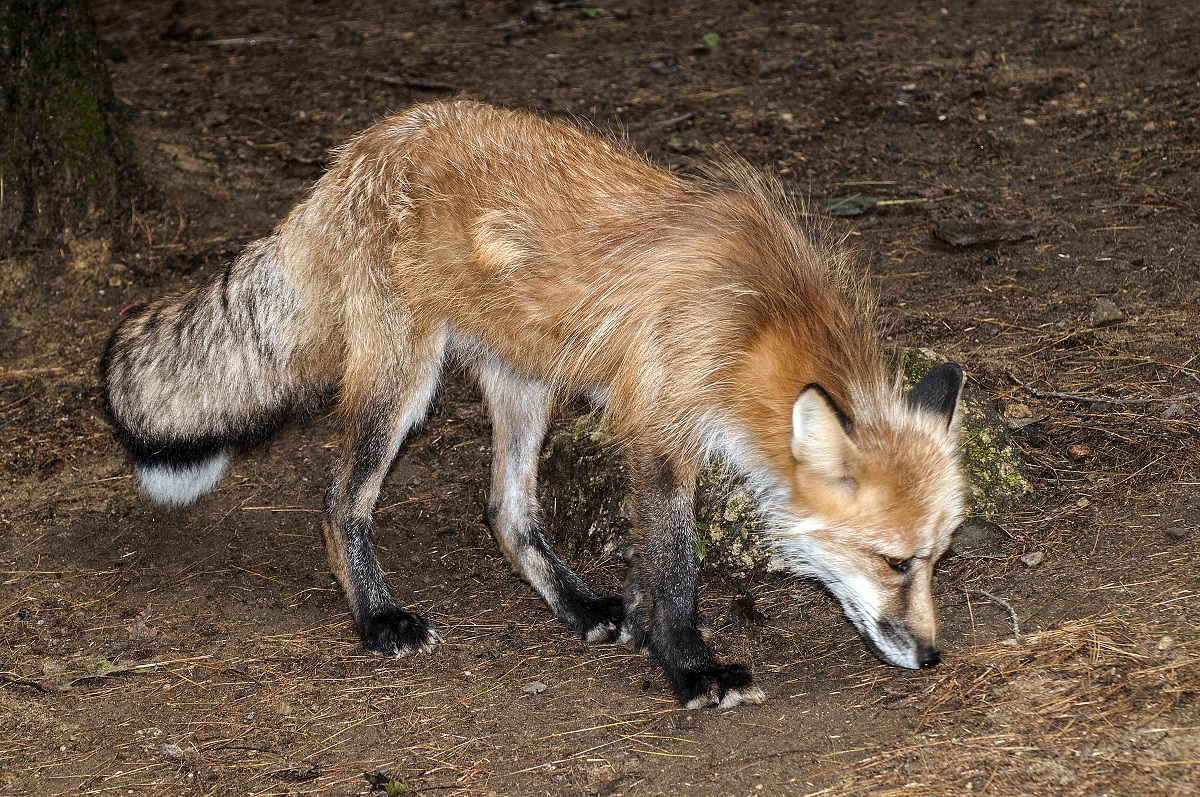 If a situation arises, residents can all the Wildlife Resource Commission's N.C. Wildlife Helpline at 866-318-2401, 8 a.m. to 5 p.m. Monday through Friday, to speak with a trained biologist about wildlife and any concerns about specific damage or nuisance situations.
Residents can also call local animal control if a fox or coyote exhibits signs of rabies.
If a wild animal comes in direct contact with a person or pet, call your local health department and veterinarian immediately. Keep in mind that other diseases, such as canine distemper, can have the same symptoms as rabies.
"The N.C. Wildlife Resources Commission monitors and keeps records of various wildlife diseases, as they are a natural part of wildlife populations and serve as one normal cause of mortality," Turner explained. He said to contact the commission when animals are found dead for no apparent reason or when disease concerns arise.
Fox, coyote hunting and trapping
Regulated hunting by properly licensed hunters and trapping by licensed trappers remain effective tools for managing fox and coyote populations.
"Always be familiar with all state and local fox and coyote regulations before taking any direct action," Turner said. Visit the commission website for current fox and coyote regulations and hunting season dates.
In North Carolina, trapping and hunting seasons for foxes are set and changed only under the authority of the General Assembly. Statewide, the trapping season for specific wild animal and furbearer species is Nov. 1 to Feb. 28.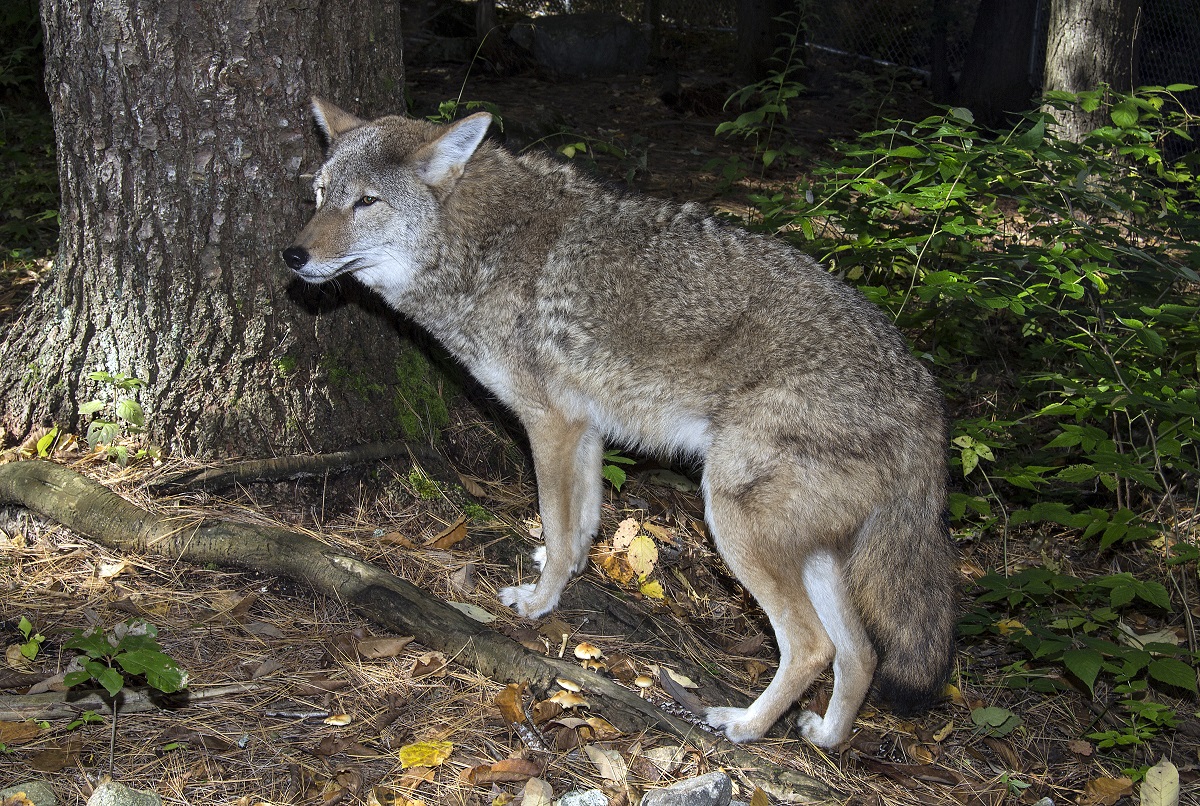 Every county sets their own rules and regulations for hunting and trapping foxes. Foxes can be hunted in some counties using firearms and archery equipment. The website is very specific with the rules and regulations of trapping, and will vary widely depending upon the county in which you want to set your trap.
If a fox or coyote has caused property damage and removal of an animal under a depredation permit is necessary, contact a wildlife control agent, a private individual who may charge for their services. A list of these agents can be found on the commission website.
In five counties in northeastern North Carolina there are special rules in place regarding coyote hunting. Depredation permits for property damage can only be issued by Wildlife Resources Commission staff.
"It is illegal to relocate foxes or coyotes in North Carolina due to the potential of spreading diseases to other areas and because the animal would likely not survive trying to get back to its normal home range," Turner said. "In some cases, lethal removal may become an option for a landowner when property damage is occurring on their own property."
Licensed trappers interested in trapping foxes during a regulated trapping season must be familiar with local county fox laws.
The commission website says from Jan. 2-23 fox trapping is allowed in Clay, Graham, Henderson, Macon and Tyrrell counties with a daily bag limit of two and a season bag limit of 10. Trappers must have fox tags prior to taking foxes, and the sale of live foxes under this season is prohibited.
All traps used in the state must have a weather-resistant permanent tag attached with either the trapper's name and address or the trapper's identification number and the commission's phone number, 800-662-7137. The trapper identification number is on the trapping license.
Turner explained that if a trap is placed on the property of another and identified by the trapper identification number, the commission is required to disclose the identity of the trapper to the landowner upon request. Foxes and coyotes may be sold live only to licensed fox preserves.
NCWildlife.org states that it's illegal to trap wild animals on someone else's land without possessing written permission that was issued and dated within the previous year by the landowner or his agent. This does not apply to public lands where trapping is not listed as prohibited, including marshlands, tidelands and any other untitled land.
It is also against the law to remove or disturb any legally set trap or remove any fur­bearing animal from a trap without the permission of the trap owner.
Further, it's against the law to set or use a trap in which animals or birds are suspended when caught. And it's illegal to set or use a hook of any sort or type to take wild animals or wild birds. Legal trap types include box/cage traps and colony traps, Conibear-type traps and, for beavers only, foothold trap snares. These must be smooth-edged and without teeth or spikes.
In North Carolina, it is unlawful to intentionally interfere with the lawful taking of wildlife or to drive, harass or intentionally disturb any wildlife for the purpose of dis­rupting the lawful taking of wildlife on public or private property, Turner said. "This law does not apply to activity by a person on land he or she owns or leases or to a person who incidentally interferes with the taking of wildlife resources while using the land for other lawful activity such as agriculture, mining or recreation."
Violation of this subsection is a misdemeanor punishable for a first conviction by a fine not to exceed $1,000, by imprisonment not to exceed 30 days, or by both and punishable for a second or subsequent conviction by a fine left to the discretion of the court.
If you happen to see any behavior that you think is illegal, call your nearest wildlife enforcement officer, county sheriff's office or police department right away.
Seeing wildlife is a reminder that most food-driven issues can be prevented when we work together and do our part to remove and secure attractants.
"Continuing to responsibly utilize this special wildlife resource through regulated hunting and trapping, where feasible and safe, will allow us to manage wild populations while working together to minimize conflicts now and in the future," said Turner.