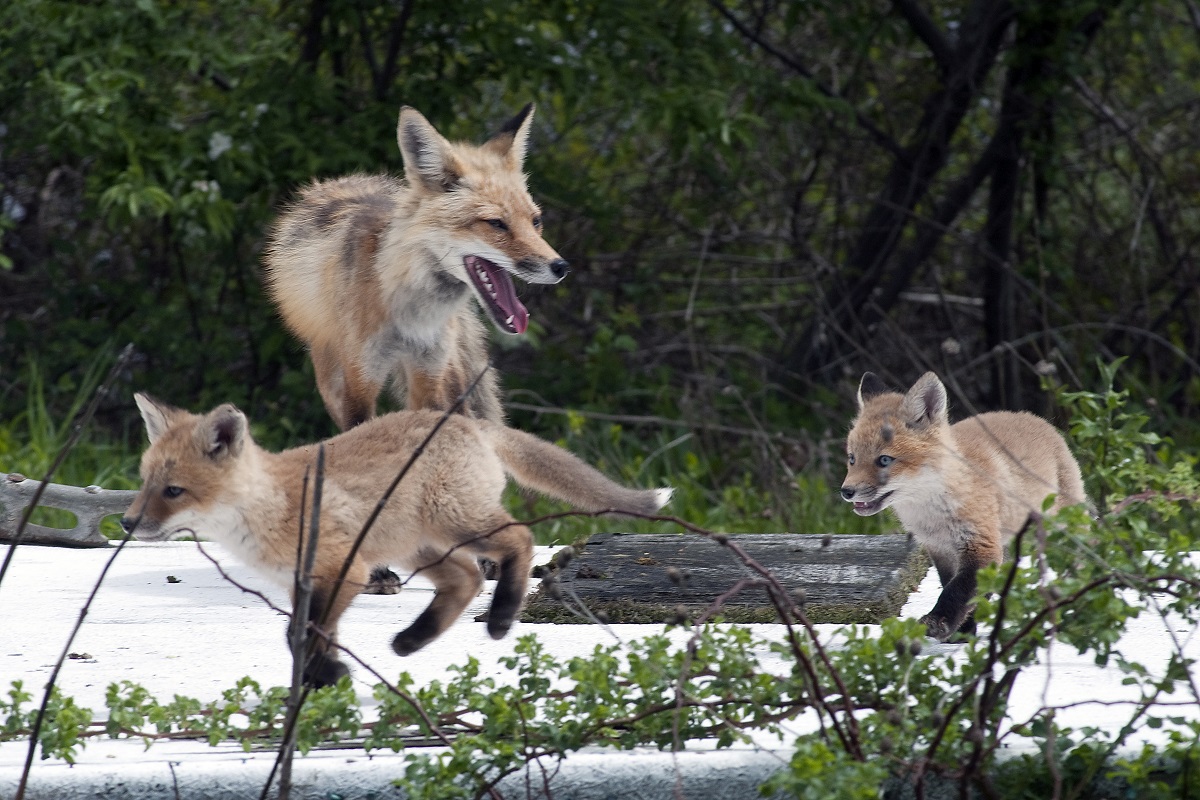 Red foxes and gray foxes are common in North Carolina today, but the gray fox is the state's only native fox species.
Red foxes were brought here from Europe by fox hunters in the early 1700s. Even though storytellers and writers have depicted the red fox as cunning, intelligent and shrewd, the gray fox appears to be winning the survival contest in areas where coyotes have expanded in recent years.
As coyotes become more abundant and continue to expand their range into areas historically dominated by both red and gray foxes, red fox populations are more likely to be negatively impacted.
"While direct fox population declines have not been proven, a few ideas exist as to how coyotes could possibly affect red fox numbers," said Chris Turner, District 1 wildlife biologist with the North Carolina Wildlife Resources Commission. "One thought is that since gray foxes have the ability to climb trees it is quite possible that many gray fox individuals are able to successfully escape from coyotes whenever a conflict occurs. Red foxes cannot climb and would not have this advantage for dealing with coyotes."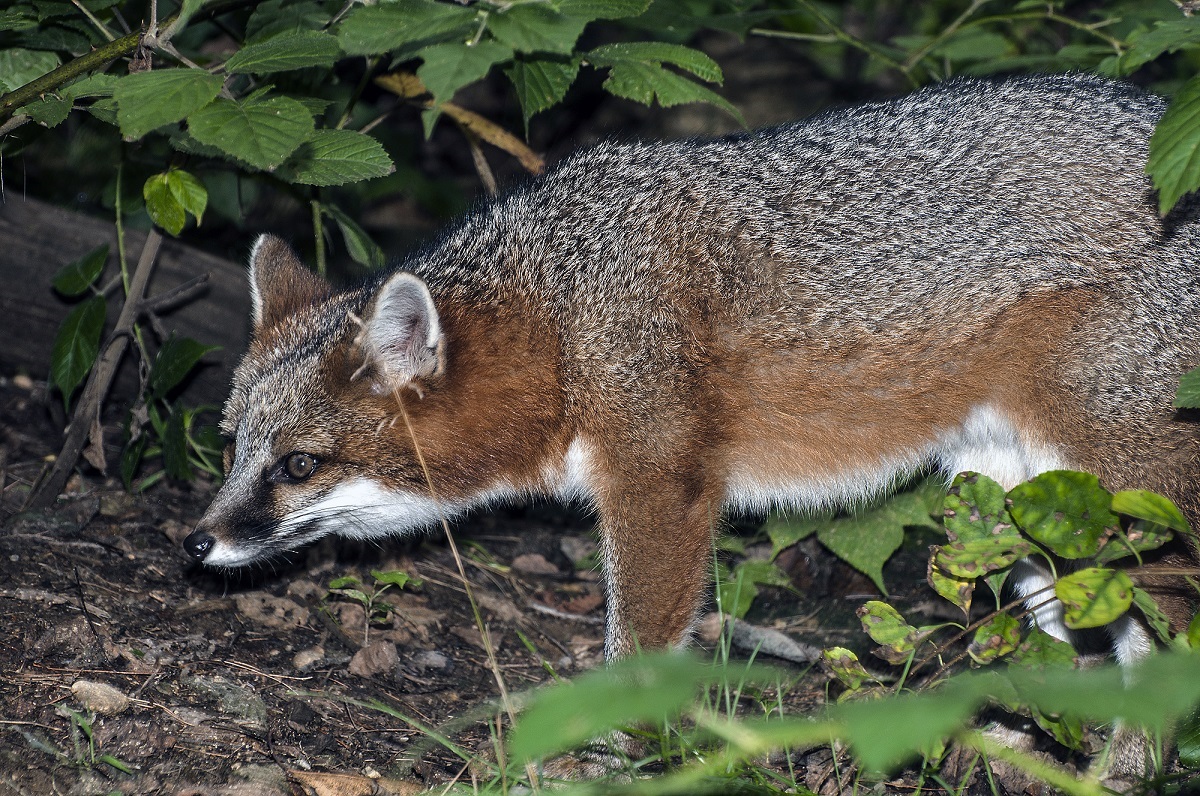 Also, Turner explained, red foxes and coyotes compete for similar prey, particularly small mammals such as squirrels and rabbits.
"The larger coyote likely wins out over the smaller red fox in this case," Turner said. "Gray fox diets are more flexible, and they can rely on more diverse sources of food. This likely further reduces the effects of competition between gray foxes and local coyotes. Research has shown a more likely scenario to be that coyotes simply displace local fox populations, pushing them into less suitable areas, rather than causing direct mortality and population declines."
It might seem that the greatest potential for coyotes to diminish red fox populations would occur with fox populations that may already be experiencing losses from disease.
"Long-term habitat declines across the landscape, particularly the reduced availability of the shrubby, old-field habitats that support important small mammal and bird resources, are certainly always a factor when considering causes of possible changes in fox populations," said Turner.
At the time of European settlement, coyotes were found only in the Great Plains and the Midwest — west of the Mississippi River — but they have since expanded their range to most of North America and parts of Central America and Canada, according to the NCwildlife.org website. Prior to the 1980s, coyotes seen in North Carolina were believed to have been illegally imported and escaped or released for hunting. However, by the 1980s, coyotes had begun to expand into western North Carolina.
By 2005, coyotes had been documented in all 100 North Carolina counties, appearing as far east as Hatteras Island by 2009. Coyotes are now established statewide in North Carolina and across the Southeast.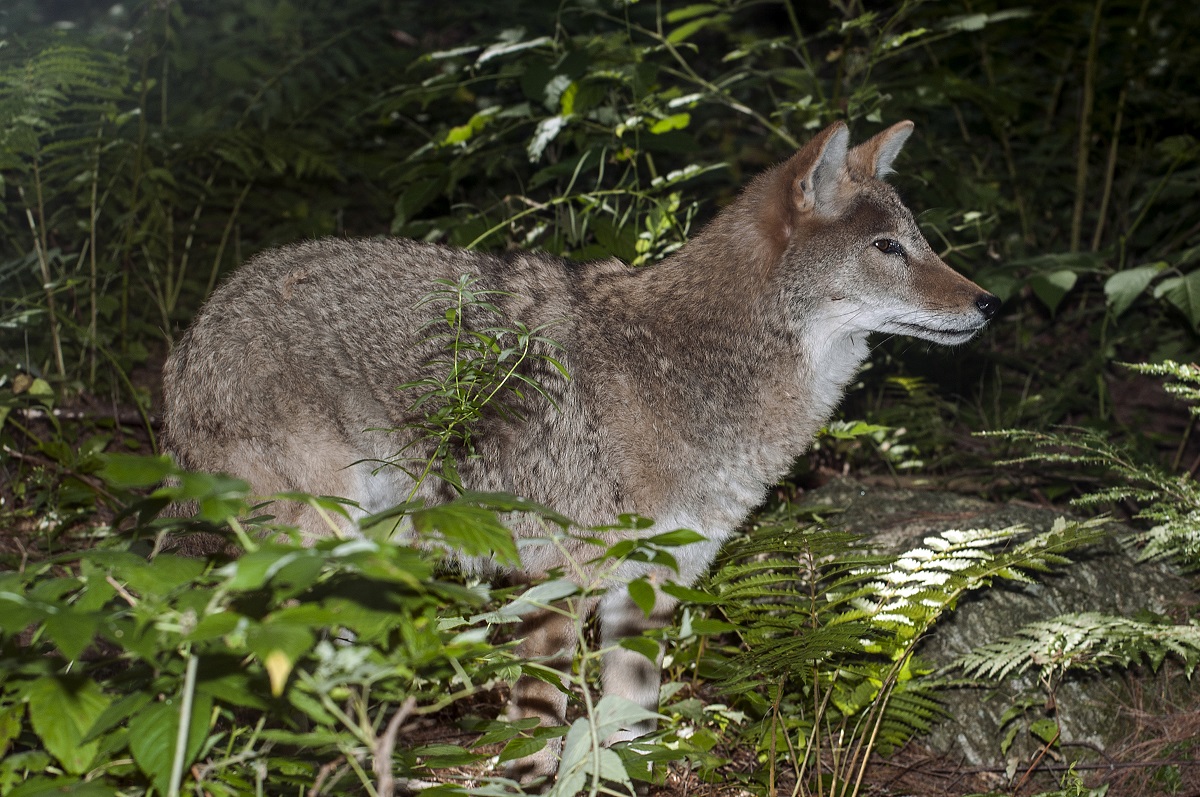 There are four wild canid species in North Carolina, including red and gray foxes, coyotes and the red wolf, which is listed as an endangered species under the Endangered Species Act. How do you tell them apart? It takes practice and viewing many foxes and coyotes to discern the differences.
The red wolf, which is found only in certain northeastern North Carolina counties, is larger than the other three wild canids and is more like a German shepherd in size with a reddish coat.
Red foxes
The red fox's face is the most doglike. Gray fox faces more closely resemble that of a cat.
While a coyote's face is doglike, they are much larger than either fox found in North Carolina.
The red fox has black legs and a white tail tip, the gray fox has black back stripe.
The red fox is named for its reddish or orangish coloration. The tail, body and top of the head are all some shade of yellowish orange to reddish orange. The undersides are light, and the tips of the ears and lower legs are black.
The NCwildlife.org website describes the tail of the red fox as being long, about 70% as long as the head and body length, bushy and has a white tip. Adults are the size of a small dog and weigh from 7.7 to 15.4 pounds. Red foxes, like many other wildlife species, prefer a diversity of habitats rather than large tracts of one habitat type.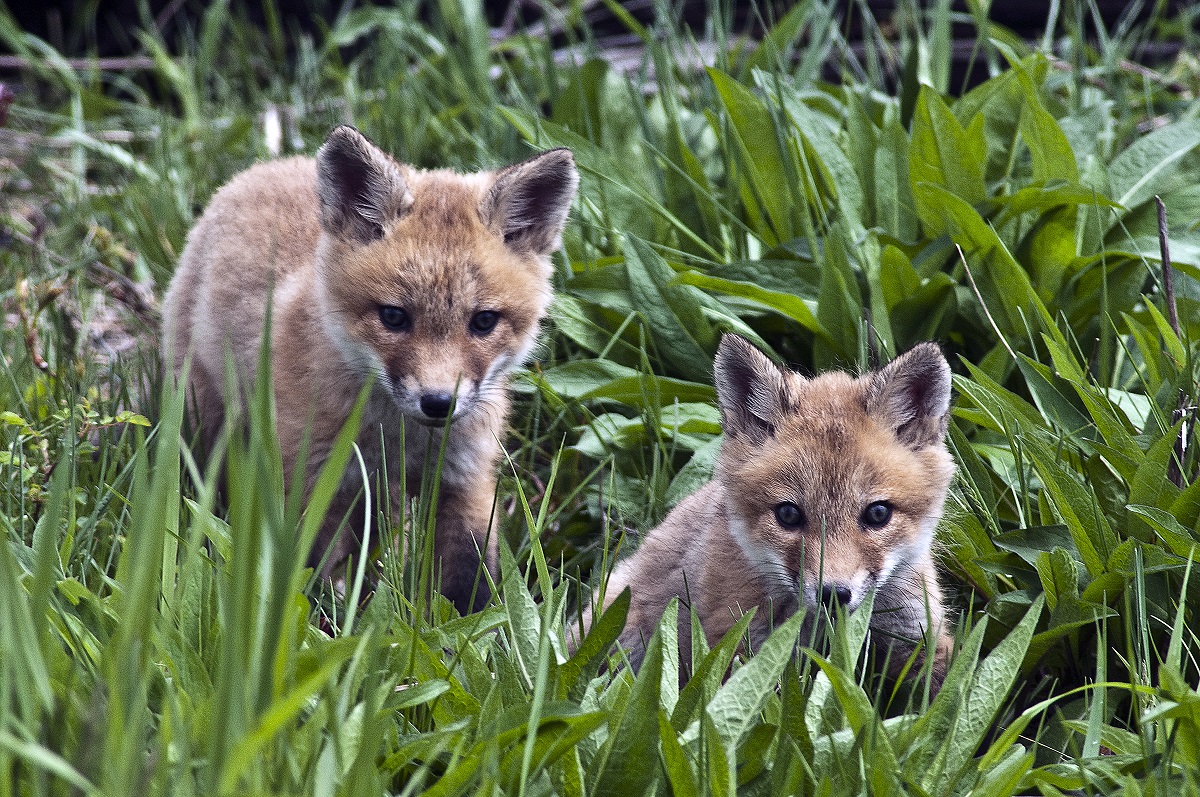 Preferred habitats include farmland, pastures, brushy fields and open forest stands. They frequently hunt the brushy edges of these open habitats for small mammals and birds that live there. Red foxes can also find food in residential areas and neighborhoods when other prey are limited and opportunity arises.
Red foxes will range in size from between 36 and 42 inches in length, from nose to tip of tail and 16 inches at the shoulder. They will weigh 8 to 15 pounds and males average about 2 pounds heavier than females.
Female foxes are called vixens. Males and females reach sexual maturity at 10 months of age. Young foxes are called kits or pups.
Red foxes mate for life and like coyotes generally mate in January in North Carolina. Gestation is about 52 days. Red foxes have one litter per year in late February through April, with an average of five kits.
Kits are born in dens that the parents dig or one abandoned by other animals. In residential areas, foxes may den under storage sheds or other structures. Males provide food for the mother until the pups can be left alone. At that point, the female nurses the pups during the day and hunts at night. Young foxes learn to hunt at about three months and, as they grow older, venture out to establish their own home range in the fall.
Red foxes can live about five years, although most wild foxes do not live that long, Turner said.
The red fox pursues a variety of food types, however rabbits, meadow voles, and mice make up the main part of its regular diet. Like coyotes, foxes are predators that are known to steal chickens and other unprotected, free-ranging poultry such as turkey, ducks and domestic geese if the opportunity arises. They will also eat insects, birds, eggs, fruits and berries in spring, summer and fall. Since the red fox is also an opportunistic scavenger, it may also eat carrion and garbage in some locations if available.
Gray foxes
Gray foxes inhabit all areas of the state from the Outer Banks to the mountains. Home ranges of gray foxes vary considerably, based food availability and habitat, according to NCwildlife.org. Their ranges can vary from 74 acres to more than 6,000 acres, again based on habitat quality, population density and the reproductive status of individual foxes. Like other canids, they are territorial.
The gray fox is usually a little smaller than the red fox and is quite a bit darker in color. This species are often confused with red foxes because of a reddish or rusty coloration on the sides of their necks and on their legs. The gray fox color has more of a salt-and-pepper look with a darker streak along the animal's back along the top of the tail and ending in a black tip. Adults can weigh as much as a red fox, 7 to 15 pounds, but the gray fox has noticeably shorter legs along with shorter fur, which makes them look physically smaller than their red fox cousin.
If you see tracks that look like those of a domestic cat but also show obvious claw marks like those of a dog, then you have likely spotted a gray fox's footprints. Native gray foxes are more adapted to warmer latitudes than red foxes, and another way to tell the two apart is by looking for little or no fur visible between the toe and foot pads, which contributes to a more obvious footprint than those left by red foxes.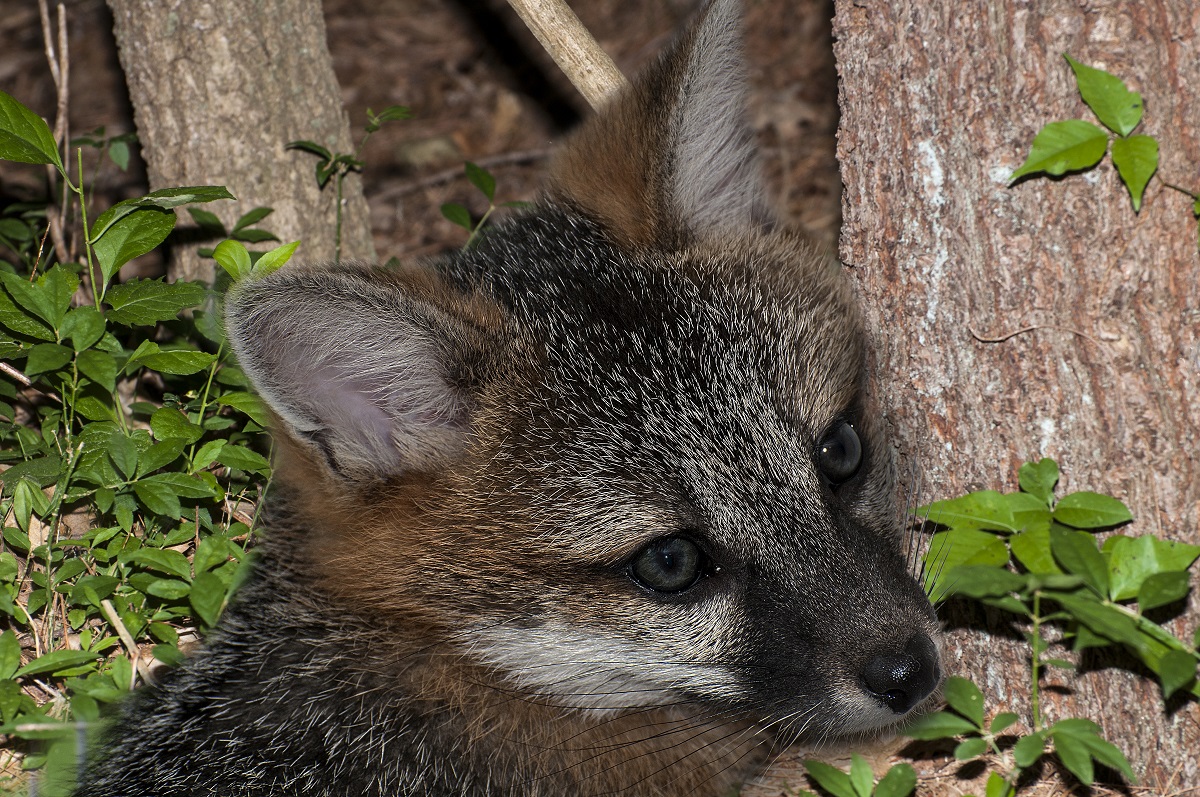 "Gray foxes grow to between 30-45 inches long, with their tail being about one-third of this length. They are only from 12 to 15 inches in height. Gray foxes use a diversity of food sources found in a variety of habitat types. Native fruits, such as persimmons and grapes, as well as agricultural crops such as corn and peanuts are eaten more often by gray foxes than other fox species. To round out their seasonal diet, gray foxes hunt small mammals such as mice, rats and rabbits. They also feed on birds and insects opportunistically," Turner said.
Gray foxes usually mate before their first birthday. Males most presumably mate with only one female each year and may mate with the same female in consecutive years between late January through February.
For gray foxes, the pregnancy period is about 59 days. Gray foxes have one litter per year, with the litter size being like that of red foxes, ranging between three to five kits per litter.
The kits' will first open their eyes when they are between 10 to 12 days of age. The kits are completely weaned by the time they are 10 weeks old. They then leave the family group in early fall and fend for themselves.
Gray foxes usually only live about a year or two, with few living longer than 6 years in the wild.
Coyotes
"The coyote is native only to North America," Turner said. "Of all wild canine species, the coyote has the widest range in this country. Coyotes are one of the most wide-ranging and most adaptable species on this continent."
Coyotes in North Carolina may appear smaller than their northern counterparts, with pointed and erect ears and long slender snouts, according to NCwildlife.org. The tail is long, bushy and black-tipped and is usually carried pointing down. The color of their fur is extremely variable, typically dark yellowish gray, but it can range from blond to red to totally black.
Adult coyotes are about the size of a medium-sized dog, similar in size and build to a border collie, weighing between 20 and 45 pounds, but with much longer legs than most domestic breeds of this size. The coyote also has a one-of-a-kind long and full tail that helps them stand out from any domestic breed when seen from afar.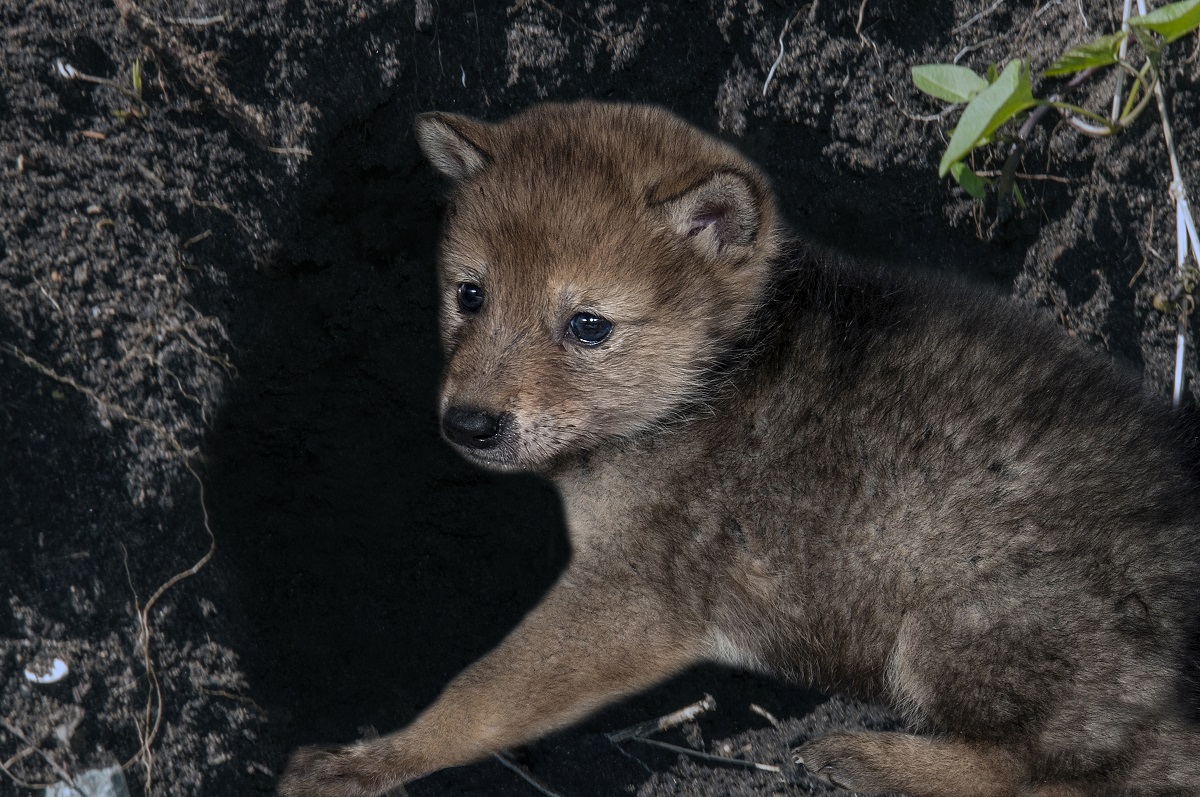 "Coyotes on the coastal plain may appear to be thin and shaggy, especially in the hot summer months. People who see them may think that they are poor or scraggly, but it is just their thin summer coat that makes them look that way. Size is also variable, but averages about 2 feet tall at the shoulder and 4 feet in length," said Turner.
The coyote is a carnivore but is quite adept at surviving as an omnivore, eating almost anything it can find. They are not picky eaters, rather they are opportunistic feeders, meaning they will feed on what is most readily available and easiest to get their teeth around. They eat rabbits, rodents, fruit, berries, birds, frogs, snakes and insects, but they will also feed on animal remains, including roadkill. Garbage, bird feeders and pet food left outdoors are also easy meals. Hunting as a pack, they are also capable of taking down a white-tailed deer.
In residential areas, it's best to keep cats inside to protect them from potential encounters with hunting coyotes.
Like many wild animals, the coyote's diet varies with seasonal changes.
Coyotes are also monogamous, but if their mate dies, a coyote will seek another.
Coyote populations fluctuate from year to year – their annual litter sizes change depending on the availability of food in the adults' home range.
If there is an abundance of food and little competition from other coyotes in the area, they will have a larger litter of pups, and more pups will survive to adulthood. In contrast, when available food is in short supply, litter sizes and the survival coyote pups is reduced. This constant change in litter sizes and their survival helps regulate coyote populations over time.
Occasionally, a pup from the previous year's litter will stay behind to help raise the following year's litter.
Coyotes can travel very long distances to establish territories and to find abundant food sources. Research in North Carolina has documented young, dispersing coyotes traveling distances greater than 200 miles in just a few weeks. Their habitat can range from agricultural fields to forested regions, from urban and suburban neighborhoods to barrier islands along the Outer Banks.
Coyotes, like other wildlife, are adapting to the urban-suburban environment and are opportunistic in finding food and resources available in these places.
"Coyotes are definitely equipped to be survivors," Turner said.