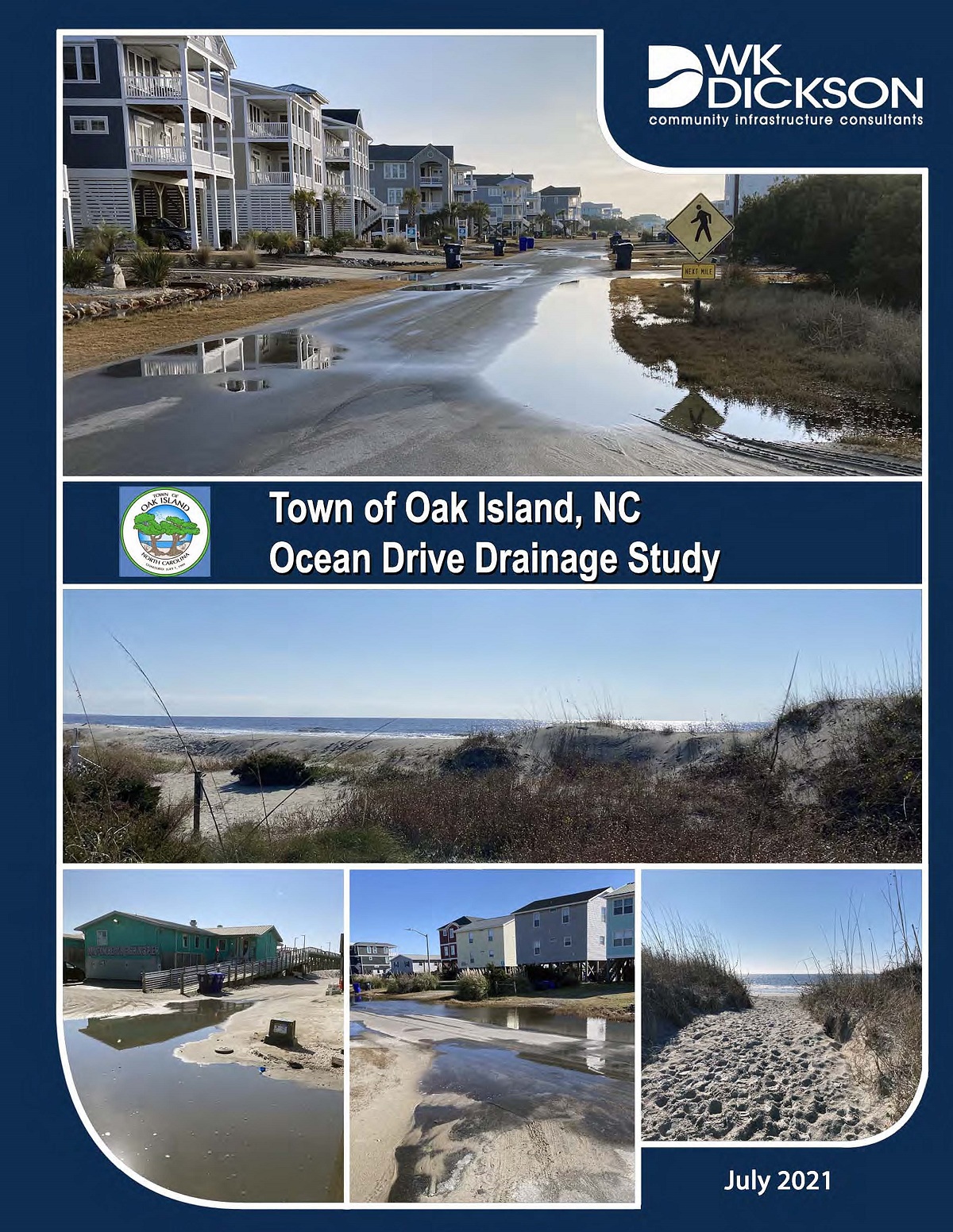 Since Hurricane Isaias made its North Carolina landfall in Brunswick County about this time last year, Oak Island has had issues managing floodwater.
Two precautionary swimming advisories were issued on Oak Island since 2010 before Hurricane Isaias hit the area Aug. 3, 2020. In the time since, seven have been issued, mostly this summer after heavy rains. The notices are intended to caution beachgoers of an increased risk of contamination that can cause adverse health effects.
The town is expected to hear from W. K. Dickson & Co. Inc., a Raleigh-based engineering firm, on possible solutions to address the flooding during the next Oak Island Board of Commissioners meeting at 6 p.m. Tuesday in council chambers on the second floor of town hall, 4601 E. Oak Island Drive. The meeting will also be streamed online.
To minimize the flooding damage and to ensure roads are accessible for emergency vehicles, the town has been pumping floodwaters often containing pollutants such as animal waste, oil and gasoline from parking lots and waste from septic systems or sewers into the ocean near Crowell Street, according to the North Carolina Recreational Water Quality Program.
Most recently, a precautionary advisory was posted Aug. 2 at the oceanfront area near Crowell Street. At the time, floodwaters were being pumped from flooded streets onto the beach to ensure roads were accessible for emergency vehicles. This advisory was lifted Aug. 5. As of Monday morning, no advisories were in place.
Public Works Director Scott Thornall told Coastal Review that the town is aware that the frequency of the need for pumping has increased over the past year or so.
Thornall explained that Oak Island had contracted with W.K. Dickson to come up with a comprehensive solution for flooding for the entire area from about the 600 block of Ocean to the 74th Street area.
The completed plan will be presented during the regular board meeting. "We hope to start implementing the solutions shortly after," Thornall said.
There are four areas that cause routine road flooding even during moderate rainfall events, according to the study that is expected to be presented Tuesday. The study evaluated the feasibility of diverting flood waters from four critical flooding areas on East Beach Drive and Ocean Drive between 74th and Womble streets to potential infiltration areas in the town.
Infiltration systems have been used in other beach towns, such as Kure Beach in New Hanover County, to significantly reduce the amount of runoff reaching swimming areas and the number of swim advisories.