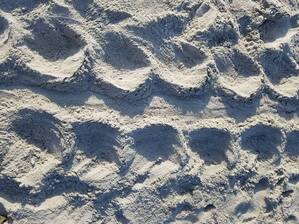 The Topsail Turtle Project needs volunteers this summer to walk the beach.
There are two free, virtual orientations for volunteers scheduled next month.
Register online for the 6:30 p.m. April 6 class or  register online for the 1 p.m. April 14 orientation.
Volunteers with the Topsail Turtle Project begin walking May 1 every mile of Topsail Island each morning searching for sea turtle tracks so that nests can be identified and protected.
The project is through the Karen Beasley Sea Turtle Rescue and Rehabilitation Center based in Surf City.
The organization rescues, rehabilitates and releases sick and injured sea turtles, provides public education on sea turtles and the threat of their extinction, and offers opportunities for students of biology, wildlife conservation, and veterinary medicine from around the world.