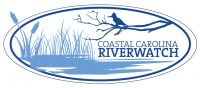 Coastal Carolina Riverwatch's virtual "Fresh and Salty Shindig" at 6 p.m. Jan. 21 is an opportunity to learn more about the organization's mission to protect clean water, upcoming projects and ways to get involved.
Email program coordinator at RebeccaD@coastalcarolinariverwatch.org for the Zoom link to participate in the online event. All attendees will receive a door prize.
Coastal Carolina Riverwatch is a citizen-volunteer, grassroots organization dedicated to restoring and protecting the waters, land, and communities of eastern North Carolina.
Organizers recommend ordering takeout from a certified Ocean Friendly Establishment to keep in theme with protecting clean water.
The "Fresh and Salty Shindig" derives its name from the fresh and salty water systems of Carteret County and Onslow County. In this region, Coastal Carolina Riverwatch, home to both Crystal Coast Waterkeeper and White Oak New-Riverkeeper Alliance programs, serves a total area of 320 miles of rivers and streams, 129 miles of coastline and 149,104 acres of estuary