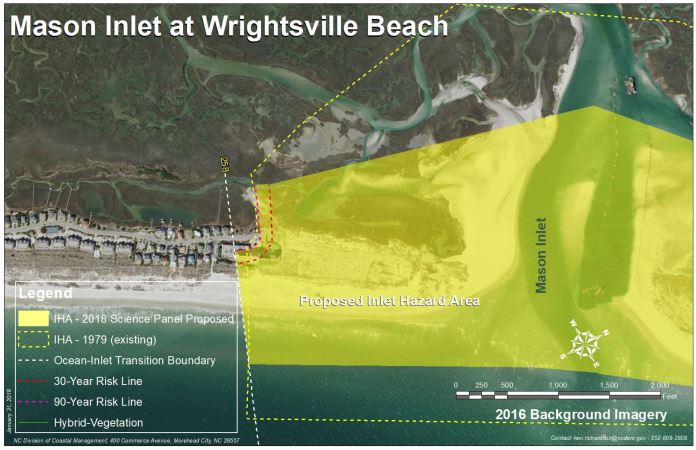 The state Division of Coastal Management will host workshops over the coming weeks to review proposed Inlet Hazard Area boundary updates and associated Coastal Resource Commission rule amendments.
More than 2,900 acres is within Inlet Hazard Area boundaries at 10 of the 19 active inlets in the state: Tubbs, Shallotte and Lockwood Folly inlets in Brunswick County; Carolina Beach, Masonboro, Mason and Rich inlets in New Hanover County; New Topsail Inlet in Pender County; New River Inlet in Onslow County; and Bogue Inlet in Carteret County, according to a previous Coastal Review Online report.
The following workshops are open to interested members of the public and town officials:
10:30 a.m. Jan. 9 at Ocean Isle Beach Town Hall, 3 West Third St.
11 a.m. Jan. 14 in Nags Head Board of Commissioners Room, 5401 S. Croatan Highway
2 p.m. Jan. 16 at Holden Beach Town Hall, 110 Rothschild St.
9 a.m. Jan. 28 at Carolina Beach Town Hall, 1121 N. Lake Park Blvd.
The first Inlet Hazard Areas, or IHA, in the state were developed in 1978 to recognize that shorelines adjacent to inlets are more dynamic than those along the oceanfront and some inlets since have had significant changes, according to the Inlet Hazard Area Boundary, 2019 Update. An IHA, a designated Area of Environmental Concern, is a natural-hazard area vulnerable to erosion, flooding and other adverse effects of sand, wind, and water because of its proximity to dynamic ocean inlets.
Currently there are 750 structures within IHAs, or shorelines especially vulnerable to erosion and flooding where inlets can shift suddenly and dramatically. Of those, 307 would be removed from ocean hazard areas, or OHAs, under the proposed boundary revisions. The proposed updated boundaries would include a total of about 930 structures within IHAs and would include 219 properties now in an ocean hazard area, according to the report.
Learn More