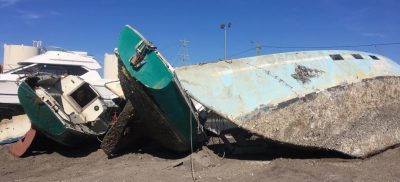 Two free workshops being offered in November are geared for local government representatives with existing abandoned vessel ordinances and coastal counties that have or are considering putting an ordinance in place per Session Law 2015-241.
A workshop will be held from 9:30 a.m. to 12:30 p.m. Nov. 15 in the Department of Environmental Quality's Washington Regional Office, 943 Washington Square Mall. There will also be a workshop in Wilmington 9:30 a.m. to 12:30 p.m. Nov. 25 at New Hanover County Center Arboretum Auditorium. Registration is required for both workshops and check-in begins at 9 a.m.
Cosponsored by North Carolina Coastal Reserve and National Estuarine Research Reserve, North Carolina Wildlife Resources and North Carolina Coastal Federation, workshops will address the following:
The status of local and state-level efforts to address abandoned and derelict vessels.
Limited-time opportunities for abandoned and derelict vessel removal, including those generated by Hurricane Florence.
Community eligibility to participate in upcoming state vessel removal efforts.
Successes and challenges associated with managing derelict and abandoned vessels.
Authorization from the North Carolina General Assembly is required for towns and cities to pass abandoned vessels laws. Towns and cities that have not been approved by the General Assembly to pass a local ordinance are welcome to attend, but it could be difficult for them to take advantage of the funds given the time it would take to get authorization from the General Assembly and the funding timeline.
 Members of the American Institute of Certified Planners will receive three continuing education credits.
Contact Paula Gillikin, central sites Manager for the North Carolina Coastal Reserve and National Estuarine Research Reserve, at paula.gillikin@ncdenr.gov or 252-838-0886 for information about the workshop.
Learn More