Gov. Roy Cooper is to declare Sept. 22-28 as Clean Energy Week, his office announced Monday morning.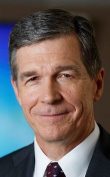 He will sign the proclamation Monday during a meeting with coastal leaders in Washington, when renewable energy and resiliency for coastal communities frequently facing flooding and sea-level rise will be discussed.
Hosted by the state Department of Environmental Quality, the mayoral roundtable is intended to raise awareness about clean energy opportunities across the state.
Other Clean Energy Week awareness efforts include the Department of Transportation sharing a video to explain how its zero-emissions vehicle plan will grow use of Zero Emission Vehicles in North Carolina and the Department of Administration will tour the recently renovated Steam Plant, noting its energy efficient features and promote a "how-to" video on using electric charging stations in the Green Square complex downtown.
The North Carolina Clean Energy Plan, a part of Cooper's October 2018 Executive Order 80 will be presented this week as well, and is to detail ways to reduce carbon emissions while prioritizing renewable energy, job growth and affordable electricity rates.
The order, which commits the state to reducing statewide greenhouse gas emissions to 40% below 2005 levels by 2025, established the North Carolina Climate Change Interagency Council. The council guides cabinet agencies in developing strategic plans in key areas to reach the goals of the order and directs actions for increased energy savings in state buildings.
The council will meet at 11 a.m. Friday at William G. Ross Environmental Conference Center, 121 West Jones St., in Raleigh, to submit the North Carolina Clean Energy Plan to Cooper. Other plans to be presented will lay out strategies to increase zero-emission vehicle use by the public and the private sector and grow jobs in the state's clean energy and clean transportation sectors.
In the last two years as part of Cooper's commitment to combat climate change, the state joined 24 other states in the Climate Alliance to advocate for greenhouse gas emission reductions and now ranks second in the country in solar energy.