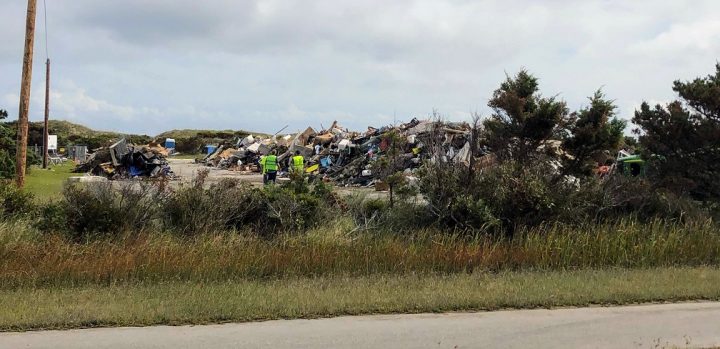 Two weeks out from storms and high water, the Ocracoke air is thick with mosquitoes and the sound of heavy trucks hauling the insides of homes to a collection point on National Park Service land just outside the village.
Tom Pahl, the Hyde County commissioner who represents Ocracoke, said there's a mix of feelings on the island. As the loss sinks in, there are a lot of heavy hearts, but the tremendous outpouring of help that followed the storm has lifted spirits.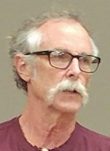 "No lives were lost and nobody was injured, but still, people don't have homes, some of the homes are going to end up having to be torn down, a lot of mementos and prize possessions are lost and it's heartbreaking for people and it's very unsettling," he said. "But at the same time, we're feeling very good about the overwhelming generosity we've benefited from. It's amazing how much support we've gotten from our friends and family off the island."
Pahl said debris removal was in full swing. Local and state officials, working closely with Federal Emergency Management Agency coordinators, have been able to move forward with debris removal work and other projects in anticipation of reimbursement after the president signs off on a major disaster declaration.
Gov. Roy Cooper filed a preliminary compilation of damages and an official request for the declaration Sept. 13. That request covers damages in Brunswick, Carteret, Craven, Currituck, Dare, Duplin, Hyde, New Hanover, Pamlico, Pender, Sampson, Tyrell and Washington counties. Each of those counties reached the federal threshold for a disaster declaration just based on damage to transportation and electricity distribution infrastructure alone.
The initial estimate also includes about $10 million in costs for Emergency Management, the National Guard, state Department of Transportation, the Department of Insurance, Department of Health and Human Services and the State Emergency Response Team.
On Saturday, Cooper added Jones County to the list based on updated damage reports and amended the request to include individual assistance for residents in Carteret, Dare, Hyde and New Hanover counties.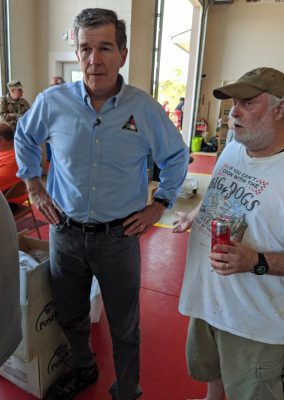 Both Cooper and the state's congressional legislation have called for quick action on the major disaster declaration.
Congressman-elect Greg Murphy toured heavily damaged Ocracoke Village Saturday and Cooper is headed back to the island Monday as residents await word of the pending boost in federal assistance.
Murphy, elected Sept. 10 to fill out the term of the late Walter B. Jones Jr., visited flooded out homes in the village and toured damage along N.C. 12 with National Parks Superintendent Dave Hallac.
He told a gathering of residents and recovery workers at the Ocracoke Volunteer Fire Department that he would urge the White House and FEMA to move forward on the declaration and the Ocracoke Observer reported that before leaving the island Murphy said he had received word from the White House that President Trump had signed the public assistance declaration.
Pahl said the county has been able to press ahead with most recovery efforts despite the lack of a formal declaration and continues to coordinate with FEMA to make sure it's following federal requirements. The county recently tweaked its debris removal contract at FEMA's suggestion.

"I know FEMA's involved and the state is involved and we're going ahead with this work with full confidence that it's FEMA-reimbursable, even if we don't have the national-level declaration."
In anticipation of further aid, county and state officials met Friday with small business owners on Ocracoke to discuss the disaster loan process and application requirements.
NCDOT will be awarding an emergency contract next week that aims to have hurricane-damaged NC12 open on Ocracoke Island by November 22: https://t.co/dUkOi4fpiO pic.twitter.com/BWsgw0OwTB

— NCDOT NC12 (@NCDOT_NC12) September 19, 2019
N.C. 12 repairs underway
NCDOT crews and contractors are reviewing bids for work along damaged portions of N.C. 12 on Ocracoke Island, including construction of a sandbag wall, the first step in the long process of shoring up the dunes around the heavily damaged road.
Jerry Jennings, NCDOT Division 1 chief engineer, said crews will start using sand on site to fill sandbags while the department's Ferry Division dredge Manteo is set up to pump sand from the old Hatteras Inlet to the work zones.
The target date for opening the road is Nov. 22, the weekend before Thanksgiving. But the road project, which includes replacement of about 1,000 feet of pavement, won't be completed until April 2020.
Jennings said the area around the South Dock ferry station, including part of the staging loop for vehicles, sustained less damage than expected and that a contractor already working to fix erosion damage in the area is back on the job.
Although regular ferry service is suspended until the road is reopened, contractors are able to use the route through Hatteras Inlet to transport construction supplies, Jennings said. Other sections of N.C. 12 on Hatteras Island, including the often-overwashed S-Curves at Mirlo Beach and the nearby construction site for the so-called "jug-handle" bridge over Pamlico Sound sustained less damage than expected.
Pahl credited the Ferry Division's decision to open a direct navigation route from Hatteras to Silver Lake as a big help for recovery efforts. Ferry Division officials said the route, which was opened within days of the storm, takes roughly two hours and 15 to 30 minutes and has created a key transportation route for residents, crews and supplies.
Pahl said it would have been more difficult to ramp up recovery efforts using only the routes connecting Ocracoke to Swan Quarter and Cedar Island.
School moves
Secondary students at the heavily damaged Ocracoke School got some welcome news that they at least have a new temporary home.
The board of directors for the North Carolina Center for the Advancement of Teaching announced Friday that NCCAT's Ocracoke campus would host the students through the end of the year.
NCCAT executive director M. Brock Womble said Hyde County Schools Superintendent Steve Basnight asked the center to help with a solution for the students.
In a statement Friday, Womble said the board voted unanimously to approve the plan. The organization has also set up a relief fund for its employees affected by the disaster.
"We feel like the most valuable thing NCCAT can do for Ocracoke School and Ocracoke Island is to be a resource to help them rebuild," Womble said.
Plans continue for holding classes for younger students at other sites on the island.
About 75 Ocracoke middle and high school students got a much needed break on Friday, gathering at the ferry station for a ride across the sound to East Carteret High School and a weekend of events on the mainland hosted by the school and its booster club.
On Sunday, the group returned to the island with donated school supplies for all 175 students. Repairs on their school, damaged by 4 feet of storm surge, are expected to take more than a year.
Front page photo: C. Leinbach/Ocracoke Observer