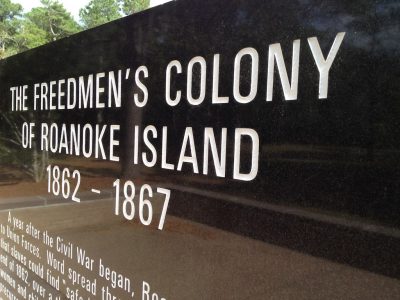 MANTEO — Fort Raleigh National Historic Site will commemorate Sunday the 400th anniversary of the first landing of enslaved Africans in English-occupied North America, which was at Point Comfort in Hampton, Virginia, now part of Fort Monroe National Monument.
Fort Monroe National Monument, a part of the National Park Service, is recognizing the 400th anniversary Aug. 25, 2019, by inviting all 419 national parks, park service programs, community partners and the public to join together in solidarity to ring bells simultaneously across the nation for four minutes, one for each century, to honor the first Africans who landed in 1619 at Point Comfort and 400 years of African American history.
Fort Raleigh will hold its special program at 2:30 p.m. Sunday followed by the 3 p.m. national bell ringing ceremony.
Fort Raleigh, known as the site of the first English colony in the New World, is also the site of the Freedmen's Colony, where more than 3,000 freed slaves and their families started a new life after the American Civil War.
"Roanoke Island was the setting for an historic experiment during the Civil War. Following the island's occupation by Union forces in 1862, it became a haven for African American families from throughout the region. Their presence prompted the Union army to establish a Freedmen's Colony on the northern end of Roanoke Island," according to the park service website.