PLYMOUTH — Rep. Ed Goodwin, R-Chowan, will give an update during a special community forum Thursday on the Harbor Town Project, a high-speed ferry system that would connect Plymouth, Edenton, Columbia, Hertford, Elizabeth City and Manteo.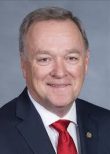 "Enormous planning has already gone into this major regional project that is expected to result in significant economic growth throughout in the Albemarle region," Plymouth Mayor Brian Roth wrote in a letter inviting the public to the meeting set for 6 p.m. in the North Carolina Cooperative Extension Washington County Center, 128 East Water St., Plymouth.
Bunny Sanders will give an additional project overview on behalf of the Kenan–Flagler Business School at University of North Carolina Chapel Hill.
The ferry service is expected to go on a week-long test run in either September or October, the Daily Advance recently reported. The ferry system could have an initial cost of up to $14 million and nearly $2 million for yearly operations.
Goodwin also will provide an update during the special forum Thursday on the request for $50,000 to rebuild the Adams Street outdoor basketball court.
"I have asked Representative Goodwin and NC Senator Bob Steinberg to reintroduce legislation to reduce the local match requirement for Parks and Recreation Trust Fund (P.A.R.T.F.) grants from 50% to 10%. Representative Goodwin will discuss the timeline to reintroduce this legislation that will make it much easier for smaller communities across North Carolina to submit recreation grant requests," Roth wrote.
Learn More