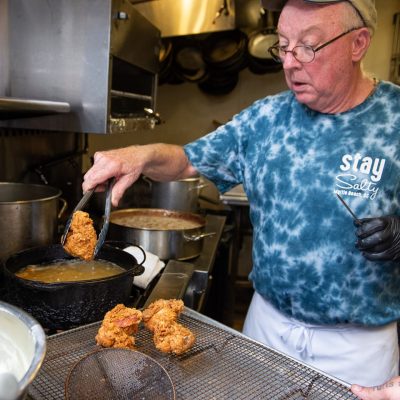 HARKERS ISLAND — After nearly a year of being displaced from its building while undergoing repairs, the Core Sound Waterfowl Museum and Heritage Center is "back home again" for its summer Taste of Core Sound, featuring chef Bill Smith of Crook's Corner in Chapel Hill.
Set for Friday, Aug. 23, the Taste of Core Sound's five-course meal will be the first dinner prepared in the museum kitchen since the September 2018 Hurricane Florence caused extensive and costly damages to the museum's roof, which leaked throughout the building, ruining the sheetrock, wood floors, carpets and all subfloor electrical systems.
Smith, born and raised in New Bern, retired this year after nearly three decades as the chef at Crook's Corner. Known for his take on southern comfort food and writing about it. His writing and recipes have been included in the New York Times, Southern Living and on NPR. Read more about Smith on the Crook's Corner website.
There will be a family style, five-course meal served featuring oysters on the half shell, shrimp and grits, hot fried fish, cold fried chicken, stewed hard crabs, summer succotash, collards and Atlantic Beach versus Harkers Island lemon pies.
The fundraiser for the museum starts at 6 p.m. in the museum, 1785 Island Road. Tickets are $65 for members and $75 for nonmembers. Call the museum at 252-728-1500 for tickets or reserve your spot online.
While the museum is being repaired, the staff is operating a Museum Store at 806 Arendell St. in Morehead City.