HARKERS ISLAND —  Cape Lookout National Seashore managers recorded as of Monday 404 sea turtle nests, topping the previous record of 352 in 2016, with more nests likely through September.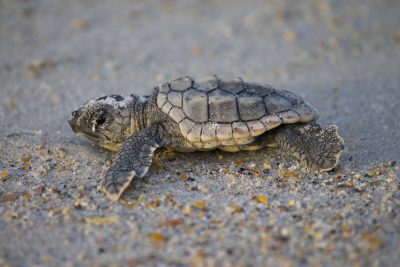 To safeguard these sea turtle nests, more routes for off-road vehicles, or ORVs, will be temporarily closed, the park service announced Tuesday. The move will prevent deep tire ruts and disorientation of hatchlings as they emerge from the nest.
"As a result of this incredible number of nests, we will have to temporarily close more of the beach ORV routes than we have in the past," Superintendent Jeff West said in a statement.
On June 24, the park closed 19 miles, leaving 28 miles of beach and 40 miles of back road open to vehicles, according to a previous report. Now, 26.8 out of 45 miles of beach are closed, leaving 19.2 miles of beach and 40 miles of back road open to off-road vehicle traffic.
The female loggerhead sea turtles, the most common at Cape Lookout, typically lay three to six nests during the May to September nesting season, according to the park service. The nests need around 60 days of incubation before hatching, with those laid in May hatching now and later nests hatching well into November. Most nesting and hatching occurs at night.
West said explained that the closures last about 15 days and will vary based on the incubation periods of the nests.
"We will put in temporary bypass routes when we can, but access to ocean side beaches will be more restricted than normal for the next two months," he said.
For the most up-to-date information on closures, visit Cape Lookout's website or contact the information desk at 252-728-2250, extension 0.