MANTEO – See Outer Banks birds at the North Carolina Aquarium on Roanoke Island's new nature play adventure "For the Birds" set to be unveiled Memorial Day weekend.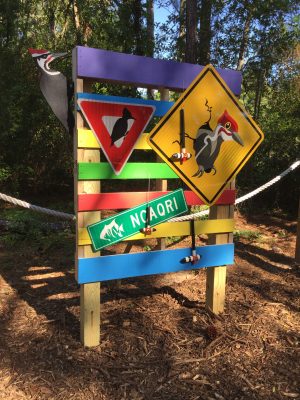 For the Birds is a nature trail that is home to year-round birds and those that visit the Outer Banks at certain times of the year. Expect to see woodpeckers, herons, osprey and many more birds. Visitors are invited to build a nest like a mockingbird or a killdeer, hop like a chickadee and balance like a heron.
For the Birds will be open throughout the summer and fall seasons and is included with regular aquarium admission, details of which can be found online.
All of the activity stations along the For the Birds trail are intended to be fun, educational and adventurous exploration into the variety of birds seen in the area, and the grounds of the aquarium are great for viewing birds in their habitats, including purple martins, nesting osprey, cormorants fishing in the sound, and many species visiting the bird feeders on the trail, according to the release.
"Birds are such a big part of our ecosystem and surroundings on the Outer Banks," said Exhibits Curator Colleen Shytle in a statement. "We see them every day and it's natural to wonder what they are up to. 'For the Birds' gives visitors a peek into the lives of birds and the skills they use to make the Outer Banks their home."
The wooded Nature Play area covers roughly 2.5 acres on the grounds of the  Roanoke Island aquarium. The trail connects to the wildflower Meadow and soundside fields for even more outdoor excursions.