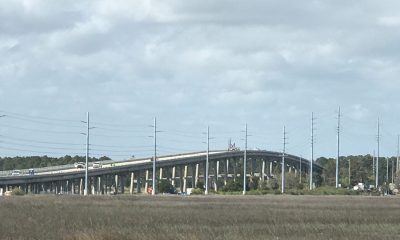 BRUNSWICK COUNTY — The Oak Island Bridge was to reopen at noon Friday after being closed to traffic for six months of preservation work, reconnecting the 12,000 vehicles that use the bridge daily, the North Carolina Department of Transportation announced.
The project that extended the life of the bridge by about 30 years cost $14.6 million and was led by Sloan Construction of Duncan, South Carolina.
During the six-month closure, crews removed and replaced 28 of the 65 spans of the existing bridge, placed a new overlay on the bridge deck, installed a new two-bar metal rail, and did concrete repairs beneath the bridge. This work cost $14.6 million.
"Even with all of the inclement weather North Carolina experienced over the past six months, we are very pleased crews were able to get the bridge open to traffic ahead of schedule," Division Engineer Karen Collette said in a statement. "We can't thank everyone in Oak Island enough for being patient during this time."
Also known as the Old Bridge or the G.V. Barbee Bridge, on N.C. 133, or Long Beach Road SE, over the Intracoastal Waterway, the bridge was build in 1972 but had deteriorated because of the coastal environment.
Part of the contract with Sloan Construction included incentives, including that the company could earn an additional $150,000 for having the bridge open by April 15, and another $5,000 a day for each day the bridge opened before then.
Though the project was completed ahead of schedule, traffic initially will be in a temporary pattern to allow crews to complete work under the structure and on the bridge railing. While the bridge is open to vehicles, pedestrian access will remain closed until all work is complete. The bridge is expected to be in its final pattern by mid-May.
For real-time travel information, visit DriveNC.gov or follow NCDOT on social media.