ATLANTA – Matthew Woods will begin serving Sunday as superintendent of Moores Creek National Battlefield  in Pender County.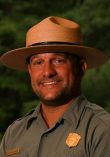 The Southeast Regional Director Robert Vogel announced Friday by press release the selection.
"This park preserves the site of the first significant victory for the Patriots in the American Revolution," said Woods in a statement. "I am honored to serve as the next superintendent, working closely with the park's staff and partners to lead Moores Creek National Battlefield into the future."
Woods, a former high school history teacher, joined the National Park Service through the Teacher Ranger Teacher Program. At Moores Creek National Battlefield, Woods served as regional lead coach for interpretation and is currently a representative on the state's board to commemorate and plan events related to the 250th anniversary of the American Revolution and the Declaration of Independence.
"Matthew has a deep understanding of Moores Creek National Battlefield and will help to ensure the park's history and resources are well preserved," Vogel said in a statement. "He is also committed to working with the community to provide outdoor experiences, partnering with the local community, and ensuring the Battlefield continues to enhance the local economy by attracting visitors to the area."
Moores Creek National Battlefield is part of the National Parks of Eastern North Carolina, which is a collaboration of five parks that share resources.
National Parks of Eastern North Carolina Superintendent David Hallac congratulated Woods on his new assignment.
"His many years of service as the park's chief of interpretation with a recent acting superintendent assignment at Moores Creek National Battlefield have prepared Matthew to enhance engagement and access to this important site," Hallac said.