GREENVILLE – Twelve-term Congressman Walter B. Jones died Sunday in Greenville, his office announced.  He was 76.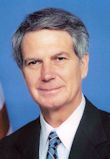 Jones, a Farmville resident who served North Carolina's 3rd District since 1995, had previously served 10 years in the North Carolina General Assembly.
Jones served as a senior member of the Armed Services Committee and he sponsored and co-sponsored more veterans' legislation during the last three congressional terms than any other sitting member of Congress, according to his official website.
He was born Feb. 10, 1943, in Farmville.
"I am grateful for the life and service of my longtime friend Congressman Walter Jones Jr. He was a public servant who was true to his convictions and who will be missed," Gov. Roy Cooper said Sunday in a statement.
Sen. Thom Tillis, R-N.C., called Jones "the true embodiment of a public servant" who would be remembered for his advocacy for eastern North Carolina and for following his convictions, regardless of political cost.
"He always did what he felt was right for his constituents, his district, and his country, and it was no wonder why he was so widely admired and trusted. It was a true honor to serve with Walter Jones. Susan and I send our deepest condolences to Joe Anne and his loving family," Tillis said in a statement.
"Congressman Jones was a man of the people," Jones' office said in a statement. "With a kind heart and the courage of his convictions, he dedicated his life to serving his Savior and to standing up for Americans who needed a voice. He was a champion for our men and women in uniform and their families, always mindful of their service and sacrifice.
"Congressman Jones will long be remembered for his honesty, faith and integrity.  He was never afraid to take a principled stand.  He was known for his independence, and widely admired across the political spectrum.  Some may not have agreed with him, but all recognized that he did what he thought was right."
Learn More