ASHEVILLE – What if fencing around solar farms was no barrier to wildlife?
North Carolina-based Pine Gate Renewables and The Nature Conservancy's North Carolina Chapter announced Thursday they are collaborating to develop and test practices to make Pine Gate solar sites more wildlife friendly.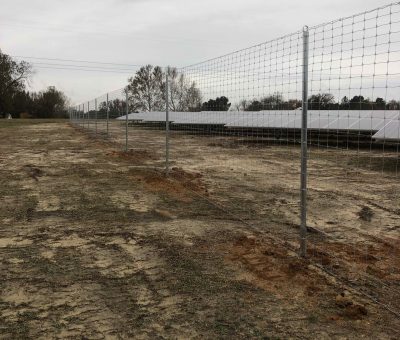 Pine Gate, which has its headquarters in Charlotte and offices in Asheville and Jacksonville Beach, Florida, said it installed wildlife-friendly fencing on two Pine Gate solar sites in North Carolina in 2018, which the company said was a first in the state. The fencing has larger holes at the bottom to allow critters such as rabbits, squirrels, and raccoons to pass through.
The fencing has been installed at Page Solar, a 15-acre site in Johnston County, and at Moore Solar, a 12-acre site in Moore County. Pine Gate and TNC are to monitor the fencing to determine its effectiveness. Cameras were installed for monitoring by TNC in late January.
The firm said its collaboration with TNC stemmed from their mutual involvement in the North Carolina Pollinator Conservation Alliance, a larger group of conservation organizations and private entities working to support the health and diversity of pollinators in the state. Pine Gate Renewables became involved in the NCPCA through its SolarCulture initiative, which focuses on enhancing environmental stewardship on its solar projects.
"We want to help advance the clean energy economy in a way that has as little impact on wildlife as possible. Fencing around solar sites can present a barrier for wildlife movement. We appreciate Pine Gate's leadership in implementing and testing innovative solar farm design practices and hope that through our monitoring we can provide evidence that these practices really do work," Liz Kalies, director of science with TNC's state chapter. "We think this can serve as a great example for other solar developers who also want to maximize benefits to wildlife."
The test sites were chosen for wildlife-permeable fencing due to their proximity to sizable areas of forest lands, where a higher diversity of species and their habitat are located as compared to sites that are surrounded by agricultural land, roads, or other development.
"We are pleased to be working with The Nature Conservancy and providing them two of their first solar facilities in North Carolina to conduct wildlife monitoring activities," said Claudia Weeks, Pine Gate's site operations manager. "Through Pine Gate's SolarCulture initiative, we are constantly exploring opportunities to further support the surrounding environment to our sites, and we believe wildlife permeable fencing will be a valuable tool in this effort."