Second of two parts
EASTERN NORTH CAROLINA – Development is frequently associated with increased impervious land coverage, and that can often lead to more polluted runoff reaching ecologically sensitive streams, rivers and sounds.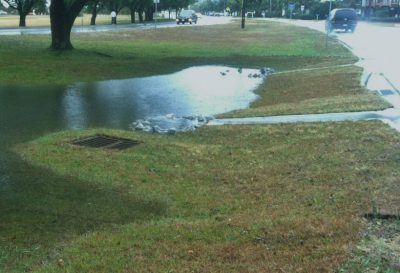 Hard surfaces such as pavement, roads, sidewalks and roofs affect water quality because the runoff, instead of soaking into the ground and being taken up by vegetation, quickly flows in greater amounts over the developed landscape and into surface waters, explained Lauren Kolodij, deputy director for the North Carolina Coastal Federation.
This polluted stormwater runoff is often the primary cause of water quality degradation, which results in shellfishing waters failing to meet public health standards and why some coastal towns and counties post swimming advisories after it rains, she said. "About 25 percent of coastal shellfishing waters are polluted with bacteria, and most of the coast is now off-limits to shellfishing and swimming after big rain events."
She said that the federation promotes strategies to reduce the volume of stormwater runoff and improve water quality.
The conventional approaches to stormwater management are to quickly collect and move the water off site through ditches and pipes and into coastal waters, Kolodij continued. "Instead we need to look at a community's potential to collect the rain incrementally throughout a town to utilize areas such as public rights-of-way, public lands. This is called making multiuse of the landscape for stormwater management."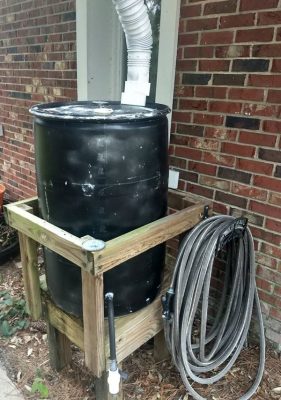 Kolodij explained that reducing runoff also can help with minor flooding because the volume of rain that collects in one central location is decreased. "During an average or normal rain event, techniques that reduce the volume of runoff such as infiltration systems, rainwater harvesting, diverting downspouts can reduce the amount of rain that collects at one site, thereby reducing localized flooding." Rainwater harvesting can be done with rain barrels and cisterns.
There are communities in coastal North Carolina that have taken the volume-reduction approach to stormwater and developed watershed restoration plans. Wilmington, Wrightsville Beach through the Bradley Hewletts Creek watershed restoration plan, Cedar Point, Swansboro and Beaufort have plans and Pine Knoll Shores is in the process of reviewing its nonregulatory watershed restoration plan.
The draft plan for Pine Knoll Shores was presented Oct. 26 during a special meeting of the town board of commissioners. The next step in the process is for the board to hear public comments Nov. 14 during the board's regular meeting and then vote on the final draft during its December meeting.
Sarah Williams, clerk for Pine Knoll Shores and a federation board member, said her interest in having the town pursue a plan began a few years ago when she attended a conference about watersheds in Wrightsville Beach, which was jointly hosted by the Governors South Atlantic Alliance and the federation.
During the conference, Williams said she learned about the  Bradley and Hewletts creek Watershed Restoration Plan, Watershed EZ tool and Runoff Reduction Scenario created by the federation to assist towns develop restoration plans and toured various infiltration methods, which she said was "eye opening."
"I learned that there were simple solutions that we could do in town, some even at low costs, to help move water off of the streets and improve water quality at the same time," Williams said. "I knew it was something that Pine Knoll Shores needed to look into."
Shortly after the conference, Williams said she worked with Kolodij and students at University of North Carolina Wilmington to draft the plan, which took more than two years.
"We didn't get to where we are overnight and we can't reduce levels overnight either. Everyone can help though by doing simple things in their own yard, like having their downspouts go into their yards. The whole idea is to move water to the soil where it can infiltrate," Williams said.
Swansboro has had in place its watershed restoration plan since Feb. 28, 2017, and have made some progress, even including many aspects from the watershed plan in the town land use plan currently undergoing updates.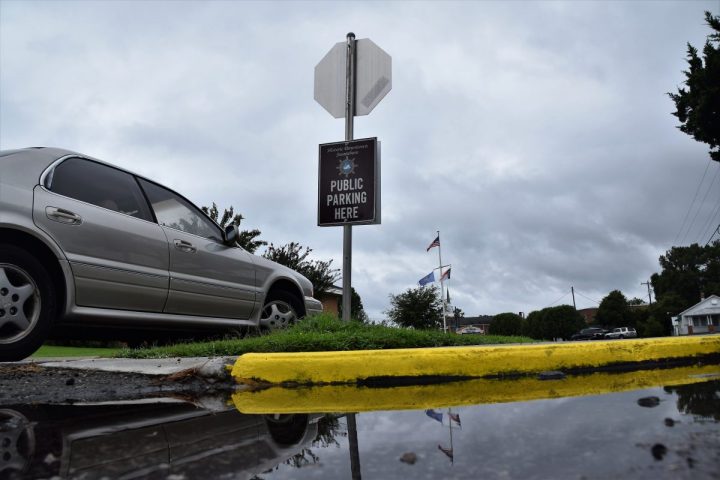 Town Manager Scott Chase said that the town adopted the plan with the goal to make a positive change to the environment.
A great deal of development has taken place over the last 30 years in and around Swansboro and town officials understood how the volume of water moving through the stormwater conveyance system would affect water quality as a result, Chase explained.
"It is expected that further development will occur, so we needed to understand locally what our options were for reversing negative trends related to water quality, even reversing the stormwater clock if possible, by reducing the number of gallons of stormwater entering our system," he said.
"I predict in the coming years language will be amended in our ordinances that will not only serve as a guide for better development related to water quality but require that development adhere to many of the principles of our watershed plan," Chase said. "Watershed planning is an important menu item for making our community more resilient to adverse weather and less vulnerable in our low-lying areas.
"Our mindset around capital projects development is making sure we are not adding to the stormwater issues facing our community but improving it," he added.
Swansboro recognizes that watershed restoration adds value to water-based recreation and tourism, Chase continued. Recreational areas such as Hammocks Beach State Park and the Bogue Sound, which are important habitats for several of species, are within Swansboro watershed areas.
"If we are not doing something to preserve our watersheds, for example reducing stormwater runoff, (it) can result in more frequent water quality impairments," he said. Adding that water quality impairments can destroy the natural habitat, risking the local economy supported by the natural environment.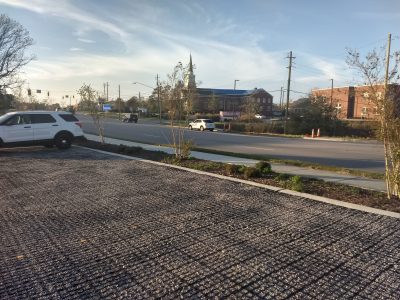 Since the plan was adopted, the town has received two grants from the Environmental Protection Agency's 319 grant program and is close to wrapping up the town hall campus retrofit project. The first phase of the project, which is complete, included adding 41 permeable parking spaces and a bioretention area that accounts for the impervious surface area on campus. The town worked with the North Carolina Coastal Federation and Onslow County on the project.
Phase 2 of the project will include the removal of five existing asphalt spaces, relocation of plant material and flag pole, addition of about 34 parking spaces a new access point from West Church Street and a reworking of internal access, according to the town website. A new bioretention area will be added beside the new spaces to retain new and existing stormwater runoff.
Chase said other stormwater control measures are under consideration for the campus because of the EPA 319 funding.
The watershed restoration plan also has helped with flooding.
"Conventional methods for stormwater rely on moving stormwater offsite as quickly as possible. It is effective at deterring onsite flooding but the downstream results can result in an increase in the magnitude and frequency of flooding," Chase said.
The residents, overall, have reacted positively to the plan.
"We have through our stormwater utility and the restoration plan assisted our residents with a better understanding of how their homes and properties contribute to water quality of the watersheds," he said. "I believe our residents understand the consequences of polluted waterways, the importance of preserving our natural environment and the negative effects from flooding."
With the implementation of the town's stormwater utility, some residents are directing downspouts toward lawns and away from driveways to keep it from flowing directly into nearby bodies of water.
"If all of our residents did such, it would drastically reduce or mitigate flooding for our community," Chase continued. "Bottom line, if rainwater can be kept on site for longer periods of time it can reduce pollutants that are received by our waterways and reduce the volume of water released into the system thus reducing the potential for flooding."
Read Part 1: Pine Knoll Shores to Vote on Watershed Plan
Learn More