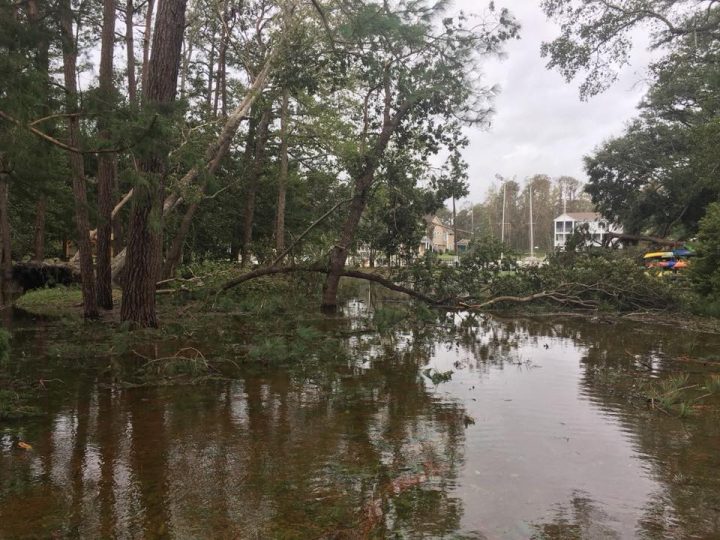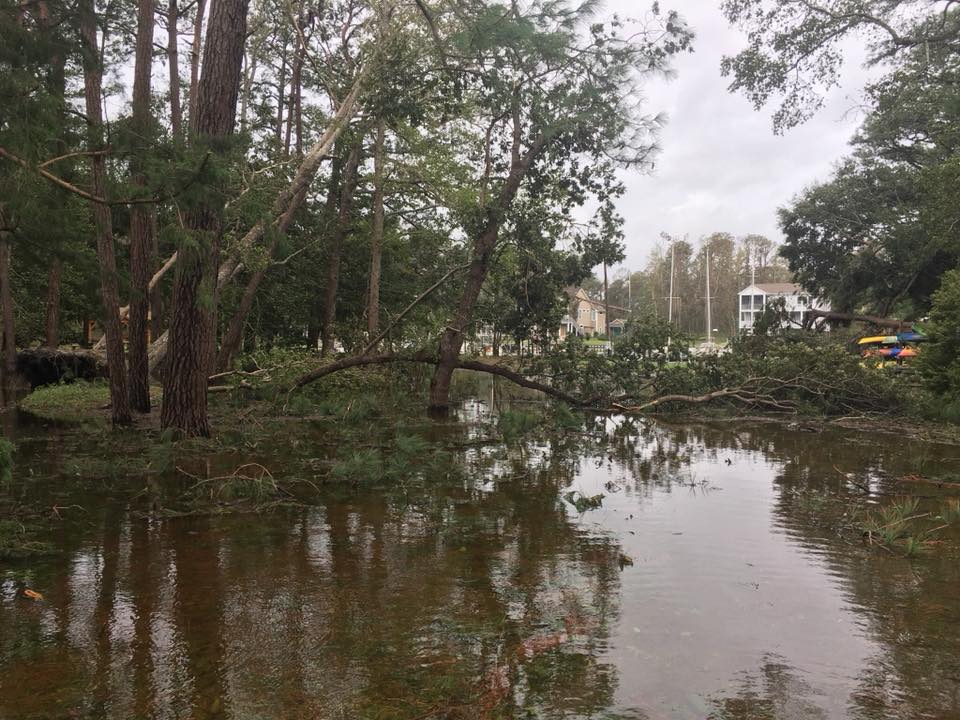 First of two parts
PINE KNOLL SHORES – A handful of coastal communities have taken the initiative to protect their water quality by working to mitigate polluted stormwater runoff.
Depending on how the Pine Knoll Shores board of commissioners votes at its regular meeting in December, this Bogue Banks town could be joining Wilmington, Wrightsville Beach, Cedar Point, Swansboro and Beaufort in adopting watershed restoration plans. A watershed is all areas that drain to a water body, such as a lake, mouth of a river, or ocean.
Pine Knoll Shores has been working with the North Carolina Coastal Federation along with The Eastern Carolina Council and University of North Carolina Wilmington's Environmental Science Department to develop the draft plan.
Sarah Williams, clerk for Pine Knoll Shores and a member of the federation board, told Coastal Review Online that the town is considering this plan because "Watershed restoration is vital to treat stormwater before it flows directly into the water bodies and (to) improve water quality."
The town currently has some areas that typically flood during heavy rains, she continued, and a restoration plan will help identify those areas and apply solutions in moving the water.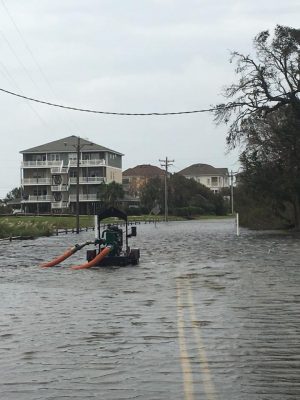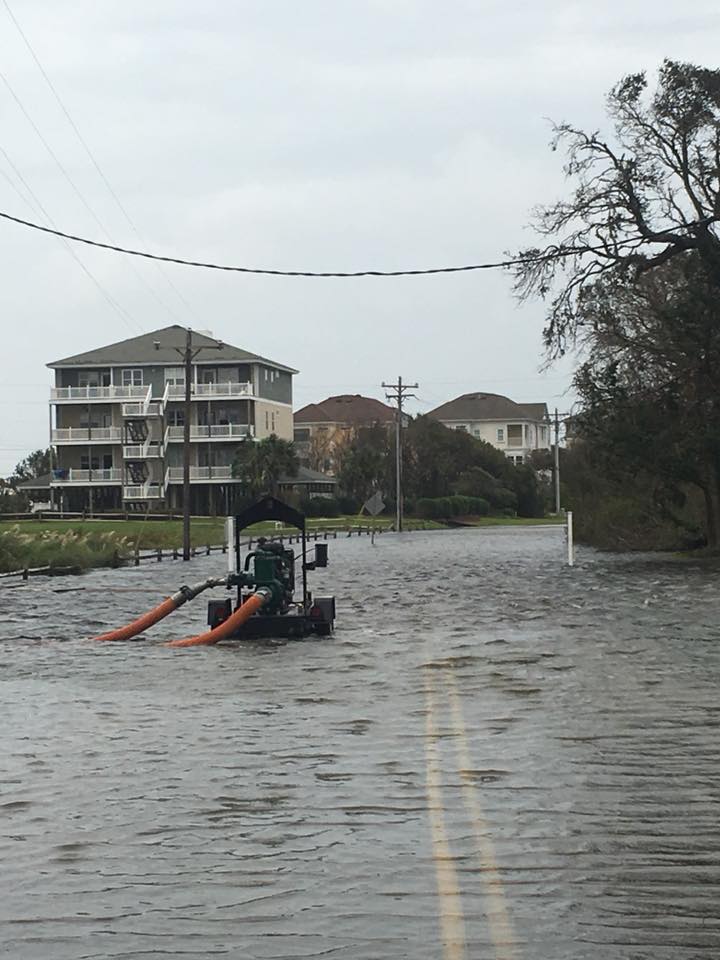 Lauren Kolodij, deputy director for the federation, explained that this watershed restoration plan will provide the town with a framework for how to deal with runoff.
The draft plan is the start of a "multi-year process to implement and maintain, manage and mitigate stormwater runoff pollution" according to the document. The plan includes the nine minimum elements of a watershed management plan the Environmental Protection Agency recommends to qualify for 319 grants. The EPA funds the grant program named after Section 319 of the Clean Water Act, which is administered by the North Carolina Department of Environmental Quality to study and find solutions to impaired water.
"Once the plan is approved by the state they will be eligible to apply for EPA Section 319 funding to reduce runoff," Kolodij said. "They would not be eligible for this funding without an approved plan."
The federation worked with project partners to help secure state funding to prepare the watershed restoration plan, she added.
Kolodij added that the federation also partnered with Pine Knoll Shores to secure funding for implementation.
"The federation developed a watershed restoration guidebook for local governments to assist them with a step-by-step guide for developing a watershed restoration plan," she said. "This plan has been prepared using the steps and focuses on strategies for reducing the volume or runoff within a community to reduce the amount of bacteria and pollution reaching local waters."
The plan "combines low-cost, high-yield strategies such as community outreach initiatives and targeted retrofit projects aimed at reducing the impact of impervious surface by mimicking natural hydrology to reduce flooding, protect water quality, and provide the community with clean, usable waters," according to the draft plan that was presented Oct. 26 during a special meeting of the Pine Knoll Shores board of commissioners held in the town hall.
"The overarching goal of this plan is to improve water quality in Pine Knoll Shores watersheds and reduce the amount of permanent shellfish closures in Bogue Sound in general," Mariko Polk, GIS watershed specialist for the federation and UNCW Center for Marine Science doctoral marine biology student, told the room of more than 50 town staff and officials, members of the public and federation representatives.
She began by saying that a watershed is the highest point in elevation in an area and everything that travels downstream. "So no matter where you live, you're always going to be in a watershed."
The key, she continued, is managing what's going on in the watershed because whatever is uphill is going to run downhill and eventually affect your water quality.
"Particularly in coastal environments," she said, adding that stormwater runoff is a primary concern when it comes to water quality. "What we're having is bacteria pollutants entering the system" through stormwater.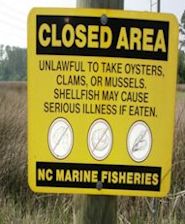 Stormwater runoff transports into bodies of water bacteria components it has collected while flowing across impervious surfaces such as roads and roofs. Polk added that as development occurs over time, there is an increase in impervious surfaces, which correlates to an increase in shellfish closures in nearby waters. Closures mean that those waters cannot be used for their intended purposes because the quality is not safe.
"The goal is to essentially turn back the clock of time and go back to a point where the amount of water coming off the land is not as impaired or as large of a volume as it is currently," she said.
UNCW undergraduate student Evan Hill worked on the geospatial portion of the plan. He told the crowd that Pine Knoll Shores consists of seven watersheds: Marina, Salter Path, North, Shoreline, Bogue Shores, Pine Knoll and Mimosa. Some of these watersheds are shared with neighboring communities.
He echoed Polk that the primary cause of water quality impairments for the area is bacterial. "This is generally caused by water running off the land, entering the water body, depositing a lot of nutrients in the water and causing bacterial growth in it."
Using a baseline year of 1993, Hill said development, woods and open land changes were studied. After calculating how the surface has changed since that time, he was able to find a rough estimate of how the water discharge has changed over time as well.
The increase in impervious surface and decrease in open and wooded areas has led to a large increase in the total volume of water that's flowing into the watershed.
The average condition in 1993 was around 201.53 cubic feet per second, which doubled in 2014 to 510 cubic feet per second, he said. That led to determining that the target reduction volume is 0.113 gallons per square feet of water to return to the 1993 level.
For every square foot of impervious coverage, the reduction would need to be as much water that would fit into a soda bottle, he said.
Following Hill, Polk explained that the watershed restoration plan will help implement this goal.
"What that really means is there's a potential to reduce the amount of flooding and … reduce the amount of bacterial input that are running off the land," she said. "Our focus is to turn back the clock. So we're looking at taking what's going on now and reducing it to the point that we're back to 1993 levels of runoff."
In reality, she continued, they are simply trying to reduce the amount of water flowing from the land into water bodies.
With that, Polk said, some action strategies to reach that goal are retrofits on public properties, voluntary retrofits on private properties, track progress and monitor incremental improvement in volume reduction. Examples she provided included a rain garden and pervious pavement.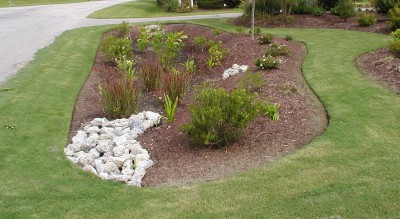 The board will take public comments on this proposal during the Nov. 14 town commissioners meeting at 6 p.m. in the town hall. The final plan will go before the board for approval in December. If the board moves forward, the plan will then go to the state for approval in spring 2019. After this step, Pine Knoll Shores will be able apply for 319 funding with the goal to start projects in late 2019 or early 2020.
Williams said after the meeting that "Most residents seem to be excited about the plan and have shown a lot of interest. I think everyone is concerned with the flooding in town and is happy to see us taking steps to mitigate the effects."
When asked how the watershed restoration plan will help mitigate flooding in Pine Knoll Shores, she said, "I think mitigate is the key word."
Williams explained that she anticipated once the plan is in motion, there would be less standing water during normal rain events.
It's important to know that impervious surface coverage such as from paved parking lots, roofs, driveways, curbs, roads and other similar man-made materials in the town has grown exponentially in the last decade and it will take several years to reach the town's goals, she added.
"By moving this water that otherwise would cause flooding will help to mitigate those larger rain events. Residents may see some standing water in their yards — and that's OK! We're letting Mother Nature infiltrate the contaminants before sending it directly to the waterways," Williams said.
Learn More
Next: Why is watershed management important?