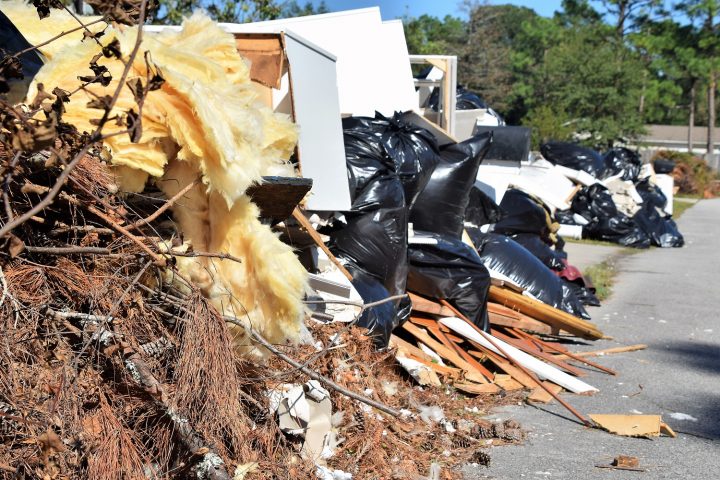 EASTERN NORTH CAROLINA – Storm debris caused by Hurricane Florence continues to be a challenge for several coastal counties.
At a legislative briefing last week, coastal legislators Rep. Pat McElraft, R-Carteret, Rep. Phil Shepherd, R-Onslow, and Rep. Frank Iler, R-Brunswick, pressed the North Carolina Department of Transportation Secretary Jim Trodgon for help for debris cleanup on private roads.
Iler said while homeowners are used to covering the cost of routine maintenance, what they are facing now is a different story.
"Those neighborhoods that are private are really going to be strapped for the homeowners to cover this type of damage," he said at a recent hearing of a House transportation committee.
Shepherd said he and McElraft are compiling a list of some of the areas that have been told they would not receive FEMA reimbursements to see if they actually qualify.
"It may just be a misunderstanding," he said.
Trogdon said he was not clear on the rules for purely private roads, but that expenses for any public road that is not state maintained does qualify for FEMA reimbursement. He said he would review the issue and the situation in the identified neighborhoods and see if they could qualify.
"I'm not sure about the purely private roads," he told Shepherd. "I do know that on public streets, non-DOT routes, local governments can get 100 percent reimbursements."
Ford Porter, spokesman for Gov. Roy Cooper, said the governor's recovery proposal released Wednesday does include additional funds for local roads, which would apply to cleanup on public local roads that the state also provided under the Hurricane Matthew recovery plan.
The recovery plan puts the estimated damage to local, non-NCDOT system roads at $56.9 million and the anticipated federal reimbursement at $42.7 million. The plan recommends a $14 million state appropriation for non-NCDOT system local road damage.
In an email response to Coastal Review Online, Ford said the only money in the proposal specifically for cleanup on private roads is for non-field farm roads, which are covered under the governor's Farmer Recovery and Reinvestment Program.
Laura Leonard with the state Department of Environmental Quality told Coastal Review Online Friday that there will be debris generated from Hurricane Michael added to that from Florence.
"People need to remember to cover their trash piles as they take it to the landfill, so that it doesn't blow out into the road. Also, it is still important to sort debris that is placed along the roadside for pickup," she said. Adding that it is important to remember the laws on burning and burning debris. As always, if people have questions they should contact their town or county solid waste department for information.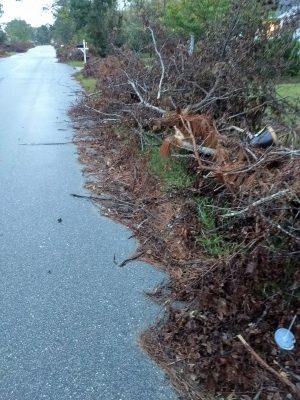 Jaime Long, Carteret County's public information officer, said NCDOT began in Carteret County Oct. 4 removing vegetative debris on state-maintained roads.
Santee Debris Removal, based in Santee, South Carolina, the NCDOT contractor, has 16 crews divided up to cover eastern, central and western Carteret County.
There are three scheduled passes. The first is vegetative debris only and should be concluded by Oct. 26, the second pass should end Dec. 7 and the last pass should end Jan. 25, Long explained. As of Thursday, NCDOT contractors have collected a total of 57,066 cubic
yards of debris.
Long told Coastal Review Online that the county received approval from FEMA Oct. 4 to collect debris on roads that are not state maintained. A request for proposal, or RFP, to secure a contractor closed at noon Friday. The commissioners approved the county manager to select the contractor from the bids based on efficiency and lowest cost.
Once the contractor is selected, the company will begin removing storm debris from the right-of-way of unincorporated paved private roads to which the public has unrestricted access with no locks, gates, or guards, the county explained in a press release Friday. More details will be announced on the county website.
There are six additional temporary debris locations for vegetative and construction and demolition debris disposal in the county currently open: Mariner's Park, 157-175 East St., Sea Level; Eastern Park, 450 U.S. 70 East, Smyrna; Western Park, 275 Old Highway 58, Cedar Point, for non-commercial vehicles only; Garner Site, 293 Carl Garner Road, Newport; Otway Site, 485 Harkers Island Road, Beaufort, for vegetative debris only; and Fredeen/Highway 58 Site, 1494 Highway 58, Peletier. The county and contractors are in negotiations with other land owners in case additional sites are needed.
Thompson Consulting Services of Lake Mary, Florida, is the contractor monitoring the sites. As off Thursday the County had 509,023 cubic yards of debris accumulated at the temporary debris sites and estimates at completion that number will be well above a million cubic yards, per the announcement from the county. Long said that the current reduction method is grinding and J.B. Coxwell of Jacksonville, Florida, is the contractor taking the debris to Tuscarora.
If citizens would like to self-haul, they can dispose debris at any of the six temporary sites. If citizens choose to hire a contractor, they should complete this form to give to the contractor so they will not be billed for disposal fees.
Carteret County convenience centers do not accept vegetative debris, but C&D can be taken to the transfer station on Hibbs Road. Citizens should complete a voucher to avoid paying disposal fees at that location.
For more information on hurricane debris pickup, please contact the Carteret County Public Works Department at 252-648-7878.
Amanda Hutcheson, public information officer for Brunswick County, said that the debris contract for the county serves unincorporated areas of Brunswick County, including state-maintained roads and private roads open to the public. This does not include debris in gated communities because of FEMA regulations.
Brunswick County Wednesday notified the public that storm debris including vegetative, construction and demolition, furniture and appliances sorted for collection must be placed at the curbside on the property where the debris originated. Moving debris to the roadside of another property is considered illegal dumping.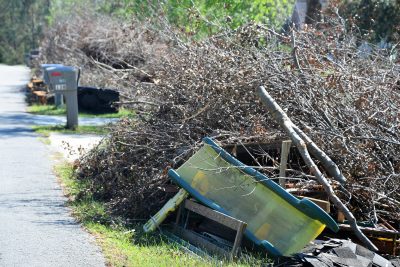 In addition to violating county ordinances, this type of dumping creates safety and health hazards by obstructing the view of drivers and possible spillage into the road, both of which could cause vehicular accidents. Large piles of debris could also obstruct stormwater drainage systems, cause mold growth and provide a place for rodents to breed, according to Brunswick County officials.
Illegal dumping in Brunswick County's unincorporated areas can be reported on the website or by calling 910-253-2025. Violations will be investigated and violators will be prosecuted, according to the county.
Pender County is taking a similar approach.
"Unfortunately, this debris cleanup will be in the millions of dollars. We have to follow FEMA guidelines and the equipment can't traverse dirt roads or into private gated communities," said Pender County Public Information Officer Tammy Proctor.
The most recent figures Proctor had Friday on vegetative debris collection was 250,000 cubic yards. The county is set to open a vegetative debris site for residential use only, not for commercial contractors.
The county reminded residents in a press release to separate the debris by category: vegetative debris, construction debris and white goods; not to place debris under power lines; debris should not block visibility at roadways; and to cut tree trunks to lengths in 4-foot lengths.
New Hanover County Community Services Coordinator Kate Murphy said that gated communities must provide permission to enter or a gate code to Environmental Management by emailing JSuleyman@nhcgov.com.
"Private roads will be serviced as long as a large truck can enter and have space to turn around to exit. We've asked those who live on small, private roads to consolidate debris piles with neighbors at the front of the road," she said. More details can be found on the county website.
Read this update from #NHCgov on debris collection, property damage reporting, an evacuation & travel letter, hurricane repairs & permits, and the burn ban: https://t.co/ywCZ0JfQAU. #FlorenceRecovery pic.twitter.com/zo0jF8dMvg

— New Hanover County (@NewHanoverCo) October 12, 2018
Murphy said Friday that debris collection was suspended Thursday because of winds and rain associated with Hurricane Michael but trucks were back out Friday. As of Wednesday, 349,833 cubic yards of vegetative debris had been collected, nearly triple the amount of debris collected after Hurricane Matthew, and 573 cubic yards of construction and demolition debris collected, which began Oct. 6. There were 5,271 hazardous limbs and 339 hazardous trees removed.
Cornelius J. Jordan, Onslow County communications director, said the tonnage received directly at the county's landfill totaled about 4,175 tons, as of Oct. 8.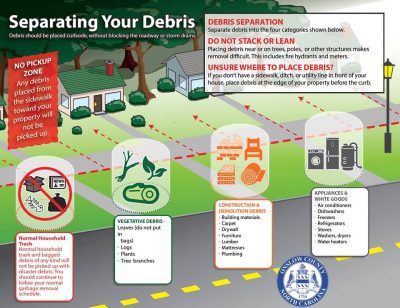 CrowderGulf, headquartered in Theodore, Alabama, with a satellite office in the state, is the company Onslow County contracted for debris removal. The company collected around 70,859 cubic yards of vegetative debris with an estimated remaining total of 129,141 cubic yards as of Oct. 9. In addition, CrowderGulf crews removed a total of 2,176 hazardous trees.
Onslow County had 15 teams removing disaster debris along the public right-of-way in the unincorporated areas, including private roads that the public has unrestricted access to — no locks, gates or guards — and as long as the public frequently uses the private road, according to the government website, which also reminded citizens to separate disaster debris and place it curbside without blocking the roadway.
Crews will make multiple disaster debris pickups in unincorporated areas. The county will announce ahead of time before debris-removal services end. Regular household trash and bagged debris of any kind will not be picked up with disaster debris.
One municipality has requested its citizens get all their debris to the curb by Oct. 24.
Jacksonville City Manager Richard Woodruff on Wednesday in a press release explained that in some cases, the city lacks the equipment needed to remove the heavy vegetative debris that the FEMA-authorized contractor had in place, including extraordinarily large trees. Most of the city has had two rounds of yard waste debris pickup. The date for the last pickup has not been set, officials said Wednesday.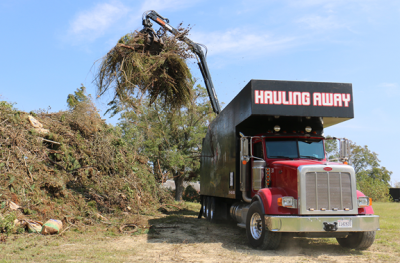 When the time comes that the cost of the FEMA-authorized debris contractor is no longer reimbursable, the expense will then be borne solely by the city. As of Wednesday, the city's debris-pickup total that's expected to be reimbursed by FEMA was at $3.9 million. Officials said that amount, if not for FEMA funding, would require abut an 11-cent property tax increase to offset.
Residents are reminded that it is unlawful to burn debris in the open in the city without a permit. More than 90 unlawful burning activities had been stopped as of Friday.
Morehead City is asking residents to separate remaining storm debris into three separate piles: vegetative, construction and demolition and furniture and carpet, which needs to be cut into 4-foot sections and rolled up.
Through Oct. 10, it was estimated that roughly 70 percent of the city's vegetative debris was collected in the first pass, more than 52,000 cubic yards of debris. The city expects to complete the vegetative debris pickup within two weeks and then transition to removing construction debris.
Carolina Beach's debris removal contractor was on its final pass of vegetative debris hauling from the right-of-way as of Oct. 9. At that time, 522 truckloads of vegetative waste had been removed, which is around cubic yards of material, and 70.96 tons of household construction and demolition debris removed.
Frank Rush, town manager for Emerald Isle, said in an email that its estimated around 850 parcels on the soundfront and the navigable portion of Archers Creek have some degree of damage.
"I don't have an exact count, but I think it's safe to say that 90 percent have some degree of damage – some completely trashed, and others with good chunks missing," he wrote.
The town is advising property owners to move the debris from the shoreline to the street edge.
Kirk Ross and Jennifer Allen contributed to this report.
Learn More