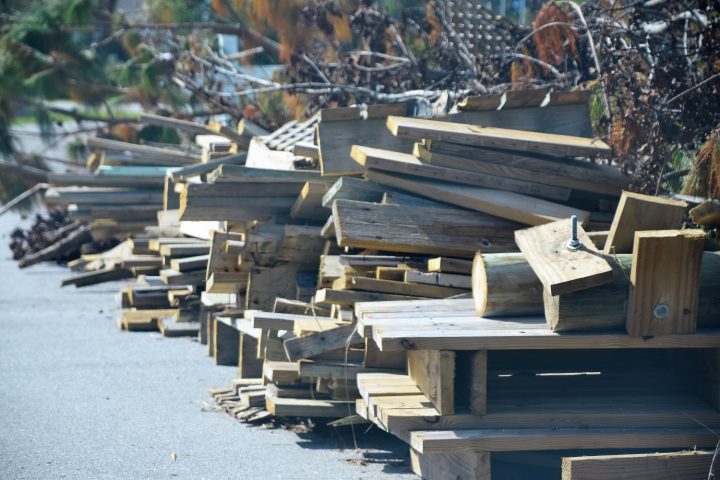 First of two parts.
EASTERN NORTH CAROLINA – In the weeks following the Category 1 Hurricane Florence that ripped apart the coast in mid-September, residents and businesses are working to clean up after the storm.
As a result, there's mounds of vegetative as well as construction and demolition debris, or C&D, lining streets and roads, waiting to be collected.
Laura Leonard, a public information officer for the Department of Environmental Quality, said Friday that recovery is ongoing, making it difficult to quantify the amount of debris, costs or amount of time and effort to address the mess across the state.
"There are still many moving parts. Because we have staff working directly with local, state and federal agencies in the impacted areas, we know that debris is actively moving. Damage assessments are just starting or are ongoing in more impacted areas, such as those in far southeastern North Carolina where flood waters receded later," Leonard told Coastal Review Online.
She said that in all of these areas, residents and businesses may haul their waste and debris to disposal sites such as landfills or transfer stations and in other areas, the North Carolina Department of Transportation and local governments, either directly or through contractors, are collecting and managing the debris.
"It is expected that vegetative debris numbers will be high and growing as that type debris generally moves first to clear roads. Other debris volumes such as C&D will increase over time as more structures are being addressed," she added.
As far as flooding interfering with debris collection, to the extent known to the Division of Waste Management, "In several of the less-impacted areas, there were initial impairments to moving debris due to road closures restricting access to permitted facilities. Likewise, several counties with pre-approved debris-staging sites were flooded and unavailable for use."
Leonard said that the Division of Waste Management is not aware of any environmental impacts due to the amount of debris generated from this storm.
"The mismanagement of debris can lead to public health and environmental impacts. Division staff are working diligently with local, state and federal partners as well as our permitted facilities to provide guidance and facilitate the proper segregation, storage and removal of any debris from impacted areas as quickly as possible," she said.
New Hanover County has been chipping away at the debris covering the county.
Kate Murphy, community services coordinator for New Hanover County, said that since Sept. 24, the total vegetative debris collected as of Monday was 278,998 cubic yards and there were 315 dangerous trees and 4,089 dangerous limbs removed in unincorporated areas of the county.
"We estimate that we will be finishing up debris removal efforts by the end of November, and our cost assessment is nearly $14 million," she explained.
The primary debris removal contractor is D&J Enterprises of Auburn, Alabama, and they have several subcontractors working directly for them. "There are about 40 crews working across the county. Debris is taken to the New Hanover County landfill for collection monitoring and mulching of vegetative debris," Murphy added.
So far, the amount of debris hasn't created any easily apparent environmental effects.
"As we begin to collect construction and demolition materials, proper disposal of household chemicals by the residents will become very important," she added.
Though Wilmington was isolated because of flooding for a short time, the floodwaters didn't hinder work to clear debris.
"The greatest impact from flooding regarding debris removal was getting the equipment here. There was a period of a few days when all roads leading into Wilmington were cut off. There are a few areas with some residual flooding, but the large collection vehicles are able to access nearly every area to perform recovery efforts," she said.
Murphy recommended that residents view a map of areas serviced and expected to be in the unincorporated areas of the county. Residents can also take vegetative debris to Ogden Park in the northern part of the county, and Veteran's Park, in the southern part of the county.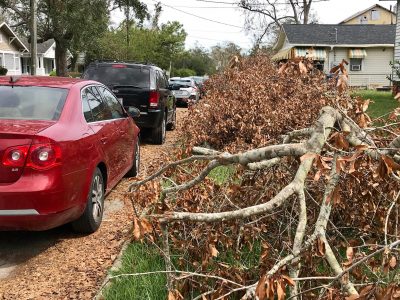 Storm debris for Wilmington is being collected by DRC Emergency Services, a company with locations in Texas, Louisiana and Florida, contracted by the city to pick up more the than 1 million cubic yards of vegetative and C&D storm debris cause by Hurricane Florence, according to the city website.
DRC crews began collecting construction and demolition debris within the Wilmington city limits Monday. The website has an interactive map for this collection as well as an interactive map that is updated daily showing the status of debris pickup progress and upcoming areas to be serviced.
Like many other local and county governments, Brunswick County is still in the beginning phases of tallying the cost of Hurricane Florence.
Amanda Hutcheson, public information officer for Brunswick County Government, said Monday that it's too early to have firm numbers for the amount of debris collected in the unincorporated areas of the county. She added that towns and cities are coordinating debris collection within their municipal limits.
"We have recently started collecting C&D; our contractors were mostly doing vegetative debris initially," she said, adding CrowderGulf, based in Theodore, Alabama, is collecting the debris and Landfall Strategies of Sarasota, Florida, with a satellite office in Wilmington, is monitoring the debris contract. "We have a temporary debris management site permitted in Supply, and we have a staging or processing site in Belville."
She said they expect debris collection to take a couple of months to be complete. The initial contract figures for debris collection to be around $2 million but the county is seeking FEMA reimbursement.
"We are emphasizing that contractors will make several passes through the unincorporated areas, and that in many areas contractors will work for several days before moving on to the next area. If residents have placed debris by the road but it has not been picked up yet, that does not mean that they have been skipped or missed," Hutchenson added.
Tammy Proctor, Pender County tourism and public information officer, told Coastal Review Online Monday that the county is collecting debris as fast as possible and watching Hurricane Michael.
"With our ground saturated, a few more inches of rain will mean we could have more flash floods, fallen trees and downed power lines," she explained.
Proctor said that they're unable to estimate the cost and time invested in cleaning up the storm because there are still families unable to reach their homes due to floodwaters. "We can only estimate into the millions."
"Pender County has been dealt a blow by this historic storm," Proctor added. "Part of our county encountered hurricane wind damage, damage from the record rainfall, flash floods, and then rivers, streams, and tributaries flooding. Hurricanes Floyd and Matthew were benchmarks in Pender County. Florence surpassed our benchmarks. We have a lot of homes destroyed and damaged," she said, adding that the environment has felt the impact of stormwater and septic overflow.
Pender has also contracted with DRC, and the debris is being delivered to collection sites in the county. Collection as of Thursday was counted as 53,439 cubic yards in vegetative debris but numbers were not available for C&D. The flooding has interfered with collecting debris.
In New Bern at the end of the second week of cleanup, 2,135 tons of construction debris had been collected, with the first week reaching 760 tons. Vegetative debris collected came to 97,130 cubic yards during the second week and 26,442 the week prior.
New Bern public information officer Colleen Roberts explained that determining the cost and effort for storm debris removal was still in progress, but Hurricane Florence could cost the city $8 million, "But that is an estimate." She said that as of Friday, manpower and staffing costs were up to $2.8 million.
"Phillips and Jordan is our contractor and we're also using mutual aid help from across North Carolina, including Garner, Greenville, Rocky Mount, Charlotte, Harrisburg, Hendersonville, Raleigh, Greensboro and Wilson. Construction debris goes to the landfill and vegetative debris is being staged at an industrial site, with both being tracked for FEMA data purposes and reimbursement."
Did #Florence leave a lot of debris in your area? Follow the guidelines on managing debris after a natural disaster to expedite the removal process. https://t.co/3Usm7YN0mk

— EPA Southeast (@EPASoutheast) September 29, 2018
The environmental damage has been sizeable on several points for New Bern, Roberts explained. "We had a lot of trees down as a result of this storm, a lot of blowing debris … so we've lost some of the beautiful canopy New Bern is known for in several of its neighborhoods and along the waterfront."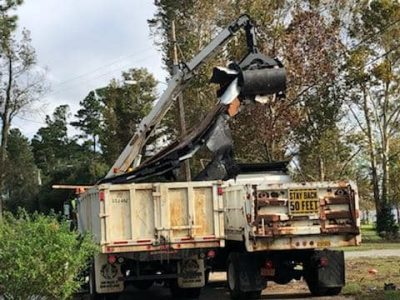 The vegetative debris will be mulched after it is collected and sorted to lessen the environmental impact some, she explained. "But after the storm, there was fuel in the water, LP (liquid propane) tanks that washed up in flooded areas, sewer inundation, and other chemical issues so we know there are impacts from those too. Our drinking water quality was never impacted during the storm, which is great. Our water was and has always been safe to drink."
While New Bern saw flooding during the storm, it didn't impair debris collection. "Our floodwaters receded immediately after the storm," she said. "The Neuse River is extremely wide and flooding is not a long-term issue here during tropical events."
In Jacksonville, enough vegetative debris has been collected to fill six football fields, goal post to goal post, 10 feet high according to a news release Oct. 2. More than 2,100 loads of vegetative debris have been collected and placed at the city's temporary mulching site.
The city estimated that it could be December before all the vegetative, and C&D debris is collected.
For those still managing their debris, Leonard with DEQ said that citizens and businesses are encouraged to do the following:
Communicate with or listen to instructions provided by local government before placing anything curbside or roadside in rural areas. There may be specifics to how and when, or even if, they are planning to collect debris.
If instructed to place things by the curb for collection, always separate waste types such as yard waste, building materials, furniture and appliances.
Never place any material in a location or manner that could result in environmental damage, such as directly in a ditch or waterway. Never place containers of paint, household cleaners or fertilizers directly on the ground, always make sure they are and will remain upright.
Next: Hazards and safe handling.