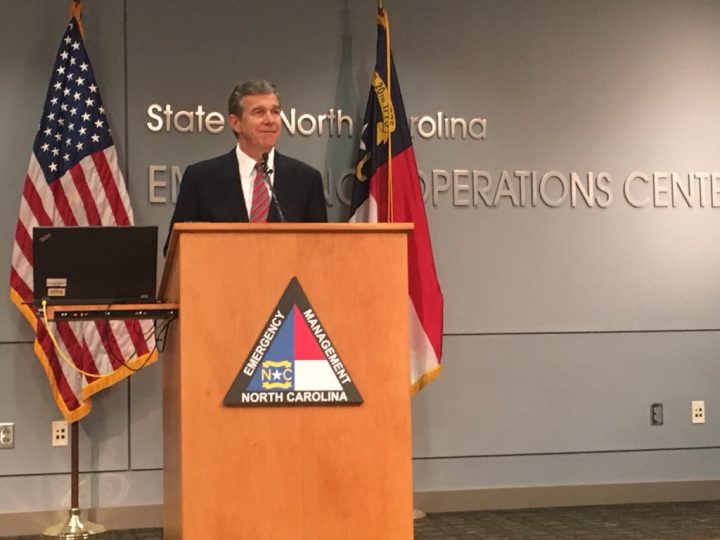 RALEIGH – As the state awaits another round of high winds and heavy rains from Hurricane Michael, Gov. Roy Cooper began making the case this week for a long-term $1.5 billion Hurricane Florence recovery plan.
"An unprecedented storm requires and unprecedented response," Cooper said.

— Gov. Roy Cooper

… regarding his requested $750 million "down payment" on $1.5 billion for Hurricane Florence relief.

Cooper announced the plan at the state Emergency Management headquarters in Raleigh following a briefing on preparations ahead of Michael, which made landfall Wednesday near Mexico Beach, Florida, packing 150 mph winds and driving a storm surge that reached 14 feet in parts of the Florida panhandle.

The storm was expected to track into southern Georgia, then through South Carolina before arcing through eastern North Carolina Thursday and into early Friday. Tropical storm-force winds were due to reach North Carolina  Thursday morning, according to the National Weather Service, and rainfall predictions have increased to as much as 7 inches in a broad swath from the sandhills to the northeastern corner of the state.

"This time we'll be spared the full wrath of the storm," Cooper said. "Make no mistake Hurricane Michael is a dreadful storm and poses serious risks to North Carolina."

Cooper declared a state of emergency Tuesday night and warned that southeastern counties are under tropical storm watches and warnings. The only good news, he said, is that unlike Florence, which stayed in the state for more than four days, this storm would move quickly.
Recovery Recommendations
Cooper said the new threat is another reminder that the state must move ahead with greater resiliency planning and get residents out of floodplains.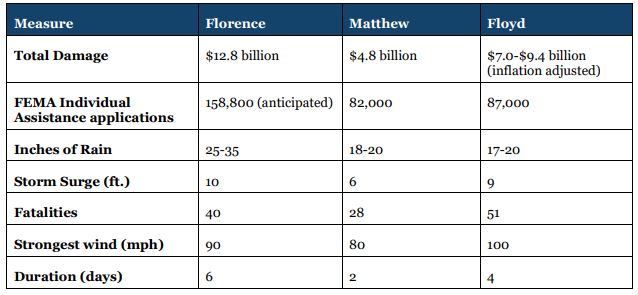 In all, damage from Florence is estimated at $13 billion, close to the combined costs of Hurricane Matthew and Hurricane Floyd. Of that, an estimated $3.3 billion is covered under private insurance. The state has received an initial $2.3 billion commitment in federal aid and Cooper said he expects to seek an additional $3.4 billion in federal aid.

For the state's share, Cooper is asking for $1.5 billion overall with an initial "down payment" of $750 million.

"An unprecedented storm requires and unprecedented response," Cooper said.

Legislators appropriated $50 million in matching funds for Federal Emergency Management Agency grants in late September and then adjourned to give state departments time to pull together damage estimates and recovery costs.

Major parts of the recovery plan include significant state funds for housing, agriculture, public health and transportation, including the following:
Housing — The plan requests $534 million for housing programs, including $180 million for a state acquisition and relocation fund to move homes out of floodplains and a $176 million for a homeowner repair and rehabilitation fund to repair homes and increase freeboard.
Agriculture — Funding in the plan totals $309.5 million with $200 million in payments to farmers for crop and machinery losses. Cooper said he wants to enhance the current voluntary buyout plan to move more hog operations out of the floodplains and included $75 million for a new farmer resiliency fund. Another $12 million in the agriculture program would go to the Division of Marine Fisheries for commercial fishing assistance.
Public utilities — Damage to local utilities would be covered under an additional $23 million for FEMA public assistance grants and $25 million distributed through the Golden LEAF Foundation for local government water, wastewater and stormwater system grants. The Department of Environmental Quality would also receive $25 million to help move some water and wastewater systems out of floodplains and mitigation work to prevent future damage.
Natural resources — spending in the plan totals $171.7 million with a major portion, almost $88 million, going to more work on mapping and flood modeling and mitigation. The Clean Water Management Trust Fund would also receive $25 million for flood abatement and water quality grants.
Transportation — Plan provides $129 million in funding mainly to match federal highway funds. It also provides $14 million to match local road funds and sets aside $50 million for resiliency improvements including what are likely to be expensive mitigation and resiliency projects for problem areas along I-40, I-95 and U.S. 421, the state's most heavily damaged road. The estimated $54 million in damage to the state ports in Morehead City and Wilmington is almost entirely covered by insurance except for a $100,000 deductible.
Lessons In Coastal Management
The state has already begun work on determining needs for dredging and beach re-nourishment, according to State Budget Director Charles Perusse. Cooper's plan has $5 million budgeted for a needs assessment. Perusse said the state wanted to get that work done quickly with hopes of getting some of the projects into the current federal budget cycle.

Perusse said he would expect funding through the Army Corps of Engineers for re-nourishment projects to be part of the state's overall request for additional federal aid.

An early estimate of beach re-nourishment damages from Florence is around $295.7 million and dredging needs are estimated at $87.1 million, but engineers will have to reassess inlets and beach damage. Some of the beaches that were damaged were already scheduled for re-nourishment.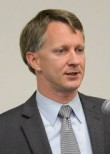 On Monday, Division of Coastal Management Director Braxton Davis told legislators that an inventory of the damage is underway. The key takeaway, he said, was natural infrastructure did very well in the storm.

"Beach nourishment projects that resulted in high dunes and wide beaches did what they were supposed to do. They buffered the storm," he said. Living shorelines also worked well, he said. "We're seeing that these structures, where they've been implemented, performed extremely well during the storm, were not damaged in any way and nearby you see bulkheads that have collapsed and you see scouring of property."

"We're seeing that these structures (living shorelines), where they've been implemented, performed extremely well during the storm, were not damaged in any way and nearby you see bulkheads that have collapsed and you see scouring of property."

— Braxton Davis, Director, Division of Coastal Management 

The storm surge could have been much worse if it got as high as predicted, Davis said, but the fact that it was a high as it was through several tidal cycles caused serious erosion damage. The dunes at Surf City saw some of the worst damage, he said.

The plan also includes $3 million for oyster sanctuary rebuilding and repopulating and marine debris cleanup.

Shellfish growers could be eligible for losses under the $200 million farmer recovery and reinvestment program. Oyster and clam growers lost $2.2 million in product according to preliminary estimates. North Carolina Sea Grant also estimated that equipment losses were about $1.3 million.

Losses to commercial fishing operations for wild harvested shellfish could also be compensated under the $12 million in commercial fishing assistance funding.
Learn More