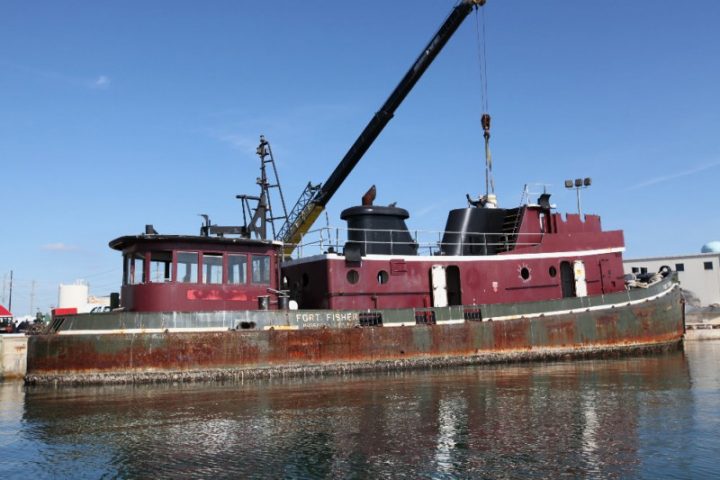 MOREHEAD CITY – The 98-foot tugboat, Fort Fisher, will become part of an artificial reef off the coast of Carteret County next week.
The N.C. Division of Marine Fisheries' Artificial Reef Program, in partnership with the East Carolina Artificial Reef Association, plans to add the former tugboat to AR-320, an existing artificial reef about 2.5 miles offshore of Pine Knoll Shores. The work is expected to take place from Sept. 10-14. The date is dependent on weather and water conditions.
Artificial reefs are man-made underwater structures built to promote marine life and serve as spawning and foraging habitat for commercially and recreationally important fish species.
A Coastal Recreational Fishing License grant for $185,000 funded the project. The Eastern Carolina Artificial Reef Association used the grant for the acquisition, cleaning and deployment of the vessel.
Built in 1956, the Fort Fisher is a former towing tugboat from the N.C. Port of Morehead City, according to a release from DMF. The tugboat will be cleaned of environmental pollutants and prepared for sinking in accordance with Environmental Protection Agency, Coast Guard and Army Corps of Engineers regulations. Its placement will have no effect on navigational clearance.
The division maintains 68 artificial reefs, located from estuarine waters to 38 miles offshore, all situated to be  reached from every maintained inlet in the state.
For more information, about the program or the tugboat reefing, contact Artificial Reef Program Coordinator Jordan Byrum at 252-808-8036 or Jordan.Byrum@ncdenr.gov.