Budget proposals working their way through the state General Assembly last week appeared likely to cause significant problems for some coastal programs and agencies, including the state agency that tests shellfish waters, the University of North Carolina's Institute of Marine Sciences in Morehead City, the UNC Coastal Studies Institute on Roanoke Island and the N.C. State Center for Marine Sciences and Technology in Morehead City.
Gov. Pat McCrory's budget proposal recommended a $13.1 million, or 20 percent, funding cut for the UNC centers and institutes. It would also force the Shellfish Sanitation and Recreational Water Quality Section to shut down its Nags Head office. The N.C. Senate budget proposal, passed last Saturday, eliminates the cuts to the centers and institutes, but it does nothing to stop the closure of the shellfish sanitation office. Since the N.C. House of Representatives has yet to even release its budget proposal, no one can yet be sure of anything.

The state's Shellfish Sanitation and Recreational Water Quality Section monitors all shellfish waters on the coast for bacterial contamination and recommends temporary or permanent closures if the concentrations threaten public health. Photo: U.S. Geological Service
The shellfish sanitation move would eliminate three employees who sample for bacterial pollution in shellfish-growing waters in the northeast corner of the state, forcing the prohibition of any harvesting of clams and oysters in the Alligator, Pasquotank, Perquimans and Chowan rivers; parts of the Pamlico, Pungo and Neuse rivers; and Albemarle and Currituck sounds.
The office also tests the safety of swimming waters. Those tests would still be done, but out of the N.C. Division of Marine Fisheries office in Manteo. The closure of the shellfish office, if enacted, would begin in July and would save the state $148,240.
Drew Elliott, spokesman for the N.C. Department of Environment and Natural Resources, or DENR, said the proposed closure of shellfish sanitation's office is the result of McCrory directing all of the agencies to trim their budgets; the nature of the cuts was left to the department heads, in this case, Louis Daniel, the director of the fisheries division. The division is the parent agency of the shellfish section. Both are part of the department.
Elliott said all budget cuts are difficult, but in this case officials thought closure of the Nags Head sanitation office made sense because there is very little commercial or recreational shellfish harvesting in those waters. Oysters and clams, for instance, don't rank as among the top commercial species in any of the affected water bodies, according to a 2013 state report.
The waters would have to be "administratively closed," Elliott said, because sampling for bacterial pollution would not occur, but he said that the effects on fishermen would be minimal.
Shellfish sanitation, formerly a part of the state health department, routinely samples all state shellfish waters for bacterial pollution, and recommends their closure when pollution exceeds the federal and state standards. The office then continues to sample after the closure and recommends reopening when the standards are again met. The agency is also responsible for recommending permanent closures of shellfish waters when sampling consistently shows it is necessary. It has a long and excellent track record, and can boast that there has never been a reported case of serious health problems from consumption of North Carolina shellfish.
Willy Phillips, whose Full Circle Crab Co. in Columbia in Tyrrell County sells all kinds of seafood, agreed with Elliott that the closure of those waters to oyster and clam fishermen will have little direct economic effect on  the region. But he said he still opposes the idea, in part because of the message it sends.
Sampling, like the agency's routine inspections he welcomes at his business, inspire consumer confidence in the products seafood businesses sell.
"I'd really like to see the offices expanded," he said. "This (closure) is the wrong way to go. It's misguided. What we need to do is increase our efforts to bring back our oyster fishery. It has improved in recent years, but there's a long way to go. It could be a big economic benefit."
Phillips said that before he quit oystering back in 1987, it was routine to pick up 50 bushels in a day, or 100 bushels for a couple of hard-working harvesters. Although the harvest plummeted in the 1990s, thanks to habitat destruction and the presence of Dermo, a parasitic disease, concerted efforts by the state and conservation groups have triggered a significant comeback in recent years. Phillips, echoing comments from experts, said some oysters appear to have developed a resistance to Dermo and continued efforts to improve oyster stocks will pay big dividends.
Reducing shellfish sanitation's staff essentially signals somewhat of a lack of commitment, he said, and any future cuts in the inspection staff would be even more disconcerting. In short, Phillips said, shellfish sanitation, while small in size, is a crucial agency for the state and the reputation of its fisheries.
There is also at least some concern, according to some DENR employees, that changes in state support for shellfish sanitation could, at least eventually, impact federal Environmental Protection Agency funds that also support the agency.
Elliott said the DENR cuts are across the board and are being carefully calculated to cause as little pain as possible to each agency and their employees. Employees whose jobs are eliminated, he said, would be given top priority for other positions for which they might qualify.
Phillips, after a long career in the commercial fishing industry, said he realizes the industry is changing, with the small, independent fishermen and businessmen fading away, much as the small family farm began to fade away decades ago. And he doesn't blame Daniel, the fisheries division director, for making his choice.
"He and all of the others in DENR have been under incredible pressure to make cuts in the past few years," he said. "Fisheries has probably lost 40 or 50 positions."
The fishing industry, he said, will survive but will be far different, perhaps more efficient but far less "colorful" and reflective of the state's culture and history.
Those who direct the coast's marine sciences were far less confident in their facility's future under the governor's budget than Phillips is of the future of a changed commercial fishing industry. In fact, they felt downright disrespected by the governor's proposal to slash funds for the University of North Carolina's "centers and institutes." The 20 percent cut shocked Rick Luettich, director of the Institute of Marine Sciences.
"It's such a large cut that I don't even know, can't even begin to say, how we would handle it," he said last week. "That's the truth of the matter. It would require us to largely eliminate our entire staff – maintenance and most administrative – and I don't know how we would do that. Clearly, if such a cut went through, we'd have to ask the question whether the state and the university can afford to have the Institute of Marine Sciences."
The problem, Luettich said, is that while the institute currently operates with $25-27 million in grant funds attracted by its scientists, the state direct support totals only about $1.25 million, so the cut would be close to $250,000. That's the only pocket of money the institute can use to pay faculty and staff.
The institute is a bit unusual, Luettich said, in that its staff is its own; the researchers and professors generally don't work at and aren't paid through any other UNC department. As a result, he said he was "very concerned." But he added that he had watched and participated in the budget process enough times not to panic.
Nancy White, director of the university's Coastal Studies Institute near Manteo, was even more distressed last week because a 20 percent cut would reduce its operating budget to as little as $400,000. In addition, she said, the governor's budget specifically targeted another large chunk of revenue, $1.9 million, for a research program.
"We are taking it very seriously," she said last week. "It would basically put us out of business."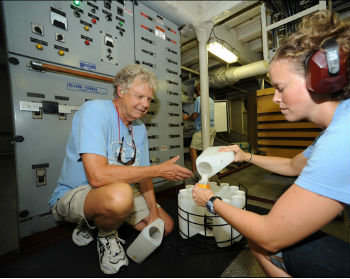 Hans Paerl, left, a professor at UNC's Institute of Marine Sciences, tracks the health of coastal waterways. Paerl ahd Joe Ramus of the Duke Marine Lab developed FerryMon, the nation's first water-quality monitoring system that uses ferries to collect data on water samples as a way to study the short- and long-term effects storms have on the Pamlico Sound. Photo: UNC
Formed in 2003, the institute's mission is to undertake research, offer educational opportunities, provide community outreach programs and enhance communication among those concerned with the history, culture and environment of the maritime counties of North Carolina.
Its primary areas of emphasis are estuarine ecology and human health, public policy and coastal sustainability, maritime heritage and coastal engineering and ocean energy. The latter, White said, is on the cusp of a major program designed to test the feasibility of generating and storing energy from ocean currents, specifically the Gulf Stream, working with private partners and counterparts in the engineering departments at UNC-Charlotte and N.C. A&T University.
The governor's budget, she said, would be devastating. But she said it was good to see that the Senate, as she had hoped, was apparently more appreciative of the centers and institutes and their work.
The governor's proposed cuts for the centers and institutes had also alarmed Dr. Barbara Entwisle, a Kenan Distinguished Professor and UNC's vice chancellor for research. "You can't just cut them and nothing happens," she told the UNC Board of Trustees' finance and infrastructure committee. "This will have consequences for research."