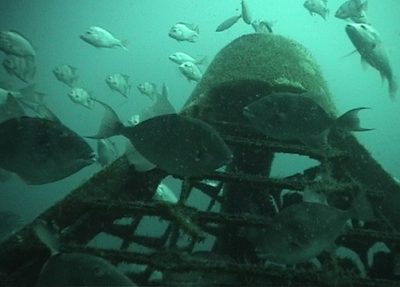 CARTERET COUNTY — Construction will begin this week on two new estuarine artificial reefs, the state Division of Marine Fisheries' Artificial Reef Program announced Monday.
The estuarine reefs will be built using concrete reef balls, with one located in Bogue Sound just outside of Spooner's Creek in Morehead City, AR-380 at latitude 34 degrees 43.110 minutes north and longitude 76 degrees 48.020 minutes west, and the other near the mouth of the White Oak River in Cedar Point, AR-381 at latitude 34 degrees 40.419 minutes north and longitude 77 degrees 6.532 minutes west.
The program also plans to sink in the coming weeks the retired tugboat, Fort Fisher, in the ocean off Pine Knoll Shores at an existing reef site, AR-320 at latitude 34 degrees 39.533 minutes north and longitude 76 degrees 48.417 minutes west. The site already contains concrete bridge rubble, steel bridge trusses and a 140-foot vessel.
Boaters and other water users should use caution if they see the construction activity at these sites.
An artificial reef is a manmade underwater structure, typically built to promote marine life in areas with a generally featureless bottom, according to the release. In North Carolina, they serve as crucial spawning and foraging habitat for many commercially and recreationally important fish species.
The division maintains 68 artificial reefs, located from estuarine waters to 38 miles from shore. They are situated so that they can be reached from every maintained inlet in the state.
For more information, contact Artificial Reef Program Coordinator Jordan Byrum at 252-808-8036 orJordan.Byrum@ncdenr.gov.