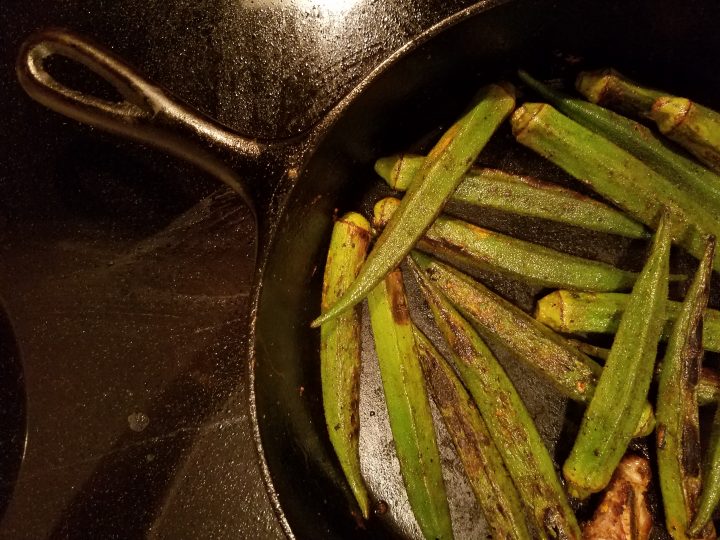 Mrs. Geneva Todd laid out a spread so succulent I wasn't sure where to look first. Dishes and bowls crowded cloth-covered tables pushed together on the lumpy green lawn carpeting her back yard. As adults shooed flies and fretted over where to fit more food, my 8-year-old eyes scanned delights of which I never saw in the New Jersey home my parents had just left for life on the North Carolina coast.
There were skillet-fried disks folks called "cornbread," green beans stewed so soft with little potatoes, pole beans simmered with bacon and tiny, black-pepper-flecked butter beans, pale green and nothing like the giant, white limas my brother and I despised choking down.
Many of the preparations that summer day were foreign to me, but I recognized most ingredients, except one: long green pods limp in a bowl of clear liquid that rose like sticky goo each time someone spooned up a heaping helping.
When I asked, "What's that green stuff?" my mother rolled her eyes. "I have no idea." Mrs. Todd gave me a gentle, "Oh honey, you won't like those."
That was my family's first encounter with okra, a vegetable that initially drew our winces and later won our love.
Okra doesn't make friends easily. People don't mind when it's hidden in the Creole gumbos that the vegetable's slime famously thickens. On its own, though, okra is an old-timer's favorite that has never charmed the masses.
Yet, there's much to love about okra, especially on the Carolina coast where hot, humid summers squash so many garden dreams. As tomato plants wither and worms eat their way through struggling cucumber vines, okra stalks spring tall, up to 6 feet, in even the driest soil on the hottest days. Drive down country roads and the plants' abundant, butter-yellow flowers, deep magenta centers, catch your eye even at a distance. Each blossom produces the pods whose mild flavor is usually compared to eggplant.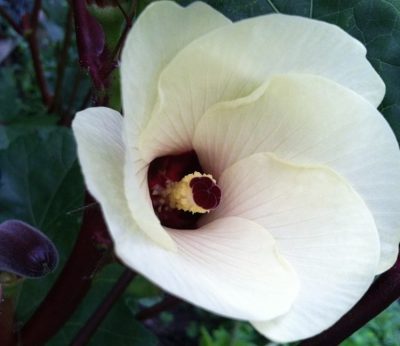 Likely an African native, okra landed in America via the slave trade, and it's been African cooks who have served okra's tastiest preparations throughout the South. The Bantu word for okra is "ki ngombo," which may be the origin of the word gumbo. Gullah cooks of South Carolina's Lowcountry created Limping Susan, a well-known, bacon-seasoned okra and rice dish akin to Hoppin' John.
Choosing small, tender pods and taming the goo is key to okra's acceptance at the dinner table. Southern cooks boil, fry, sauté or grill whole okra, the stem barely trimmed, to keep the mucilage contained.
That's not to say cooks down South are averse to cut okra. One of the few widely popular okra dishes involves slices fried in a skilled with cornmeal or completely breaded with cornmeal and deep-fried. The meal grabs the slime and adds sandy crispness to okra's tender texture.
My mother fried sliced okra, sans cornmeal, in a heavy skillet, adding fresh, chopped hot pepper and plenty of salt. The slime browned the okra, making it almost crunchy. I still crave the flavor and recreate the dish as soon as okra season arrives, late summer in eastern North Carolina.
Okra made its way around the world, landing in Asian, Indian, Mediterranean and Middle Eastern recipes. Some cultures even eat the leaves, and seeds may be roasted for coffee.
These days, I also like to slowly pan roast whole okra over low heat in a cast-iron skillet to which I add a little grapeseed oil. I turn the okra now and then to brown all sides and sometimes pour a small amount of water into pan to help steam-soften the pods as they brown. During the last few minutes of cooking, I sprinkle on Indian spices like turmeric, cumin and whole black mustard seeds. Prepared this way, okra has a nice chew and welcomes a cool yogurt dipping sauce.
Of course, stewing sliced okra is the sure-fire way the vegetable wins favor. That's how my family fell for okra. Within a couple summers of our arrival in Onslow County, my mother was paling around with Mrs. Todd and other neighbors. The ladies had a knack for finding small farms and prolific vegetable gardens whose tenders allowed the women to pick and pay.
Back home, after the morning harvests, they cut sweet corn fresh off the cob and chopped their own homegrown tomatoes. They stewed the two together with okra and salty bacon fat to produce a dish they simply called "corn and okra."
By lunchtime, Mrs. Todd's table would be laden with the bright, slightly thick stew, still in its pan, alongside biscuits or fried cornbread, more stewed tomatoes on rice, sliced fresh tomatoes, sometimes butter beans, sometimes cucumber salad and always crunchy fatback slice that they had rendered to season the cooked vegetables.
The menu was duplicated many July and August days, and we kids all ate heartily. I don't remember any of us asking, "What's that green stuff."
Corn and Okra
4 quarter-inch slices of fatback
1 small onion, finely chopped
1 pint whole okra, stems trimmed and pods cut into ½-inch slices
3 or 4 large tomatoes, diced
4 large ears of sweet corn, scrapped
Sugar to taste
Salt and pepper to taste
Dash of Texas Pete, if desired
Place a deep, heavy skillet over medium heat. When skillet is hot, add fatback and cook slowly until fat is rendered and slices are hard and crunchy. Remove fatback from pan and set aside. Add onions and okra to the skillet and cook for 10 minutes, stirring constantly. Add corn and tomatoes. Taste and season with salt if needed. Cover and simmer until okra is tender, about 25 minutes. Stir occasionally. Remove lid, taste stew and adjust seasonings, adding salt and pepper if needed. If the stew tastes acidic, add pinches of sugar, tasting after each addition until stew's flavor is balanced. Makes 4 to 6 servings.