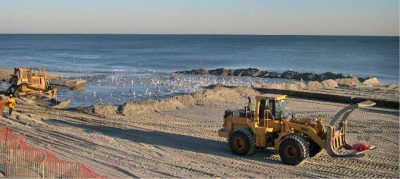 WILMINGTON — The Army Corps of Engineers said no to a beach re-nourishment project for nearly all of the Bogue Banks oceanfront, the Carteret County News-Times reported.
Carteret County Shore Protection Office Manager Greg Rudolph, Atlantic Beach Mayor Trace Cooper and Pine Knoll Shores Manager Brian Kramer met Tuesday with officials in the Corps' Wilmington district office.
The proposal was to link a western Atlantic Beach re-nourishment project to another project set for this winter to re-nourish beaches from the eastern boundary of Pine Knoll Shores through the eastern part of Emerald Isle.
Issues contributing to the decision included timing and the availability of a hopper dredge that would have been used to move sand from the previously planned Morehead City Port Harbor dredging project, which includes Beaufort Inlet, to western Atlantic Beach and Pine Knoll Shores. Sand from the dredging of Beaufort Inlet will instead be pumped via pipeline dredge to a new near-shore site off Shackleford Banks.
Learn More