North Carolina Community Collaborative Research Grant Program is funding three new projects that address research related to flood risks, emerging contaminants and new tourism options focusing on night skies, North Carolina Sea Grant announced Thursday.
The program known as CCRG requires the use of a collaborative research approach that couples the knowledge of community stakeholders with academic experts in the field to address priority coastal issues that align with the mission and strategic plan of Sea Grant. Each project is required to have a science expert and local knowledge expert.
In its third year, the program is supported by North Carolina Sea Grant, in partnership with the William R. Kenan Jr. Institute for Engineering, Technology and Science based at North Carolina State University.
"We are excited to continue to bring together new sets of researchers and community partners," said Susan White, Sea Grant's executive director, in the press release.
Raj Narayan, the institute's associate director, explained in a statement that the projects address priorities of both programs. "The projects selected for CCRG support in 2018 continue to connect and bring together experts from higher education institutions, local community stakeholders, businesses, nonprofits and government organizations to work collaboratively for the benefit of North Carolina — and to reflect the innovative and impactful partnerships and collaborations enabled and leveraged through the CCRG program."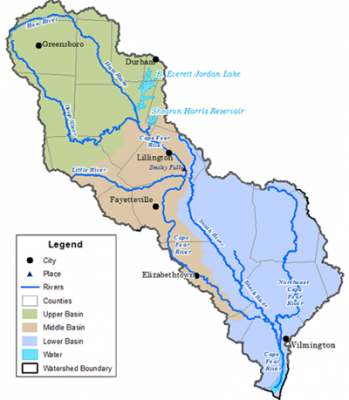 The new projects and the respective partners are the following:
— Assessment of Flood Risk and Simulations of Wetland Change in Pender County.
Joanne N. Halls of the University of North Carolina Wilmington with Wesley MacLeod of Cape Fear Council of Governments and Pat O'Mahony of Pender County, which is still feeling the effects of flooding from 2016's Hurricane Matthew, will look at how freshwater and saltwater wetlands are affected by flooding and sea level rise.
Pender County is one of many coastal communities that traditionally relied on wetlands to mitigate some flooding effects. The research findings will provide insight for local government officials who make planning and development decisions.
— Assessment of Novel and Legacy Poly- and Perfluorinated Alkyl Substances (PFASs) in Alligator and Fish of the Cape Fear River focuses on emerging contaminants in the Cape Fear River.
The research team —  Scott M. Belcher of North Carolina State University; with Madi Polera and Kemp Burdette, both of Cape Fear River Watch; and Theresa Guillette of NC State — hopes to gain insight into PFAs and its effects on the river's wildlife and ecosystem. The team plans to compare their results with findings from separate ongoing research evaluating exposure to GenX and its impact on human health. The team will share their findings with the public, as well as regulatory agencies responsible for setting health guidelines.
— Nightscape Resources of a Sustainable Ecotourism Trail System on the Outer Albemarle Peninsula: Tyrrell, Washington, & Mainland Hyde-Dare Counties project.
Headed up by Stanley Riggs of North Carolina Land of Water, with Emily Jarvis and Brian Baker of A Time for Science and Karen Clough of NC LOW, researchers are interested in nightscape resources currently available, as well as how light pollution can be decreased in the area. Nightscape resources is a broad term to explain night sky viewing opportunities that can be used for educational purposes and eco-tourism marketing. The team anticipates such insights will further understanding about how nightscape programs can benefit a range of needs, including ecotourism and K–12 lessons. The night-sky project has additional funding support from North Carolina Space Grant.