WILMINGTON – Gov. Roy Cooper, in a letter dated Monday, appealed to the administrator of the Environmental Protection Agency to move more quickly in assessing the chemical GenX found in the area's drinking water supply and setting a maximum contaminant level for it.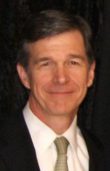 Cooper urged EPA Administrator Scott Pruitt to use the agency's authority under the Toxic Substances Control Act to evaluate byproducts from other Chemours Co. production lines, including wastewater discharge. The company, which until recently discharged wastewater into the Cape Fear River from its Fayetteville Works facility, has stated that a 2009 consent order limiting emissions from GenX production doesn't govern discharge of the same chemical when it's a byproduct of other processes.
Cooper also asks in the letter for a requirement that companies submit multiple health studies when registering chemicals under the act.
"This will increase the public's understanding of chemical compounds introduced into our waterways," Cooper writes in the letter. "These safeguards are more important than ever as North Carolina and other states confront the presence of unregulated, emerging contaminants in our water."
Also on Monday, Cooper told Wilmington-area officials he wants answers to lingering questions about GenX, the StarNews reported.
Cooper's conference call on Monday he had discussed the GenX matter with area officials.
On Friday, state regulators revised the health goal for chronic toxicity, lowering the danger level for humans from 70,909 parts per trillion, or ppt, to 140 ppt.
Learn More