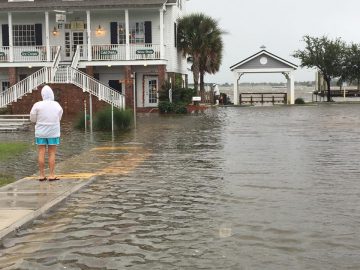 RALEIGH — Grants to help prepare for hurricanes, storms and growth totaling $100,000 have been awarded to seven of North Carolina's coastal communities.
The North Carolina Division of Coastal Management uses a portion of its federal funding from the National Oceanic and Atmospheric Administration to support land-use planning and management projects in the state's 20 coastal counties. Grant recipients were selected based on criteria and priorities set by the state's Coastal Resources Commission. This year's funding prioritized natural hazard mitigation and storm recovery projects.
"These grants will help coastal North Carolina alleviate flooding after hurricanes and big storms, plan for future growth and improve water quality," Governor Roy Cooper said. "Recovering from Hurricane Matthew has shown us just how critical it is for local communities to prepare proactively for future disasters, and this state and local partnership does just that."
Grants were awarded to the following:
$20,000 grant to Currituck County to study drainage basins to identify areas vulnerable to flooding.
$17,500 grant to Elizabeth City to create a plan to mitigate flooding in the area.
$17,500 grant to Carolina Shores to produce a flood mitigation manual to aid property owners in reducing flooding.
$15,000 grant to Caswell Beach for a stormwater drainage study to identify alternatives to alleviate flooding.
$15,000 grant to Hyde County to develop a watershed restoration plan to improve water quality in Lake Mattamuskeet.
$7,500 grant to Pender County to update its land use plan policies related natural hazard areas.
$7,500 grant to Swansboro to update its land use plan to include natural hazards and storm recovery efforts.