Frank Gorham, chairman of the North Carolina Coastal Resources Commission, resigned from the position Thursday amid speculation that fellow commissioner, Renee Cahoon, is set to be appointed to the post.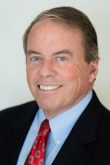 In an email sent out to the commission and members of the Coastal Resources Advisory Commission, a group of scientists, politicians and local leaders who advise the commission, Gorham said he enjoyed his time with group and the relationships he developed.
"I have always believed that best management practices are better served when the previous chairman steps aside to allow the new leader a clean slate going forward," Gorham said in the message.
The 13-member Coastal Resources Commission sets policies for the N.C. Coastal Management Program, and adopts rules for the Coastal Area Management Act and the North Carolina Dredge and Fill Act. The commission is also responsible for identifying areas of environmental concern.
Gorham, a New Hanover County-based businessman with a residence on Figure Eight Island, took over as chairman in 2013 under former Gov. Pat McCrory. He filled a role on the commission representing coastal property owners and land developers.
During his tenure, the commission took a more relaxed stance on sandbags and hardened structures, sometimes clashing with the staff of the Division of Coastal Management, the state agency that reports to the commission.
During Gorham's time on the commission, East Carolina University geologist Stan Riggs, an original member of the commission's advisory council, resigned from his post in July 2016, saying the advisory commission had been rendered ineffective because of political pressure to limit the scope of a sea-level rise report.

In 2010, the advisory council presented a draft of a sea-level rise report that predicted a 39-inch shoreline rise in the next 100 years. In response, a House bill was introduced to limit the scope of the study to 30 years, drastically reducing the shoreline rise. That bill was criticized nationally after it was featured on the "Colbert Report" political satire TV show.
Gorham has gone on the record supporting the modified 2015 sea-level rise report.
Cahoon, a member of the town of Nags Head Board of Commissioners, serves as the commission's vice chair, representing local government.
Gorham said he had full faith in her abilities.
"I know Renee will make an outstanding Chair," he said in his statement, "and I have the greatest confidence in her leadership skills. She is extremely knowledgeable, caring and is respected by all."
Learn More