WASHINGTON, D.C. — A new report shows that the National Park System's coastal parks, which make up less than a quarter of federally preserved spaces, are among the most economically and environmentally important conservation projects in the country.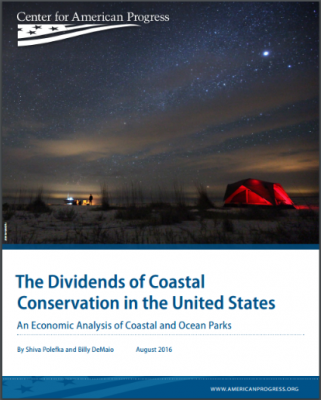 The report released Aug. 25 by the Center for American Progress calls for the acceleration of coastal and ocean conservation by the National Park Service.
Despite totaling just 22 percent of national parks, the report found that coastal parks drive more than 29 percent of total visits to the national park system, and those visits in turn generate more than 29 percent of the total recreational spending within the communities surrounding the nation's national parks. Of the $646 billion the nation spent on outdoor recreation in 2012, nearly $512 billion of it took place in coastal and Great Lakes states.
The report also highlights how coastal national parks, wildlife refuges, and marine sanctuaries often serve as the most readily available opportunities for outdoor recreation for the more than 40 percent of Americans that live in coastal cities and counties.
"Coastal parks are punching well above their weight when it comes to economic output," said Shiva Polefka, policy analyst for the center's Ocean Policy program. "And these special places are also playing a critical role in the core mission of America's federal conservation programs, which is to make our country's extraordinary natural and cultural treasures accessible to all Americans."
To Learn More