I can see Mr. A.C. Todd sitting by his kitchen table for dinner as clearly as if I was standing before him right now. He and his wife, Geneva, lived in the house next door to the one where I grew up in Onslow County. My mother had sent me over to borrow a cup of something. While Mrs. Todd rummaged through the cabinets to find it, Mr. Todd finished the last couple bites of his meal and then considered a plate of cornbread.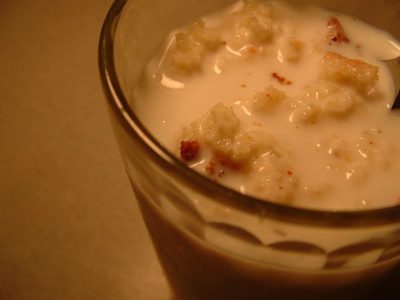 I envied Mr. Todd getting to have his wife's cornbread anytime he wanted it. Her breads were legendary in our neighborhood. If Mrs. Todd popped over to share a bowl of stewed collards she had just taken from the pot, you crossed your fingers that she brought cornbread, too.
What happened next made me to question if Mr. Todd deserved full access to that cornbread.
"Do you have any buttermilk?" he asked his wife.
Mrs. Todd nodded toward the refrigerator behind her husband's chair. He retrieved the carton, crumbled cornbread into a drinking glass, poured buttermilk nearly to the rim and then ate the mixture with a spoon.
Coastal North Carolina likes some weird food combinations. Cornbread and buttermilk is just one of them. The sources of these mash-ups vary. Cornbread crumbled into buttermilk probably originates with the African-American slaves and poor farmers of America's early days. Corn grew well in the South. Eating it at nearly every meal led cooks to imagine different ways to serve it. Rather than discard the liquid left from churning fresh or soured milk into butter, they soaked stale cornbread in it, thereby creating a cheap, nutritious meal.
Peanuts and Pepsi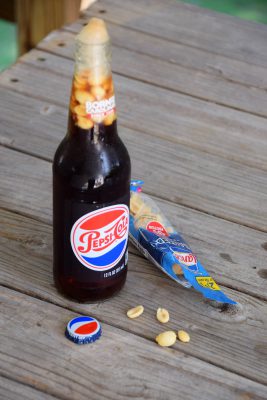 There was a time when you almost couldn't go into a country store and not see someone sipping a bottle of Pepsi with handful of salted, roasted peanuts floating in the soda. How this happened is anyone's guess. Maybe it was just easier to eat and drink out of the bottle rather than try to juggle a pack of peanuts and a soda, especially when you were driving the pickup truck down a bumpy road. The only sure thing is that sweet and salty flavors are mighty pleasing together.
Spots and grits
When the small, saltwater fish named spot runs in fall, the words "fried spot" light up country cooking restaurants' signs along the coast. The most old-school of places serve cornmeal-dusted fried spots on grits. The fish are headed and gutted but never filleted. African-American slaves ate fish with grits. Fishermen did, too. Grits are cheap and they keep you full for a long while. Spots are plentiful and easy to catch. Their mild flavor is delicious, but because spots usually weigh no more than a pound, they're not a commercially viable catch, so most of the harvest ended up being eaten at home.
Vinegar on Fish, Oysters, Greens and Pulled Pork
Ocracoke Island native Maude Balance's father was a commercial fisherman. In 2004, she told the News & Observer about his boiled fish breakfasts. He and other watermen sprinkled hot vinegar on the fish. Down East residents like a dash of vinegar on their oysters. Every table in a true North Carolina country cooking restaurant will host a bottle of Texas Pete green tabasco peppers packed in vinegar. Everyone knows it's for splashing onto stewed greens. The use of vinegar as a condiment came from the Old World to the colonies. Think malted vinegar on British fish and chips. Hot vinegar is also a traditional soul food condiment. Vinegar-and-pepper sauces used on pulled pork may have originated in the West Indies, where islanders mopped a lemon juice and chile pepper sauce on pork.
Mullet and Sweet Potatoes
Mullet and sweet potatoes are both plentiful in fall. Sweet potatoes make a nice change from the white potatoes so common in coastal North Carolina's old-fashioned seafood recipes. Rich, oily mullet have enough flavor to stand up to the sweet potatoes. This is an uncommon stew even among fishing families, but worth recreating. Render some pork fat in a pot. Layer mullet and onions on top, add enough water to cover halfway, bring to a boil, lay some sliced sweet potatoes on top of the fish and simmer until the fish and potatoes are cooked through. Alternately, bake the fish and vegetables together in the oven.
Ritz Crackers and Lemon Pie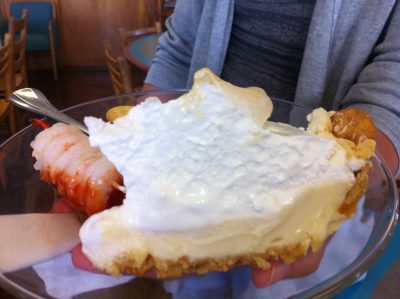 Lemon pie made with a Ritz cracker crust is a Down East classic. A little salty, a little sweet and plenty tart, it hits all the South's favorite flavors. Thank modern convenience foods for this meringue-topped creation. Sweetened condensed milk landed in the mid-1800s and required no refrigeration. Packaged Ritz crackers arrived in 1934. Lining a pie tin with the crackers was easier than mixing pastry. This pie was made famous by Capt. Bill's Waterfront Restaurant in Morehead City.
Barbecue and Slaw
Germans and the Dutch who settled in the Piedmont brought coleslaw to North Carolina. They were already eating the cabbage salad with pork. Their descendants put it on barbecue restaurant menus, according to "Holy Smoke: The Big Book of North Carolina Barbecue" (University of North Carolina Press, 2008). Before mayonnaise was mass marketed in 1912, cooks who wanted creamy slaw prepared boiled dressing, a tangy-sweet flour-thickened custard containing egg yolks, milk and vinegar.
Chili, Slaw, Onions and Mustard
How do you know you're from North Carolina? If these four words instantly mean something to you. You order hamburgers with these four embellishments. You put them on your hot dogs, too. When someone says Carolina burger or Carolina dog, you know what they're talking about. The dogs are said to have showed up around the 1950s in eastern North Carolina. Why the slaw? See previous barbecue entry.