WILMINGTON — The Army Corps of Engineers has issued its final environmental impact statement for the proposed terminal groin in the Brunswick County town of Ocean Isle Beach.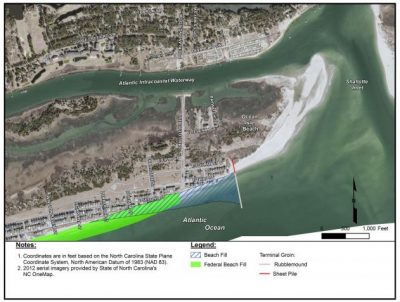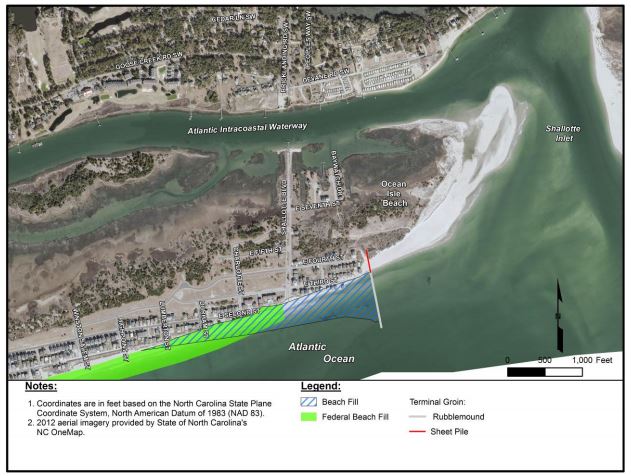 The Corps' Wilmington district issued public notice today involving the town's proposed project to build a 750-foot terminal groin with a 300-foot shore anchorage system. The project is meant to curb chronic erosion along the eastern portion on the town's oceanfront shoreline and also includes periodic beach renourishment, but opponents say the costly plan poses a number of risks.
The town says 238 parcels and 45 homes, including 18 on the oceanfront, are vulnerable to erosion damage during the next 30 years if past erosion trends continue. Five homes on the east end of the beach have been lost to erosion since 2005. Also at risk are roads and town utilities.
"The main concerns of residents and owners at Ocean Isle Beach are the economic losses resulting from damages to structures and their contents due to hurricane and storm activity and the loss of beachfront and due to the ongoing shoreline erosion along the east end of the island in proximity to Shallotte Inlet," according to the study's executive summary.
Those opposed to the project, including the N.C. Coastal Federation, say the estimated taxpayer costs associated with the project could total $46.5 million over the next 30 years, all to protect properties with a combined tax value of only $7.5 million. Opponents also cite the project's risks to the quality of the public beach for access and degradation or destruction of habitat designated as "critical" for fish and wildlife. The groin could also influence, in a negative manner, the beach on the other side of the inlet at the west end of Holden Beach, according to the federation.
Learn More