HOLDEN BEACH – Building a wall to curb erosion as this beach town now wants to do on the east end of island is an idea that's been around for decades.
The town's first mayor, John F. Holden, put up a series of small, wooden walls at the east end sometime in the 1960s, according to his son and the town's current mayor, Alan Holden.
"He installed some small groins down at the old pavilion down in the 100 block of Ocean Boulevard East that proved to work very well," Alan Holden said. "As the current drifted over them the sand would fall on the backside. He had to take them out as they got older."
In the 1970s, John F. Holden worked with the state's governor to place sandbag groins in the same area where the wooden structures once stood.
"They proved to work very well, but we had a problem with people taking knives to them," Alan Holden said.
John F. Holden eventually sought construction of a jetty at Lockwood Folly Inlet by the Army Corps of Engineers. The Corps, though, decided to build a jetty farther south at Little River Inlet in South Carolina in the early 1980s.
In 1985 North Carolina banned hard structures, including terminal groins and jetties, as erosion control methods on the along the beachfront.
There are technical differences between jetties and terminal groins. Jetties are typically bigger and longer than groins, built at navigable inlets to reduce shoaling. Terminal groins are usually built on straight stretches of beach and are perpendicular to the coast. They are designed to trap sand.
John F. Holden would not get to fulfill his pursuit to install a terminal groin or jetty on the east end.
He died in 2000, 11 years before the N.C. General Assembly repealed the ban.
Now Holden Beach is closer than it's ever been to the possibility of installing a terminal groin on the east end.
The Corps last fall released a draft environmental study on the proposed project.
As Holden Beach waits for the agency to release a final environmental impact statement, some town leaders and property owners are seeking answers about whether or not the proposed project will work effectively, is worth the long-term costs and potential environmental impacts.
They will get the opportunity to hear more about terminal groins at a public forum today sponsored by the N.C. Coastal Federation, the Holden Beach Property Owners Association and the Southern Environmental Law Center.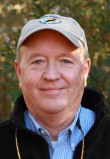 "What we're trying to do is offer a chance to people who are interested to ask questions of the experts and hear the other side of the story as far as what this proposal could to do the town," said Mike Giles, a coastal advocate with the federation.
Tom Myers, president of the Holden Beach Property Owners Association, said a survey the association conducted last August revealed a majority of property owners that responded needed more information about future beach projects.
"We're trying to look at everybody and get a broad understanding of what the opinions are," Myers said. "Our EIS draft went out and I think there was a lot of frustration there because it was a one-way dialogue. You couldn't really get into a Q&A session. I think that's what people really want."
The federation and Audubon North Carolina have gone on record opposing the proposed project, which would include construction of a roughly 1,000-foot-long terminal groin and subsequent beach re-nourishing that would place anywhere from about 120,000 to 180,000 cubic yards of sand on the beach, according to the draft EIS. Re-nourishment would occur about every four years.
Over a 30-year period the project would cost upwards of $35 million.
Giles said, economically, the town may be better off if a handful of homes at the east end are relocated.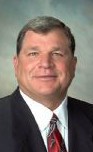 "The entire island is not under threat of erosion from the inlet," he said. "We think erosion could be controlled by proper dredging of the inlet, when it's dredged, and beach nourishment."
The proposed project, according to the draft study, would be built on public and private properties, Giles said. He said town officials have not discussed the location with property owners whose land would be affected.
"That's one of the things that is being hashed out as we go forward with the permit process," Alan Holden said.
He supports construction of a terminal groin on the east end, where he said dozens of homes have been lost during his lifetime as a result of erosion.
"We look around the world and it's generally understood that [terminal groins] are a good thing," he said.
John Fletcher, a Holden Beach commissioner, said the jury's still out for him and other board members as to whether a terminal groin is the best alternative for the town.
"We're waiting for more information," he said. "We're hungry for more information. The commissioners have been hoping something like [the public forum] would happen. I'm sure there are cases where terminal groins have worked and cases where terminal groins have not worked."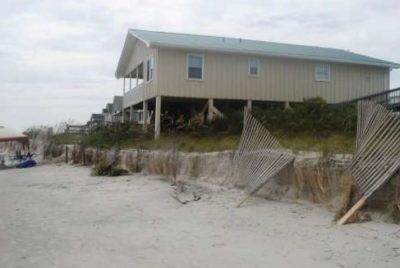 The forum will be 6:30 – 9 p.m. at the Holden Beach Chapel Fellowship Hall. Panelists include Stan Riggs, a coastal geologist and distinguished research professor at East Carolina University; Andy Coburn, deputy director of Western Carolina University's Program for the Study of Developed Shorelines; Doug Wakeman, a retired professor of economics at Meredith College's School of Business; and Geoff Gisler, a senior attorney with the Southern Environmental Law Center.
Town officials and representatives with Dial Cordy and Associates, the contractor that wrote the EIS, have declined an invitation to the forum saying it is inappropriate for them to participate, Myers said.
"We're not trying to interfere in any way with the process," he said. "We want someone to summarize these big, thick documents. There's a lot of confusion, a lot of misinformation about what it's all about. My goal is, if we all agree on all the facts then we'll come to the same conclusion and there won't be that much debate."
State law requires that local voters must approve funding to build a terminal groin. Myers said he hopes the town's registered voters and property owners, a majority of whom are not year-round residents, have a clear understanding of the proposed project by the time it's put to a vote.
Holden Beach is among a handful of towns seeking permits to build terminal groins. The Village of Bald Head Island is the first in the state to build a terminal groin since the law was changed in 2011 to allow up to four projects. In 2015, the law was changed again to allow another two groins to be built.
Ocean Isle Beach in Brunswick County and Figure Eight Island, a private barrier island in New Hanover County, are in various stages of the process to obtain permits.
Learn More