MOREHEAD CITY – The state agency that regulates air pollution will hold a public hearing on a controversial proposal to use a highly toxic gas to fumigate logs at the state port here.
"The Division of Air Quality has received numerous messages from citizens in the Morehead City area about the proposed fumigation facility at the state port," Sheila Holman, the division director, said yesterday in announcing the decision to hold a hearing.  "We appreciate those concerns and will make sure that the public has opportunities to review plans for the facility and the draft air quality permit, when available."
No date or specific meeting location has been set, but Holman said the division will give the public 30 days' notice with details about the meeting and the draft permit for the facility.
Royal Fumigation, also known as Royal Pest Solutions, applied in June for an air-quality permit to fumigate logs that would be exported from the port. The company proposes to use methyl bromide gas to treat logs covered by tarps. After treatment, the tarps would be lifted and the gas would escape into the atmosphere.
Methyl bromide is widely used in agriculture and industry to kills insects, weeds and other pests. For example, strawberry growers in California use it extensively to fumigate fields before planting, and it has been used for decades to kill pests in commodities such as tobacco and wood before shipping them overseas.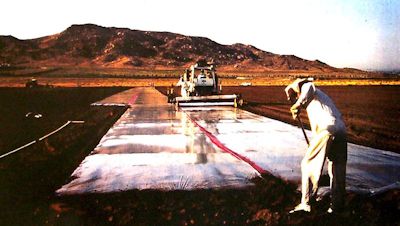 Workers prepare a strawberry field in California for fumigation with methyl bromide. Photo: USDA
The U.S. Environmental Protection Agency classifies methyl bromide as a hazardous air pollutant, or HAP. Facilities that could emit 10 tons a year of any HAP or 25 tons a year of any combination of HAPs must receive a federal air permit. The proposed fumigation facility at the state port could emit as much as 140 tons of methyl bromide a year.
Though kelp and algae naturally produce small amounts of methyl bromide in the ocean, the odorless and colorless gas is highly toxic in concentration, according to the EPA. Studies indicate that short-term inhalation of methyl bromide can cause severe lung damage. Chronic exposure can lead to neurological effects in humans.  Those who apply the gas are most at risk.
But it's methyl bromide's effects on the ozone layer that got it banned in the United States in 2005. Like the more famous trichlorofluoromethane, or freon-11, methyl bromide has shown to be adept at destroying the ozone layer, which absorbs most of the sun's ultraviolet radiation. And like freon-11, the gas was banned under the federal Clean Air Act and the terms of an international treaty that the United States and almost 200 other countries have signed.
Since the ban went into effect, the EPA has allowed uses of methyl bromide under what it calls "critical-use exemptions." There is also a "quarantine and pre-shipment" exemption to allow methyl bromide to be used to fumigate commodities, like logs, that are leaving or entering the country to kill non-native pests.
The number of exemptions and amount of permitted methyl bromide has decreased steadily since the ban was put into place and viable alternatives developed, according to figures supplied by EPA. Seventeen industrial sectors qualified for exemptions in 2005, the agency said. That's now down to four: commodities, strawberry growers, ham producers and food facilities. During that time, the amount of methyl bromide authorized for critical uses has declined from about 8,442 to 609 tons.
Such numbers would have brought little comfort to the people who showed up for a public meeting last week to hear port officials talk about their plans for the Morehead port.  Fumigation raised a stink.
Jim Willis of Atlantic Beach, known as "Capt. Jim," finished to rousing applause when he warned port officials: "You need to withdraw this fumigation plan now. Otherwise, we will mobilize against you tomorrow."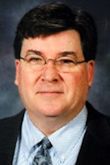 Jeff Miles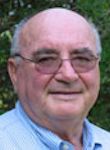 Dick Bierly
It didn't take much longer than that. By the weekend, Nelson Owens of Beaufort was circulating an online petition opposed to the fumigation plan. He said he was getting 200 signatures a day. Town managers in Morehead City and Beaufort were asking the state about a public hearing on the proposed permit. So was State Rep. Pat McElraft of Emerald Isle.
Jeff Miles, the acting executive director of the N.C. State Ports Authority, assured people at the meeting last week that ports was with them. "The effects on the environment and human health are concerns we share," he said. "I can't speak more sincerely about how we want to be a good partner with the community. We don't want to do anything to negatively affect your lifestyle, harm the environment or be unsafe."
He noted that the fumigation proposal was still "theoretical," and that the ports authority had asked the Division of Air Quality to produce a report on methyl bromide's environmental and health effects.  "We're relying on regulators to give this a thorough scrubbing before we make a recommendation," Miles said. "We haven't committed to doing this, but we are committed to doing this safely."
He said he would share the report with the public.
Miles didn't mention at the time that Royal Fumigation had already submitted a permit application. He acknowledged that later after someone in the audience brought it up.
A spokesman for the Division of Air Quality, after checking with the division's director and deputy director, said that the division hasn't received a formal request from ports for a report on methyl bromide.
A public hearing on the permit is the proper course, noted Dick Bierly. He's he president of the Clean County Coalition, a group in Carteret County that formed two years ago to successfully lead the opposition against a proposed sulfur smelter at the Morehead port.
"We are grateful that DAQ will schedule a public hearing. This provides time to carefully look at the plans of the port and consider alternatives to the fumigation plan for which they asked Royal to seek a permit," said Bierly, who is also president of the N.C. Coastal Federation. "Once again, the port authority launches a plan without consulting local officials."
The division is still analyzing the permit application and has requested more information from Royal Fumigation. It will use that information – along with an analysis of comparable facilities in other states – to develop a draft permit for public review. That process could take several months.
Royal Fumigation may need other state and federal permits to operate, depending on the scope of the project.