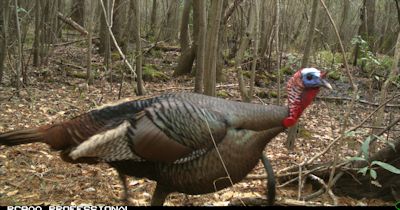 The Eastern wild turkey is one of the success stories in wildlife management. In the in the early 1930s this grand game bird was on the verge of extinction. But today, thanks to hunters and wildlife restoration programs, the wild turkey is abundant and present throughout North Carolina. Like bears, turkeys need a varied habitat of both open and covered area. Gobblers have beards, as seen here, which are tufts of filaments, or modified feathers, growing out from the chest. Beards can grow to an average of 9 inches.
CASTLE HAYNE — Nestled among public streets and private property, the ubiquitous hidden camera is there to record what once went undetected. Even animals that roam the banks of the Northeast Cape Fear River can no longer escape the watchful eye of technology.
Three environmental organizations have teamed up to get an up-close look at the behavior of terrestrial and avian wildlife that call the corridor around Castle Hayne home. Since February, officials from Cape Fear River Watch, the N.C. Coastal Federation and Wildlands Network have placed and monitored 24 cameras situated in areas likely to get significant animal activity.
"Together we're focused on the Northeast Cape Fear because of the potential impact of the proposed Titan cement plant," said Mike Giles, a coastal advocate for the federation who works out of the Wrightsville Beach office. "As we grow and proposer and develop, the habitat is getting fragmented. It's getting divided by highways and by residential development that you see along the river and industrial development. And with industrial development comes other issues such as air pollution and impact to both the surface water and ground water."
Titan America, based in Norfolk, Va., is planning to build a cement kiln and expanded limestone quarry on more than 1,800 acres along the Northeast Cape Fear River east of Castle Hayne. The proposal has resulted in years of fierce opposition from various environmental groups and residents, many of whom have formed the Stop Titan Action Network.
The wildlife cameras are the result of a one-year, $35,000 grant from wildlife philanthropists Brad and Shelli Stanback of Asheville. About $23,000 of that pays for equipment, primarily the Reconyx infrared trail cameras at $750 each as well as rechargeable lithium batteries, housing for the devices and special locks that secure the camouflaged devices to trees. The remaining money goes toward staff time required for the monthly changing of batteries and memory cards. Many of the cameras, which are positioned about two feet off the ground, are accessible only by boat.
The red fox can range in color from deep red to gray and are capable predators. It's the largest of the foxes and the most geographically spread member of this species. Foxes have a long history of association with humans, having been extensively hunted as a pest and furbearer for centuries, as well as being prominently represented in human folklore and mythology. If you hear a haunting and sometimes frightening howling late at night in the springtime it is not the neighborhood cat but fox establishing his dominance during mating season.
On a muggy July afternoon, Giles and Kemp Burdette of Cape Fear River Watch navigated the Northeast Cape Fear in the federation's 22-foot Jones Brothers skiff. Using GPS to locate the cameras, they coated themselves in bug spray and trekked through mud and brush to reach the devices and perform the necessary changing out, which takes only a few minutes per camera. The men sometimes encounter snakes, wasp nests and other potential hazards during this process.
The project has already netted thousands of images of species including various birds, whitetail deer, wild turkeys, coyotes, bobcats and even a black bear. The cameras take high-quality photos during the day and night as quickly as every fifth of a second, which enables them to capture fleeting images of animals that move rapidly.
Ron Sutherland, conservation scientist for Wildlands Network, has been involved with the project from the beginning and said the images collected thus far are fairly typical of what he would expect in the region.
"I think they are representative of an intact coastal terrain landscape," he said. "I'm not surprised that there's a good bit of wildlife along there, particularly in the wide open parts of it. It's been impressive how many different species we've gotten so quickly and how robust the fauna seems to be."
The photos are unique in that they show the animals "totally relaxed and just doing their thing," in some instances "just sitting down in front of the camera," Sutherland added.
The primary goal is to better illustrate the impact that the proposed Titan cement plant will have on this "biodiversity hotspot," Giles said.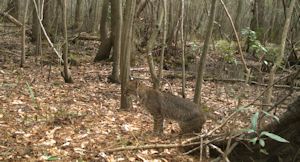 The most common wildcat in North America, the bobcat is named for its short, bobbed tail but are infrequently seen due to their shy and secretive nature. They are medium-sized cats and are slightly smaller but similar in appearance to their cousin, the lynx. Their coats vary in color from shades of beige to brown fur with spotted or lined markings in dark brown or black. This cat is a large mature female and haunts deep forests and swamps throughout North Carolina. Similar in habitat needs to bears, the deep forests and river bottom lands are critical to the survival of this magnificent feline. Females never share territory with each other while male territories tend to overlap.
"Wildlife can coexist with good development," he said. "We feel Titan is not the type of development and industrial use that this type of disappearing landscape can tolerate."
But the project also sends a larger environmental message, Giles added. It's about showing why it's necessary to preserve the few remaining large tracts of undisturbed habitat that are crucial for many species to survive, he said.
"The program is meant as public education to say this is what's here, this is why the Northeast Cape Fear River is special and this is what lives here and it's important," Giles said. "If we continue on our path of development and degradation of this ecosystem, this eco-region, we'll lose those animals. They're already squeezed. This is the place they have left to live."
Eventually, the three groups involved in the wildlife cameras project hope to have many of the photos available to view on their websites. They're also planning a press conference and unveiling of some of the best images sometime in early fall.
While initial funding was for one year, Giles and others hope the Stanbacks will continue to support the project for an additional year or two.
"This is all part of a concerted effort to let the people know how special these places like this are, not only to public use and enjoyment but also to our economy," Giles said. "This produces jobs. Recreation, tourism and fishing produce a lot more jobs than Titan cement will ever produce."